Sellerstown, North Carolina (CNN) -- Some people drive down Sellerstown Road just to gawk at the church and parsonage that were the epicenter of a six-year campaign of terror.
The brick church with its white steeple remains an active place of faith, but a renter now occupies the matching parsonage. It's hard to imagine the two buildings along this sleepy road withstood so many bombings and threats more than three decades ago.
One outsider pulled up to a house nearby and struck up a conversation with Pat Sellers in her garage.
"You really went through this?" the stranger asked.
"Yes, we did."
Sellers' voice cracks when she talks about the murder of the preacher's wife. She considered Ramona Nichols her best friend. Ramona and her husband breathed life into this community, Sellers says. When they arrived at Free Welcome Holiness Church in 1969, it had a congregation of 15. It would grow to more than 200.
Moving to Sellerstown had seemed a godsend for the couple, a place to settle down after living the rolling stone life of evangelists and missionaries.
Ramona and Robert Nichols met in 1964 in the Louisiana town of Bogalusa. A lover of music, Ramona entered the Warren Street Church of God and played its organ to empty pews. Robert entered and introduced himself as an evangelist from Mobile, Alabama.
Six weeks later, they married. She was 27; he was 26.
Over the next few years, they traveled from revival to revival across Alabama, Arkansas and Texas. He carried his Bible. She carried her accordion. They served as missionaries
to Native American tribes in dirt-poor areas of Oklahoma.
In late 1969, they arrived in Sellerstown, which isn't really a town at all. It's a community of 50 along a country road nestled between tobacco fields, seven miles from the county seat of Whiteville.
The church parsonage provided a nice home in which to raise a family. Eventually, the Nicholses would have two children, Rebecca and Daniel.
By all accounts, Robert Nichols' preaching touched people's souls. When the 6-foot, 4-inch minister got on a roll, his flock stomped their feet and sang out, "Amen, Brother Robert!"
One person, though, had a different reaction.
Horry Watts, the powerful Columbus County commissioner, heckled the preacher. Sometimes, he stormed out in the middle of the service.
The story goes that the preacher was the first person to ever stand up to Watts. He didn't care about the strings Watts could pull or about the wealth he'd amassed. Parishioners and investigators say the preacher sacked Watts' wife as the church clerk because he believed they were stealing.
Soon afterward, the Nicholses received intimidating and anonymous phone calls. Then letters began arriving. "Mrs. Nichlos (sic), you are supposed to be a holiness preacher's wife. But, what do the church and community have to look forward to? Shamefully, what a pity," read one letter on December 23, 1972.
It ended with "P.S. Have you woke up yet?"
Phone lines were cut. Shotgun blasts targeted the home. Then, dynamite started going off around the parsonage and church, and federal agents with the Bureau of Alcohol, Tobacco and Firearms began to investigate.
There were 10 bombings in all.
It got so dangerous that during church on Sundays and Wednesday evenings, children were taken to a different location for their safety. Though theirs was a white congregation in a
different era in the South, parishioners recalled the bombing of the Sixteenth Street Baptist Church in Birmingham, Alabama, and the four little girls who lost their lives while attending Sunday school. They would not let that happen.
One bombing of the parsonage, on July 1, 1975, sent shrapnel flying through the nursery, where Daniel was asleep in his crib. He escaped unharmed.
James Tyree, a parishioner who calls Robert Nichols "the best friend I ever had, besides Jesus," speaks in a low voice, almost a whisper, as he describes what happened next.
After the blast, he says, Watts stood outside his home across the road from the church and laughed and hollered: "If that one didn't get ya', the next one will."
Tyree restrained the preacher from attacking Watts. "Now's not the time, Brother Robert."
Yet, Tyree says, Watts was still allowed to attend services because the Lord teaches forgiveness and that's what people of faith do. "It's the house of the Lord, and everyone is welcome."
Ramona sent newspaper clippings about the bombings to relatives back home. The couples' parents begged them to relocate. But the preacher and his wife were adamant about staying with their congregation. They would not back down.
God would let them know when it was time to leave, the pastor said, not "the devil."
Every night, Ramona prayed with her children:
"Now, I lay me down to sleep, I pray thee Lord my soul to keep. If I should die before I wake ..."
"For me," says Rebecca Nichols, now 41 and living in suburban Nashville, "that wasn't just a cute little children's prayer.
"Going to sleep as a little girl, I didn't know if we were going to be there in the morning."
'The face of the devil'
In Sellerstown, Rebecca Nichols' book about her family's horror, "The Devil in Pew Number Seven," has resurrected long-buried memories.
Everyone seems to have an opinion:
"Can you believe the girl's ability to forgive?"
"What happened in the past should remain in the past!"
"What can we, as a community, learn from Rebecca's story?"
In some cases, people are discovering for the first time the details of Watts' involvement in harassing the family.
The book is also renewing questions about how the terror could go on for so long -- six years -- without being stopped. Almost everyone mentions the heroics of the ATF agent who was on the case. I was told he still keeps boxes of evidence.
So I set out to see Charles Mercer, who lives 400 miles from Sellerstown now, on a 120-acre sheep farm in the backwoods of Tennessee.
Eighteen years ago, Mercer got tired of looking over his shoulder, worrying someone might try to even the score against a career ATF agent who put dozens of people in jail. So he moved to a place so remote "you can hear a rat licking lard from 20 paces," as he says. To get there, I pick my way down a pig path nicknamed "Deliverance Road."
In the log cabin he built by hand, Mercer holds up a sandy blond wig, a disguise once worn by the man he calls "Lucifer's disciple."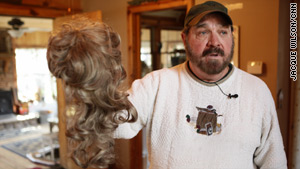 Former ATF agent Charles Mercer holds up a wig he believes Horry Watts once used to disguise himself.
Mercer's eyes bulge. His voice grows animated. He puts down the wig and rifles through two boxes of evidence. He holds up a photograph of his nemesis.
It depicts a man with a cock-eyed brow leaning against a white car from the 1970s. His fedora and black-rimmed glasses sit on the car's hood.
"The face of the devil," Mercer says from beneath his thick beard.
He pulls out a letter to the preacher. It's so old the staples are rusted.
"You will be leaving Sellerstown crawling or walking, running or riding, dead or alive. This may sound bad, but you will wish you had. You have brought this on your own self."
The letter was unsigned, but Mercer says he has no doubt who sent it. "Horry Watts was a piece of work, buddy."
He says the whole thing started over this: Watts would collect the church offerings -- the loose change and dollar bills put in the plate every Sunday -- from his wife, the church clerk; then he'd pocket the cash and turn around and write the church a check for the amount, making it look like a generous donation. Over the course of a year, the total would add up to a couple thousand dollars and a hefty tax write-off, Mercer says.
When the preacher pushed Watts' wife out of her job as clerk, Robert Nichols effectively stopped this practice, and enraged Watts. The feud became toxic.
For Mercer, who grew up just down the road from Free Welcome Holiness Church, the case was personal. When his grandmother died, it was Robert Nichols who presided over her funeral; Ramona played the organ. The agent spent hours and hours building a case against Watts. His first marriage crumbled while he worked to gather evidence.
As the bombings escalated, Ramona called him to the parsonage one day.
"Please help us!" she begged.
"I'm doing everything I can," Mercer responded.
"He's going to kill us."
Mercer didn't know how to answer her pleas.
"It was a desperate thing," he recalls, "leaving that house and driving away, thinking, 'You know, she's right.'"
It pains him deeply to think of how close he came to stopping the killing. He wasn't the family's bodyguard. That wasn't his job. Yet he feels he could've protected them.
He pulls cassette tapes from the two boxes. They're secret recordings made by an informant. He holds them up, like an artist, and looks them over. His cowboy boots click as he strolls across the heart-pine floors and plops one into his stereo system.
Soon, voices crackle through the vaulted ceiling of the log cabin.
There's talk of guns and a deal is made between Mercer's main informant and a man Mercer says is Watts. Watts says he'll pay for the preacher to be killed. The incentive: $19,000. The ATF's reward for information in the case was $10,000.
The recording was exactly what Mercer needed. He raced to get an indictment against Watts. A federal grand jury was convened.
But justice moved too slowly. And another opportunity came Watts' way.
A man who Mercer never saw as a threat to the preacher was about to enter the parsonage -- with three revolvers and more than 60 bullets.