WASHINGTON (CNN) -- Vice President Dick Cheney will travel to Georgia next week as part of a broader visit to "key partners" in Europe and Asia, the White House said Monday.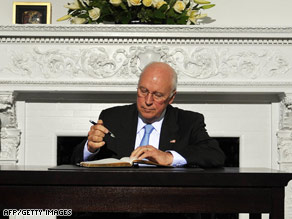 Vice President Dick Cheney signs a condolence book last week at the Georgian Embassy in Washington.
Cheney, who will depart on September 2, will meet with Georgian President Mikheil Saakashvili, whose country was invaded by Russian forces this month after a Georgian crackdown on separatists in the breakaway region of South Ossetia.
"The president felt it was important to have the vice president consult with allies in the region on our common security interests," White House deputy press secretary Tony Fratto said.
Cheney will "reiterate U.S. commitment" to Georgia during his visit, and he will consult with Saakashvili "on common security interests," an administration official said.
A senior administration official said Cheney's trip had been planned before the Russia-Georgia conflict.
Last week, President Bush telephoned Saakashvili and told him he expects Russia to withdraw its forces from the former Soviet republic and end "their siege of Georgia," a White House spokesman said.
Cheney also will visit the leaders of Azerbaijan, Ukraine and Italy during next week's trip. He also will address the annual Ambrosetti Forum in Lake Como in northern Italy.
E-mail to a friend

CNN's Kate Bolduan and Elaine Quijano contributed to this report.
All About Dick Cheney • Republic of Georgia • Russia