DENVER, Colorado (CNN) -- Sen. Hillary Clinton called herself a "proud supporter of Barack Obama" on Tuesday night after Democratic National Convention delegates greeted her with a standing ovation.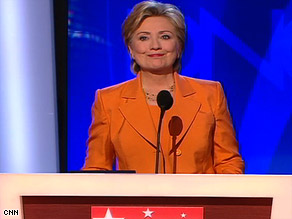 Sen. Hillary Clinton tells supporters, "No way. No how. No McCain."
"It is time to take back the country we love, and whether you voted for me or you voted for Barack, the time is now to unite as a single party with a single purpose," Clinton said.
She suspended her campaign for the Democratic nomination June 7, after it became clear that Obama had won enough delegates to capture the nomination.
"We are on the same team and none of us can afford to sit on the sidelines," she said. Watch Clinton tell delegates it's time to unite

She made clear that she did not want her supporters to vote for Obama's Republican rival, John McCain, although the Arizona senator has made a concerted effort to reach out to Clinton backers.
"No way. No how. No McCain," Clinton said. "Barack Obama is my candidate. And he must be our president."
She described McCain as her colleague and her friend, but then laid into him in no uncertain terms.
Don't Miss
"John McCain says the economy is fundamentally sound. John McCain doesn't think that 47 million people without health insurance is a crisis. John McCain wants to privatize Social Security.
"And in 2008, he still thinks it's Ok when women don't earn equal pay for equal work," she said, prompting boos from the delegates in Denver.
"It makes sense that George Bush and John McCain will be together next week in the Twin Cities," Clinton said, referring to next week's Republican National Convention in Minneapolis-St. Paul, Minnesota. "Because these days they're awfully hard to tell apart."
She mentioned Obama by name a dozen times in the speech. She also included praise for her husband.
"When Barack Obama is in the White House, he'll revitalize our economy, defend the working people of America, and meet the global challenges of our time. Democrats know how to do this. As I recall, President Clinton and the Democrats did it before."
Former President Clinton is scheduled to address the convention Wednesday.
She thanked her backers, saying: "To my supporters, my champions -- my sisterhood of the traveling pantsuits -- from the bottom of my heart: Thank you."
E-mail to a friend

All About Michelle Obama • Barack Obama • Joseph Biden • Hillary Clinton