DENVER, Colorado (CNN) -- Barack Obama accepted the Democratic nomination for president Thursday in a speech that attacked John McCain and George W. Bush, laid out an ambitious agenda for an Obama administration and called on Americans to unite around common beliefs.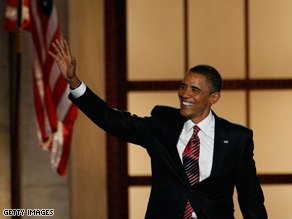 Barack Obama greets the crowd at the Democratic National Convention.
He rallied a crowd of tens of thousands at Invesco Field by urging them to throw the Republicans out of the White House in November.
"Next week, in Minnesota, the same party that brought you two terms of George Bush and Dick Cheney will ask this country for a third," he said, drawing some boos from the crowd.
"And we are here because we love this country too much to let the next four years look just like the last eight. On November 4, we must stand up and say: 'Eight is enough,' " Obama said, prompting chants of "Eight is enough!"

Watch Obama say why "eight is enough" »
The Democratic nominee criticized McCain as being out of touch with the lives of ordinary Americans, using his opponent's own words against him.
"He said that our economy has made 'great progress' under this president. He said that the fundamentals of the economy are strong. And when one of his chief advisers -- the man who wrote his economic plan -- was talking about the anxiety Americans are feeling, he said that we were just suffering from a 'mental recession,' and that we've become, and I quote, 'a nation of whiners,' " Obama said, eliciting more boos from the crowd.
He rejected the idea, citing "proud autoworkers" and "military families" before delivering the coup de grace: "Now, I don't believe that Sen. McCain doesn't care what's going on in the lives of Americans. I just think he doesn't know."
Don't Miss
"It's not because John McCain doesn't care. It's because John McCain doesn't get it," Obama said.
He accused McCain of believing in an "old, discredited Republican philosophy.... Pull yourself up by your own bootstraps -- even if you don't have boots."
He talked about his own upbringing by a single mother and his grandmother, who worked her way up from being a secretary to middle management in a bank, to reject one of the epithets the McCain camp has thrown at him.
"I don't know what kind of lives John McCain thinks that celebrities lead, but this has been mine," Obama said.
He drew sharp contrasts with McCain on national security and foreign policy, an area where, polls suggest, voters seem to prefer the Republican.
"While Sen. McCain was turning his sights to Iraq just days after 9/11, I stood up and opposed this war, knowing that it would distract us from the real threats we face. When John McCain said we could just 'muddle through' in Afghanistan, I argued for more resources and more troops to finish the fight against the terrorists who actually attacked us on 9/11, and made clear that we must take out Osama bin Laden and his lieutenants if we have them in our sights."
"John McCain likes to say that he'll follow bin Laden to the Gates of Hell -- but he won't even follow him to the cave where he lives," Obama charged.
"John McCain has voted with George Bush 90 percent of the time," he said, repeating a statistic trumpeted by Democrats throughout the party's four-day national convention.
"McCain likes to talk about judgment, but really, what does it say about your judgment when you think George Bush has been right more than 90 percent of the time? I don't know about you, but I'm not ready to take a 10 percent chance on change," he said.
He said America had to restore a lost sense of common purpose, sketching out areas where he thought people on opposite sides of the culture wars could agree.
He laid out some specific promises, including ending the war in Iraq "responsibly," investing $150 billion over a decade in "affordable, renewable sources of energy," cutting taxes on "95 percent of all working families," and setting a goal of ending U.S. dependence on oil from the Middle East in 10 years.
He defended the role of government, saying: "Government cannot solve all our problems, but what it should do is that which we cannot do for ourselves -- protect us from harm and provide every child a decent education; keep our water clean and our toys safe; invest in new schools and new roads and new science and technology."
Obama quoted the Rev. Martin Luther King Jr., without mentioning the civil rights leader by name, on the 45th anniversary of the "I Have a Dream" speech.
" 'We cannot walk alone,' the preacher cried," Obama said. " 'And as we walk, we must make the pledge that we shall always march ahead. We cannot turn back.' "
"America, we cannot turn back. Not with so much work to be done," Obama said.
McCain responded with a written statement as the speech ended, saying Obama was "still not ready to be president."
"Tonight, Americans witnessed a misleading speech that was so fundamentally at odds with the meager record of Barack Obama. When the temple comes down, the fireworks end, and the words are over, the facts remain: Sen. Obama still has no record of bipartisanship, still opposes offshore drilling, still voted to raise taxes on those making just $42,000 per year, and still voted against funds for American troops in harm's way."
Obama's speech ended with the song "Only in America" by country duo Brooks & Dunn -- who performed it for the inauguration of George W. Bush in 2001 and the Republican National Convention in 2004.
Obama's speech went over well with those on the convention floor. Matt Besser, an Obama representative to the DNC platform committee, said "It was an excellent home run. ... He did everything he needed to do."
"He gracefully dissected John McCain and then set out his own vision," Besser said.
Barbara Blackman, an Obama supporter from Mississippi, said Obama did a "phenomenal job" of outlining his differences with McCain.
Jennifer Preston, from Colorado, said, "He had to hit some really high points, I think, to beat Hillary's speech, ... he really had to come out and do an awesome job ... I think he did it."
E-mail to a friend

All About Barack Obama • Democratic Party • U.S. Presidential Election