ST. PAUL, Minnesota (CNN) -- Former New York Mayor Rudy Giuliani joined the chorus of former Republican presidential hopefuls who praised John McCain at the GOP convention Wednesday.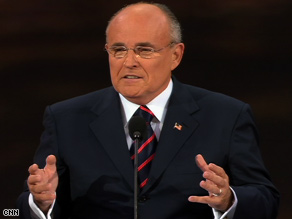 Former New York City Mayor Rudy Giuliani says Gov. Sarah Palin represents a new generation.
Giuliani's speech came after spirited talks by Mitt Romney and Mike Huckabee, who both squared off against McCain in the presidential race.
Just like Huckabee and Romney, Giuliani fired pointed attacks at the Democratic ticket while pushing traditional Republican themes of security, freedom and smaller government.
Giuliani, who ended his own bid for the Republican presidential nomination in January after a disappointing finish in Florida, also defended presumptive nominee McCain's selection of a running mate.

Watch Giuliani's entire speech »
"Gov. [Sarah] Palin represents a new generation. She's already one of the most successful governors in America and the most popular. And she's already had more executive experience than the entire Democratic ticket combined."
The Alaska governor is a relative unknown on the national stage, and Democrats have taken aim at her lack of experience outside the state and local level. But Republicans, citing her position as commander in chief of the Alaska National Guard, have countered those criticisms.
In his remarks, Giuliani told voters to think about the election as though "You're hiring someone to do a job, an important job, a job that relates to the safety of yourself and your family."
"No one can look at John McCain and say that he's not ready to be commander in chief," he said.
Republicans are "at our best when we are expanding freedom," he said.
"We're the party that has expanded freedom from the very beginning, from ending slavery to making certain that people have freedom here and abroad."
He said Republicans are "the party that unapologetically believes in America's success, a shining city on a hill, a beacon of freedom that inspires the world. That's what our party is dedicated to."
Giuliani also took aim at Barack Obama during the speech, labeling the Democratic nominee a "celebrity senator" with few accomplishments.
"No leadership, no legislation to speak of," Giuliani said of Obama. "His rise is remarkable in its own right -- it's the kind of thing that could happen only in America. But he's never run a city, never run a state, never run a business."
E-mail to a friend

All About John McCain • Sarah Palin • Rudolph Giuliani