(CNN) -- As Sens. Barack Obama and John McCain enter the campaign homestretch, each is trying to make the case that his ticket is the only one that will bring about change.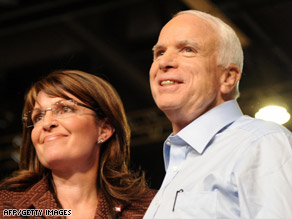 Sen. John McCain and Alaska Gov. Sarah Palin say they are mavericks who can reform Washington.
"I have to make a strong case that we're going to bring about that change," McCain said in an interview that aired Sunday on CBS' "Face the Nation."
"And it's the right kind of change. And I know we're going to be talking about my running mate, but I think I got the right kind of running mate who has that record also."
The latest polls show Obama and McCain in a tight race. Obama leads McCain by one point, 44 to 43 percent, according to CNN's poll of polls released Sunday.
On Saturday, Obama was up by three points, 45-42 percent.
The poll of polls is an average of three surveys: CBS (September 1-3), Gallup (September 4-6), and Diageo/Hotline (September 2-4).
The surveys were conducted, in part, during the Republican convention.
Change essentially means new people and new policies, said Bill Schneider, CNN's senior political analyst.
Obama was a relative newcomer to Washington, "So people instantly saw him as a new face and he was a sensation. Now John McCain has put a very new face on his ticket -- Sarah Palin," Schneider said.
"Who represents the status quo? Answer: Nobody. Because nobody wants the status quo. People want change. Both parties recognize that and both parties are competing with each other to offer it," he said.
Republicans have been touting the McCain-Palin combo as a team of two mavericks, while Democrats are portraying them as "more of the same."
Don't Miss
"Everywhere I go, we've been talking about change, that's been the theme of this campaign," Obama told supporters Saturday in Terre Haute, Indiana. "And we must be on to something, because I notice now everyone's talking about change now."
"Suddenly [McCain's] the change agent!" Obama laughed. "He says, 'I'm going to tell those lobbyists that their days of running Washington are over.' Who's he going to tell? Is he going to tell his campaign chairman, who's one of the biggest corporate lobbyists in Washington? Is he going to tell his campaign manager, who was one of the biggest corporate lobbyists in Washington? Is he going to tell all the folks who are running his campaign, who are the biggest corporate lobbyists in Washington?"
"Who is it that he's going to tell that change is coming?" he added, "I mean come on, they must think you're stupid!"

Watch Obama on the campaign trail »
Obama on Saturday also singled out Palin for the first time for flip-flopping on earmarks while governor of Alaska.
"She is a skillful politician," said Obama, "but when you've been taking all these earmarks when it is convenient and then suddenly you're the champion anti-earmark person, that is not change, come on. I mean, words mean something. You can't just make stuff up."
The McCain campaign shot back, saying that Obama is all talk.
"Barack Obama has requested the equivalent of one million dollars in new pork barrel spending for every working day he's been in the U.S. Senate," McCain spokesman Tucker Bounds wrote in an e-mail to reporters. "While John McCain has never once asked for an earmark, and Governor Palin has vetoed hundreds of millions in government spending including killing the infamous 'bridge to nowhere.' "
Meanwhile, in Colorado Springs, Colorado, Palin attacked her Democratic counterpart, charging that Sen. Joe Biden is a creature of Capitol Hill incapable of transforming Washington.

Watch Palin criticize Biden »
"When our opponent made his choice, he went for a fine man," she said. "A decent man. Sen. Biden can claim many chairmanships across many, many years in Washington, and certainly many friends in the Washington establishment. But even those admirers would not be able to call him an agent of change."
"Sen. McCain has called the two of us a team of mavericks. John McCain knows that we've done some shaking up in Alaska," she said.
Palin is expected to campaign with McCain through the earlier part of the week.
She and McCain will head to Missouri on Monday and will probably stop in Ohio and Pennsylvania in the coming days, according to a campaign aide.
The decision to keep Palin on the trail with the Republican nominee longer also gives the campaign additional time to decide where and how to best deploy Palin when she campaigns on her own, the aide said.
Palin is expected to go back to Alaska midweek through at least Friday, before her son, Track, who is enlisted in the Army, is deployed to Iraq. In her convention address, Palin announced he's going September 11.
E-mail to a friend

CNN's Dana Bash, Alexander Marquardt and Peter Hamby contributed to this report.
All About Republican Party • Democratic Party