By Alexander Mooney
CNN

(CNN) -- Barack Obama and John McCain had planned on spending Thursday sequestered from the campaign trail preparing for the first presidential debate Friday night, but uncertainty surrounding the economic bailout plan has cut short both men's study sessions.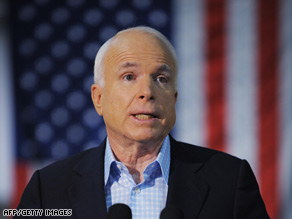 After proposing a possible postponement of Friday's debate, John McCain decided he would appear.
Instead of preparing for the debate, both candidates returned to Washington to participate in talks over a $700 billion rescue plan for the nation's financial system.
Before returning to Washington, Obama had been hunkered down in Florida earlier this week for a "debate camp," the traditional preparation that includes a sparring partner playing the role of his opponent.
Aides to Obama tell CNN that man is Greg Craig, a former State Department official in the Clinton administration who has long advised the Illinois senator on foreign policy issues.
A senior Obama aide tells CNN the Illinois senator is still preparing for the debate as planned, albeit in a shortened time frame and from a different location.
Sequestered at Clearwater's Belleview Biltmore, a resort opened in 1897 that's flanked by tennis courts and a golf course, Obama and his senior aides were feverishly reviewing years of debate footage featuring McCain.
Some of the footage goes back decades to the Arizona Republican's earlier campaigns and speeches on the Senate floor. A senior Obama aide said it's been part of an extensive effort to get a fuller picture of which issues McCain is comfortable addressing and which have shown a tendency to trip him up.
Aides have also looked for general tendencies: what direction McCain's answers to questions take and what subjects he sometimes ties together.
The ultimate objective, aides to Obama said, has been to walk through every answer and eliminate any potential surprises Friday night, when tens of millions of Americans are expected to watch the two candidates square off for the first time.
Don't Miss
"More debates are lost than won, so candidates usually want to play debates very conservatively, hoping to avoid the 'big mistake,' " says Alex Castellanos, a senior adviser to the 2004 Bush-Cheney re-election campaign.

What to expect from upcoming debates »
McCain's debate prep appeared to be much more off-the-cuff. McCain advisers tell CNN he spent several hours Sunday at his campaign headquarters working with aides, and did the same in a Pennsylvania hotel Monday afternoon.
McCain had planned on clearing his entire Friday schedule for final preparations, though the Arizona senator spent the majority of the morning on Capitol Hill and didn't head back to his Arlington, Virginia, home until closer to midday.
Soon after, he formally confirmed he would attend the debate and departed for Mississippi early in the afternoon.
Top McCain aide Mark Salter said Friday the Arizona senator had spent two hours prepping in his home Thursday night. Podiums were set up, and aides playing the debate moderator asked several different questions.
Kiki McLean, a Democratic strategist and the national spokeswoman for then-vice presidential candidate Joe Lieberman in 2000, says a break from day-to-day campaigning is essential to preparing for a debate.
"The most important thing about debate prep is giving a candidate time off the road, so they can have time to think," she says. "When you are literally on all day, often 18 hours straight, there is no time for intellectual engagement which is necessary to prepare."
Contrary to traditional practice, no particular person was slotted to play the role of Obama during mock debate sessions, McCain aides tell CNN. Currently, senior advisers Mark Salter and Charlie Black are peppering the Arizona senator with questions they think the moderator could possibly ask, without an "Obama" figure in the mix -- although aides say that scenario may change by week's end.
Aides to McCain and Obama also say both men were actively working to shore up their weaknesses during this week's debate preparations -- such as the tendency both candidates have to give meandering answers that grow too verbose for a debate format that enforces strict two-minute time limits.
"Both of these candidates have to streamline their thoughts," CNN senior political analyst Gloria Borger says. "They both serve in the United States Senate, which is not known for brevity."
E-mail to a friend

All About John McCain • Barack Obama