(CNN) -- The financial crisis on Wall Street is casting a huge shadow over the presidential race, with the candidates abandoning the campaign trail and rushing to the White House for an emergency meeting.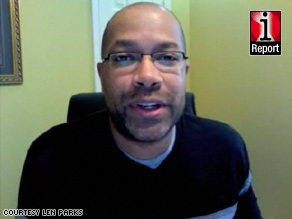 Len Parks says he's not going to vote for Sen. John McCain because of his call to cancel Friday's debate.
And it's unclear if Friday's debate between Sens. John McCain and Barack Obama will go on as planned.
McCain wants to postpone the debate to focus on the $700 billion bailout plan, but Obama says the American people need to hear their economic plans.
We asked CNN.com readers what they thought, and most said the debate should go on.
Katy Brown, a student at Kent State University, supports McCain and wants him to pin Obama down on the issues. iReport.com: Should the debate go forward?
"I know he's trying to do his best, and I know it's his duty to be there for this vote on the economy and the $700 billion bailout. But he also needs to be there [at the debate] because Americans need to hear from him. So hopefully this doesn't hurt him, hopefully he takes Obama's advice and multitasks and shows up," she said.
But Geoff Calver, a recent college graduate from Barnard, Vermont, said the candidates need to focus on one task -- their jobs as senators.
"It's great that Obama can say that he is going to do two things at once. I believe this economic crisis requires a full dedication of his time. One cannot stump on the campaign trail, fly all over the country, make speeches and television appearances and also help solve this issue," he wrote. iReport.com: "Real leaders work for the people"
Len Parks said he's been on the fence since the Republican convention, and kind of wished it was an Obama/McCain ticket.
"That's how deadlocked in my mind I was," said Parks, who owns a Stockbridge, Georgia, sausage-making company.
He said McCain's decision showed bad judgment.
"It made no sense to me for him to suspend his campaign. I think he's kind of grandstanding here," Parks said. iReport.com: "You just lost my vote"
Obama supporter John Woodlock had another solution.
"Isn't Sarah Palin available for the debate to go against Barack Obama?" he asked. "Isn't that what a vice president is supposed to be for, to fill in when the president is otherwise engaged?"
James Johnson, of Myrtle Beach, South Carolina, said that ignoring such an important vote "is on the verge of treason."
"I can't put my current job aside because I'm looking for a new job, therefore it should not be acceptable at this level of the United States government," he told CNN.
Johnson said he has not decided who to vote for, but said McCain's decision "is the most presidential thing I've witnessed during the entire campaign season."
Democrat Dereck Blackburn of Manayunk, Pennsylvania, disagreed and criticized McCain's move.
"It's a political stunt and it's very disrespectful to the elections process and disrespectful to everyone who is involved," he said. "As an American I feel it is very disrespectful to the entire process." iReport.com: A disrespectful stunt
Paul Deckard, a 34-year-old former soldier from Monroe, Ohio, said the debate should go forward, but with a different focus.
"If you're going to be president of the United States, you should be able to go to Washington and make your opinion known about the bailout and the economy, and still have time to prepare for a debate," he said.
He thinks the debates should go on but says the topic could be changed from foreign policy to the economy.
E-mail to a friend

All About Election Campaigns • Barack Obama • John McCain