(CNN) -- Democratic Sen. Joe Biden and Republican Gov. Sarah Palin each have a mission this week: Attack the opposing party's candidate for president and boost their own party's man.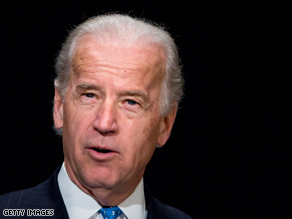 Sen. Joe Biden is preparing for the vice presidential debate Thursday in St. Louis, Missouri.
But both vice presidential candidates have challenges in meeting their goals ahead of Thursday night's debate.
Both have been praised for their skills.
"When we debate -- and, boy, she's going to be a tough debater, she's going to be a skillful debater -- I'm going to try to talk about the differences of our world view here and what we're going to do for the country," Biden said on September 4.
"If it's going to get down to who can deliver the toughest lines, then she's going to win the debate," Biden added. "But I'm not going there."
Biden's use of self-deprecating humor has helped him diffuse criticism he's too wordy.

Watch more on the Biden-Palin debate »
"Joe Biden's a good debater; he has a quick tongue," said Stephen Moore of The Wall Street Journal. iReport.com: What do you want to hear from the candidates?
In one Democratic primary debate this year, Biden was asked: "Can you reassure voters that you would have the discipline needed on the world stage?" Biden replied simply: "Yes," evoking laughter in the audience.
Biden comes to the stage with foreign policy experience and a reputation for attack-dog instincts. Appropriately, his opponent is a self-described pit bull.
Don't Miss
"You know the difference between a hockey mom and a pit bull? Lipstick." Palin said at the Republican National Convention in September.
"This is the time for America to see Governor Palin like we saw her at the convention," said former GOP Rep. Susan Molinari of New York.
Molinari said Biden will have to use caution in his exchanges with Palin.

View memorable moments from other debates »
"I can tell you from experience it's very difficult to sometimes run against and debate against a female candidate," she said.
In 1984, then-vice president George H.W. Bush learned that during the debate against Rep. Geraldine Ferraro. Critics at the time called Bush condescending.
Biden's camp said his tone will be civil.
"I don't think he's going to go after Governor Palin. I think he's going to make the case for Senator [Barack] Obama," said David Axelrod, a senior adviser to Biden.
In the remaining days before the debate, Palin is preparing for her own set of challenges.
The intensity of the debate preparations picked up after Palin's panned interview with Katie Couric of CBS News last week. In particular, her answer when asked to describe her foreign policy experience was widely ridiculed.
"It's very important when you consider even national security issues with Russia as Putin rears his head and comes into the airspace of the United States of America. Where -- where do they go? It's Alaska," Palin said.
The answer became instant fodder for "Saturday Night Live," as comedian Tina Fey lampooned the remark in her impersonation of Palin.

Watch more on the SNL spoof »
The CBS interview, described as confused and rambling by critics, also led a well-known conservative columnist to call on Palin to remove herself from Sen. John McCain's ticket.

Watch Palin strike back at the media »
"Only Palin can save McCain, her party, and the country she loves. She can bow out for personal reasons ... Do it for your country," conservative columnist and former Palin fan Kathleen Parker of Nationalreview.com pleaded on Friday.
But re-establishing Palin's credibility is not all she has to accomplish.
"At the same time, she has to attack Barack Obama and try to put Joe Biden on the defense," said Democratic strategist and CNN contributor Paul Begala. "It's going to be hard to balance those two missions."
Ron Faucheux, author of "The Debate Book" and professor at The George Washington University's Graduate School of Political Management, said not only do the two candidate have to "defend themselves and present themselves well, they have to present and defend their presidential candidates."
Faucheux said Biden and Palin have different kinds of appeal that can be very charming.
He offered a warning to Biden: "The thing he has to watch, he has to put a stop button on what he says so he doesn't keep talking until he gets it wrong."
Faucheux, after reviewing Palin debates when she was running for governor, said her tactic was "getting off of policy [and] talking about how it [an issue] affects her personally. And she seems to be much more comfortable doing that."
He said the thing she has to watch is not to appear superficial if she has a lack of knowledge on an issue.
E-mail to a friend

CNN's Jason Carroll, Ed Hornick and Fredericka Whitfield contributed to this report.
All About Joseph Biden • Sarah Palin