By Ashley Fantz
CNN

ATLANTA, Georgia (CNN) -- At the Hard Rock Café on Thursday, it was clear who won Palin Bingo.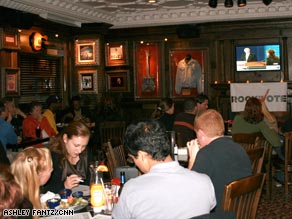 Young voters play Palin Bingo during the vice presidential debate on Thursday in Atlanta, Georgia.
The game was the focus of a group of four friends, all in their 20s and early 30s, as they put Xs in boxes containing keywords they anticipated Gov. Sarah Palin might say during Thursday's vice presidential debate.
Words like: Special needs, Wasilla, maverick, Main Street, Washington outsider.
"Special needs ... I won bingo!" shouted Laura Butler, 30.
Satisfied with her win, and a full hour into the debate between Republican Palin and Democrat Sen. Joe Biden, she headed for the door.
"I thought it was entertaining and so, you know, it was fun," she said, a White Stripes song blaring in the background.
"I'm an [Sen. Barack] Obama supporter, and I couldn't see anything changing that," said Butler's 27-year-old friend Ryan Carrabine.
The event was sponsored by the nonpartisan organization Rock the Vote, which registered 1.9 million voters ages 18-25 this year. Tonight's debate was the only vice presidential debate scheduled before the November 4 election.
Half his bingo card filled, Daryll Cordeiro, 30, said he was unimpressed with both candidates' responses on nearly every topic from health care to Iraq. He said he'll probably vote for a third-party candidate.

Watch how the debate left some young voters wanting more substance »
Many in the room couldn't point to specific issues they felt went unanswered. Rather, they said they wanted to be moved, they wanted to feel something. They wanted to see some genuine fire behind the podiums, not hear another campaign pitch.
"Biden's response to gay marriage was more PC because he was saying he didn't feel like it should be the government's choice and that it should be left up to the individual's choice," said Aaronica Merritt, 25.
She thought the debate was engaging, but said Palin is not ready for the White House.
"The only reason why she was prepared for this debate was because she had a script," she said. "I think that Biden made really good arguments about health care and about the war in Iraq by bringing up that McCain voted against funding the troops just as Obama did."
Merritt is torn because she is adamantly anti-abortion, which aligns with Palin and McCain's platform, but is for gay marriage, which attracts her to the Obama-Biden side.
This year will mark the first time she has voted in a presidential election, she said. Previous elections made her yawn, says Merritt.
"I just didn't think there was a strong enough difference between John Kerry and George Bush," Merritt said. "Now, there is a huge difference, and there's just a much higher degree of interest overall, and you feel energized. You feel like, for once, I'm being addressed; for once my generation might count for something when it comes to deciding who is our president."
Others were less impressed.
"I'm disgusted by the whole process because I don't see a difference between either of them: Obama, McCain, Palin or Biden," Cordeiro said. "[Biden and Palin] are agreeing on so much. You take tax reform, for instance. What did they say that was different, really? They aren't speaking to me. There's all this talk about change, change, change. It's all gimmicks."
But Georgia State University student Bryan Lariscy, who was leaning toward voting for Obama, said Palin did a great job taking on Biden.
"She took some cheap shots, but it worked for her, and I think she's doing really, really well," he said. "Biden is not doing so well. He's holding back way too much. He should be saying a lot more to her, taking her on more."
When Palin took a shot at the mainstream media, several in the crowd looked at each other and chuckled.
"If it really mattered, if it was really close between Obama and McCain, I would go with Obama," Butler said, sipping a tall peach drink. "But that's not because I like him or that he speaks to me. He doesn't. They are all the same. But I don't like McCain. It's a matter, to me, of who you don't want."
The Rock the Vote event was intended to register new voters. But no one registered to vote during the debate, according to volunteer Demarcus Peters, and most of the tables cleared out before the debate was over.
Peters, 31, owns a nonprofit community development business in Atlanta.
"I think people in this room really cared what was going on in this debate," he said. "People were holding their breath waiting for Palin to make a big mistake. I think this event was fairly successful. But I could see the excitement here. No one can say that overall young people don't care what's going on."
E-mail to a friend

All About Sarah Palin • Joseph Biden • John McCain • Barack Obama • Rock the Vote