(CNN) -- A national poll of people who watched the vice presidential debate Thursday night suggests that Democratic Sen. Joe Biden won, but also says Republican Gov. Sarah Palin exceeded expectations.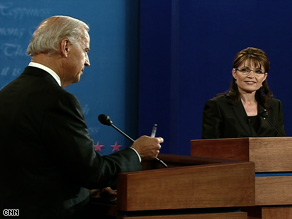 Poll respondents give Sen. Joe Biden the edge over Gov. Sarah Palin in ability to express views.
The CNN/Opinion Research Corp. said 51 percent of those polled thought Biden did the best job, while 36 percent thought Palin did the best job.
But respondents said the folksy Palin was more likable, scoring 54 percent to Biden's 36 percent. Seventy percent said Biden was more of a typical politician.
Both candidates exceeded expectations -- 84 percent of the people polled said Palin did a better job than they expected, while 64 percent said Biden also exceeded expectations.
How Palin would perform had been a major issue for the Alaska governor, who had some well-publicized fumbles during interviews with CBS' Katie Couric leading up to the debate.
Respondents thought Biden was better at expressing his views, giving him 52 percent to Palin's 36 percent.iReport.com: Tell us who you think did best
On the question of the candidates' qualifications to assume the presidency, 87 percent of those polled said Biden is qualified and 42 percent said Palin is qualified.
The candidates sparred over which team would be the better agent of change, and Biden came out on top of that debate, with 53 percent of those polled giving the nod to the Delaware senator while 42 percent said Palin was more likely to bring change.
Respondents overwhelmingly said moderator Gwen Ifill was fair during the vice presidential debate, repudiating critics who said that Ifill, of PBS, would be biased because she is writing a book that includes Biden's running mate, Sen. Barack Obama.
Ninety-five percent of those polled said Ifill was fair.
The poll had a margin of error of plus or minus 4 percentage points.
Obama was selected as a winner over Republican Sen. John McCain in a CNN/Opinion Research Corp. poll on the September 26 presidential debate.
E-mail to a friend

All About Joseph Biden • Sarah Palin