By Robert Barnett
Special to CNN

(CNN) -- Robert Barnett, a prominent Washington attorney, has worked on eight national presidential campaigns, focusing on debate preparation. He played the role of George H.W. Bush in practice debates with Geraldine Ferraro in 1984 and with Michael Dukakis in 1988, and practice debated Bill Clinton more than 20 times during the 1992 campaign. He also played the role of Dick Cheney in 2000 and 2004 and helped prepare Hillary Clinton for 23 primary debates for the 2008 nomination. Barnett spoke with CNNI's Michael Holmes.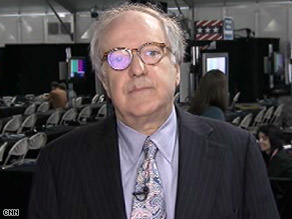 Robert Barnett has been in practice debates with Democrats from Geraldine Ferraro to Bill Clinton.
CNN: How does Tuesday night's town hall format differ from other debates?
Barnett: The individuals will not necessarily express the question as a journalist would. So, for example, one of these people will probably not ask about Internal Revenue Service Code section 341, but rather will ask about their taxes and their tax burdens and what they care about with respect to taxation.
And so you have to be very careful to be sure you understand what the individual is asking about and you have to be particularly careful to answer the question, because if you don't, you risk alienating the questioner and the audience and the listeners.
CNN: You're in a unique position. You have prepped, I think, seven or eight presidential campaigns. You've done debate prep, you've stood in and played the role of Dick Cheney and others. What's that like? What are you trying to do to prepare the candidate, any candidate?
Barnett: If I'm playing the surrogate, if you will, if I'm the Republican for a Democrat, I try to prepare myself -- not to imitate; I'm not Darrell Hammond or Dana Carvey. I'm not that talented. But I try to be ready with what my candidate that I'm playing, if you will, has said -- the exact words used, the way they counterattack, the way they attack.
And I try to make sure that the candidate I'm working with, meaning the Democrat, has heard just about everything that they could hear from their opponent before they ever walk on the stage.
Don't Miss
CNN: Do you try to bait them, get them to bite a little and then say that's not what you should be doing?
Barnett: Well, it can get pretty contested. When I prepared with Rep. Geraldine Ferraro in 1984 when she was running against then-vice president George Herbert Walker Bush, I baited her a lot and she got so angry with me that she frequently walked over to me and slugged me on the arm. So I left the process black and blue.
CNN: When you're doing that sort of thing, how direct can you be with the candidate? Or do you have to treat them with a bit of kid gloves?
Barnett: I treat them with no kid gloves. It's fair to say I'm direct, I make sure they hear everything from me before they hear it on the stage and maybe hear it even a little more aggressively so they can be prepared.
E-mail to a friend

All About Geraldine Ferraro • Dick Cheney • George H.W. Bush