MINNEAPOLIS, Minnesota (CNN) -- A missing envelope containing about 130 ballots has stalled the recount in Minnesota's U.S. Senate race between incumbent Republican Sen. Norm Coleman and Democrat Al Franken.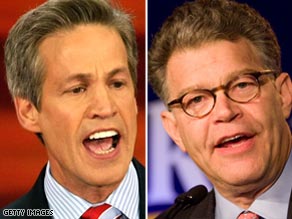 Republican Sen. Norm Coleman, left, has a slim lead over Democrat Al Franken in Minnesota's Senate race.
The state canvassing board appeared likely to postpone its unofficial Friday deadline to finish the recount because of the missing ballots from the city of Minneapolis.
Because of the "extraordinary circumstances," said Deputy Secretary of State Jim Gelbmann, the city has until December 16 to locate the votes. The canvassing board is set to meet that day and take further action in the recount process.
"We won't meet our goal to have all ballots hand-counted by the end of the day [Friday] unless the envelope returns in the next 24 hours," Gelbmann said.
Minneapolis Elections Director Cindy Reichert said she's "not sure where [the missing envelope] would have gone" but that her staff is "in the process of looking under everything."
Franken spokesman Andy Barr said Franken's campaign was "glad that Minneapolis elections officials now acknowledge that these ballots are missing and that they are committed to finding them."
"The secretary of state's office has rightly recognized the importance of this matter by giving Minneapolis officials the time they need to locate this envelope," he said. "Simply put, these ballots must be found."
But Coleman spokesman Fritz Knaak said it was "premature and simply irresponsible to suggest" that there were missing ballots. He accused Democratic Minneapolis Mayor R.T. Rybak and election officials of failing to notify Coleman's campaign of a news conference on the issue.
"It is critical that there be no effort to make this matter a partisan issue," Knaak said. " ... As we move forward, we anticipate we will be provided all due access that any campaign is currently being provided, and that the secretary of state's office will refrain from any activity or action that can be perceived as partisan or supportive of the Franken campaign's overblown rhetoric about missing ballots."
With most of the ballots recounted, Coleman maintains a lead of about 300 votes. The recount was triggered automatically when unofficial results from the November 4 election put Coleman, a freshman Republican, 215 votes ahead of Franken, best known for his stint on NBC's "Saturday Night Live" and as a former talk-show host on progressive radio network Air America.
E-mail to a friend

All About Al Franken • Minnesota • Norm Coleman • U.S. Senate