By Aaron David Miller
Special to CNN
Editor's note: Aaron David Miller has been a fellow at the Woodrow Wilson International Center for Scholars in Washington since 2006. Before joining the organization, he served in the State Department as senior advisor for Arab-Israeli negotiations and in other roles under six secretaries of state. His latest book is "The Much Too Promised Land: America's Elusive Search for Arab-Israeli Peace."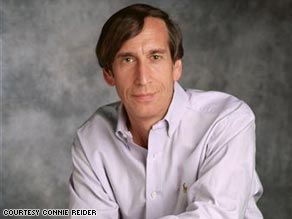 Aaron Miller says conflict has sometimes provided an opportunity to make progress in Arab-Israeli diplomacy.
WASHINGTON (CNN) -- Barely three weeks from now, President Barack Obama will inherit the 100-year headache called the Arab-Israeli conflict.
What to do about the much-too-promised land will bedevil his administration as it has done so many of his predecessors. And sadly, this time around he'll be in an even worse position to resolve it.
The recent Israeli operation in Gaza will make the Israeli-Palestinian tangle even more complex than it might have been under ordinary circumstances. Still, American interests will demand that the new president attend to it, even while the real opportunity for progress may lie farther to the north in an Israeli-Syrian agreement.
In the torturous history of the Arab-Israeli conflict, sometimes violence, war and insurgency have set the stage for diplomatic breakthroughs and serious American diplomacy.
Such was the case in both the October 1973 war and the first Persian Gulf conflict, which led eventually to an Egyptian-Israeli peace treaty in March 1979 and to a peace conference in Madrid, Spain, in October 1991. But then-Secretaries of State Henry Kissinger and James Baker, backed up by their presidents, had strong Arab and Israeli leaders and doable deals.
This time around, Obama may not be so fortunate. When the killing stops and the grieving is over, the same problems that have made the Israeli-Palestinian negotiations so tough will remain.
Weak leaders combined with tough issues such as the fate of Jerusalem and refugees won't make the 100-year headache go away.
In fact, the ongoing crisis in the Palestinian national movement, which pits Hamas against Mahmoud Abbas, head of Fatah and president of the Palestinian Authority, will not have ended; neither will the divisions in Israel over what price the Israelis will pay to end their conflict with the Palestinians.
Ongoing settlement activity and violence and tensions between Israelis and Palestinians will not make the situation any easier.
The Obama administration won't have many good options. It will inherit a crisis without many levers to pull to defuse it. But expectations and American interests demand that it try.
A conflict-ending agreement which conclusively resolves borders, Jerusalem, refugees and security leading to a Palestinian state isn't likely now.
Still there are actions that the president and his new secretary of state can take that could create better circumstances for the Israeli-Palestinian negotiations.
First, the president must assemble his Middle East team. The president can't be the peace process desk officer, but he must be willing to devote serious time to the issue when necessary.
It's his secretary of state and her team that will do the 24/7 lifting. And that team needs to be more balanced than in the past in factoring in not just Israeli needs, but Palestinian and Arab requirements as well. It needs to be tough, fair and smart. There's no subcontracting here. Hillary Clinton must provide the adult supervision to manage the process, and she must have the president's full backing.
Second, Obama will need to re-engage Egypt, which will be the key to brokering whatever Israeli-Hamas accommodation or cease-fire results. Direct U.S.-Hamas dialogue would undercut Abbas and Israel and should be avoided now, but as part of an Israeli-Palestinian accommodation in which Israel and Hamas participate, it may become necessary.
Hamas, despite its terrorism, isn't al Qaeda. A conflict-ending agreement with Israel will require a unified Palestinian house with Hamas included, agreeing to recognize Israel and end violence.
Third, Obama will need to flood Gaza with humanitarian aid and development assistance for the economy. Boycotting economic assistance for 1.5 million Palestinians in hopes of toppling or pressuring Hamas makes no sense. The United States must orchestrate, or at least participate in, a new economic initiative for Gaza, and it will need Israel's support for this.
Fourth, the administration should continue to support Abbas with economic aid, training for his security forces and political support. One additional way to help Abbas is to get Israel to stop its West Bank settlement activity, land confiscation and housing demolitions, which have nothing to do with its security.
Finally, the Obama administration should quietly nurture and, if possible, participate in the ongoing Israeli-Palestinian negotiations on the big issues such as Jerusalem.
The two sides may need American help, and it will send an unmistakable signal that America is committed to an equitable end game. That doesn't mean high-risk summits or go-for-broke negotiations ala Bill Clinton and Ehud Barak in 2000; but steady progress to see if the gaps can't be narrowed.
None of this will guarantee results, certainly not a conflict-ending solution. But it will at least get America in the game and enhance our credibility.
The real story may lie in an Israeli-Syrian peace treaty which, while excruciatingly painful to achieve, is doable -- two states, a quiet border, fewer settlements and issues that involve security, water and land, not religious or identity issues.
With the Obama administration engaging the Iranians and a serious bid to broker a Syrian-Israeli peace, President Obama may find that even if he can't actually make the 100-year headache go away, he can at least make it a lot less painful.
The opinions expressed in this column are solely those of Aaron David Miller.
E-mail to a friend

All About Gaza • Barack Obama • Hillary Clinton