By Wayne Drash
CNN.com Senior Producer

Editor's note: This is part one of a two-part series on illegal immigration in Middle America.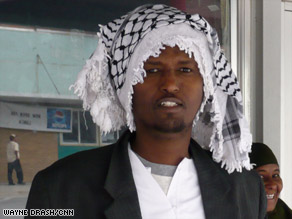 About 125 Somali Muslims with refugee status moved to Postville to work at the plant after the immigration raid.
POSTVILLE, Iowa (CNN) -- About a dozen Somali Muslims stand outside their makeshift mosque on Lawler Street, its sheet-draped windows emblazoned with the words "Sunday Mattress." Women are covered head to toe in traditional Muslim robes.
Across the street, a couple of Latino immigrants stroll the sidewalk in front of the town's long-standing Mexican restaurant. Just down the road, scores of ultra-Orthodox Jews walk down the street to the local synagogue. It's not uncommon to see people from Russia, Ukraine and the tropical island nation of Palau here as well.
Welcome to ground zero of the nation's immigration debate -- the tiny town of Postville, Iowa, a rural community of 2,400 tucked into the northeast corner of a state that's 94 percent white.
It's a town that's been turned "topsy turvy," Mayor Bob Penrod says, since hundreds of heavily armed federal immigration agents swooped in a few months ago and raided its main employer, Agriprocessors, the nation's largest kosher meatpacking plant.

Watch "a military raid on this town" »
"It makes a person feel kind of angry," Penrod says. "It's been nothing but a freaky nightmare since May."
U.S. Immigration and Customs Enforcement says it is "confident that our actions at Agriprocessors were appropriate for this investigation."
On May 12, nearly 400 illegal immigrants, most of them from Guatemala and Mexico, were taken from the plant, shackled and sent for processing at the National Cattle Congress, a complex where dairy shows and other events are held in nearby Waterloo.
"ICE did not create the illegal alien problem at Agriprocessors. While we understand that our actions have an impact on communities, the responsibility for any disruption lies squarely with the law violators, not with the agency responsible for carrying out the law," ICE spokesman Tim Counts said in a written statement.

See photos of ground zero of America's immigration battle »
It was the largest workforce raid in U.S. history at the time -- the start of a series of large raids across the country.
Helicopters buzzed the town, an airplane circled it and agents canvassed the area.
Another 300 undocumented workers who weren't at the plant at the time of the raid soon split town with their spouses and children, officials say. In essence, the town lost nearly a third of its residents in a matter of days.
"When you have a raid like that, it's just beyond your recognition," Penrod says. "It was nothing like you ever dream of. Believe me."
Five months later, tensions are high. Crime is up. Businesses are hurting. The nation's kosher supply has taken a big hit because the plant is only functioning at partial capacity. The plant is owned by Abraham Aaron Rubashkin, a powerful member of the Hasidic Jewish community.
There's a seething anger toward Immigration and Customs Enforcement.
"To me, they took a problem that needed a 22-caliber bullet and they dropped a nuclear bomb on us," says Aaron Goldsmith, a Hasidic Jew and former Postville city councilman. "They made a poster child out of Postville."

See where Postville is located »
Goldsmith says he believes immigration policy should be dealt with. But if federal officials wanted to correct the immigration situation in Postville, he says, they should've done it step-by-step, not with brute force.
"They turned people into cattle," he says. "If they wanted to stop this problem, if they wanted to scare everybody away, all they had to do is go into Los Angeles [California] and they could've taken out 1 million people in a day. But they don't because there's too much political clout.
"So they go to a place where there's no political backbone. They go to a place where the government's willing to throw us to the dogs."
Down a picturesque tree-lined street off Lawler Street sits St. Bridget's Catholic Church whose pastor, Father Lloyd Paul Ouderkirk, is both soft-spoken and outspoken. It is his church that became a refuge for the town's immigrants the day of the raid and the weeks afterward.
"They had attacked this town with a military-style raid -- brought in 900 immigration police to arrest 389 people. I mean, what is that other than a military raid on this town?" he says.
Ouderkirk scans his church now, the sun beaming through stained-glass windows. "Can you just imagine all these pews here full of people, sleeping 300-400 people a night?"
Not too far from his church, Agriprocessors sits at the edge of town along a railroad track on about 60 acres of land. A giant menorah juts into the sky at the main entrance. A sign on the building reads, "Agriprocessors a great place to work!"
CNN was denied entry, and representatives of the meatpacking plant have declined to respond to subsequent follow-up phone calls. In a statement immediately after the raid, Agriprocessors said it "cooperated with the government in the enforcement action. We intend to continue to cooperate with the government in its investigation."
It is behind the plant's gates that the federal and state governments contend crimes occurred -- with the company using illegal immigrants as its primary workers.
"It appears, based on 2007 fourth-quarter payroll reports, that approximately 76 percent of the 968 employees of Agriprocessors were using false or fraudulent Social Security numbers in connection with their employment," ICE alleges in its affidavit.
Separately, the state has filed more than 9,000 misdemeanor charges against the owners and managers at Agriprocessors -- including the owner Rubashkin -- accusing them of child labor law violations.
The criminal complaint, filed by the office of Iowa Attorney General Tom Miller, says the violations involved 32 youths under the age of 18, including seven under the age of 16.
ICE has no apologies for cracking down.
"Local disruption is easy to see and report on. What is less obvious is the devastation caused by the hundreds of illegal aliens who stole the identities of U.S. citizens and legal permanent residents," ICE's Counts said.
"It can take months or years for victims to recover from even the most benign case of identity theft. Even less obvious, but just as damaging, is the corrupting effect on the nation's legal identification systems."
In the wake of the raid, Agriprocessors has named a new CEO, New York attorney Bernard Feldman. It has also retained Jim Martin, a former U.S. Attorney for the Eastern District of Missouri, to help with the company's compliance with immigration and employment law.
Postville residents who spoke to CNN say those at Agriprocessors need to be punished if the allegations they face are true. But residents also say the debate over illegal immigration is far more complex than the rhetoric often heard over AM radio or cable TV.
They say the Latino residents were productive members of the community who paid taxes, even if under false pretenses, and had been here for years, and that Agriprocessors is key to the survival of the town and region.
Immigration officials, residents say, should've acted a decade ago -- long before the immigrants' roots were settled.
"If I had to say anything to anybody about the whole deal: Don't let it go so long that it becomes a huge problem," says Brian Gravel, the principal of Postville High School.
But he adds, "Picking on a town of 2,500 people in northeast Iowa is not my idea of a naturalization or immigration policy."
"You can corner this one plant with federal agents and deport people. That's one way to do it, but that's a good way to ruin towns -- ruin a small northeast Iowa place."
Since that day in May, the Latino population has dwindled.
The vice president of Palau has journeyed thousands of miles to Postville and offered about 160 of his countrymen for the open jobs at Agriprocessors. Residents of the island nation can legally live and work indefinitely in the United States under a special arrangement with the U.S. government.
Some from the Pacific island, where the average temperature year-round is 82 degrees, have already begun arriving. The rest will be coming soon, just in time for the frigid Iowa winter where temperatures dip below zero.
Another 125 Somali Muslims, legally classified as refugees, have already moved in. Many have come via the Minneapolis area, as well as Illinois and Texas.
"All of the Somalis came here to work at the plant," says Abdi Hasan, who came to the United States from Somalia five months ago. "I came to look for a job here."
He says they've been welcomed by the locals -- "no problems, no mistreatment, no nothing."
Hasan gets paid $10 an hour at the "kill house" at Agriprocessors, he says. His only complaint: Not being allowed to say Muslim prayers while at work.
"They don't allow it," he says. "That's a problem at times."
Mayor Penrod stands on the sidewalk outside his office. He looks out over Lawler Street, where big rigs rumble and cars freely move about.
"What do I love about my city? I love the progress we've made," he says.
But now, he says, "Everything is tension based."
"You can just sense the friction," he says. "I hope I'm wrong."

E-mail to a friend

All About Immigration Policy • Iowa