Story highlights
NEW: Fiery debate wraps up
New York vote to come after a string of victories for Sanders
Hillary Clinton and Bernie Sanders squared off Thursday night in the most heated and dramatic Democratic presidential debate of the 2016 cycle. The rivals battled it out at a two-hour prime-time event on CNN that exposed fundamental differences in their candidacies and campaign styles.
Coming just five days ahead of the crucial New York contest Tuesday, the debate featured combative exchanges on issues including gun control, Israel and Wall Street reform. These policy disagreements were fueled by a broader clash: Sanders cast doubt on Clinton's judgment and credibility, while Clinton insisted that the Vermont senator lacked experience and pragmatism.
READ: Opinion - Bernie, Hillary, stop the nastiness
As the two delivered harsh attacks throughout the night – on multiple occasions inviting intervention from the moderators – a rowdy crowd at the Brooklyn Navy Yards stoked the tension, loudly cheering and hissing to take sides.
Thursday's debate and the primary here next week come at a critical juncture in the Democratic contest. Sanders is trying to change the dynamics of a race that has delivered many more delegates to Clinton; the former secretary of state, meanwhile, is on an urgent mission to halt the momentum of her unexpectedly strong challenger.
Sanders came out swinging, accusing his Democratic presidential rival of "lacking the kind of judgment we need to be the kind of president we need." But he found himself on defense for not releasing his taxes and said he would do so on Friday.
Clinton again found herself in the spotlight for her paid speeches to big banks, declining to release the transcripts when pressed by CNN moderators. But she counterpunched by referring to the Vermont senator's trouble explaining some of his core policies in an interview with the New York Daily News.
Attacks on Wall Street
The showdown, held just across the river from Wall Street quickly turned to the issue of the big banks and their perceived excesses.
When asked to name a single policy decision Clinton made as senator that showed she was favoring the banks, Sanders said that when the "greed and recklessness and illegal behavior of Wall Street" led to the financial crisis, he had called on the big banks to be broken up – while Clinton was "busy giving speeches to Goldman Sachs."
Clinton shot back: "He cannot come up with any example because there is no example … It's always important – it may be inconvenient – but it's always important to get the facts straight."
When Clinton said that she had spoken out against the big banks for the actions, Sanders took a mocking tone.
Photos: Hillary Clinton's life in the spotlight
Photos: Hillary Clinton's life in the spotlight
Photos: Hillary Clinton's life in the spotlight
Photos: Hillary Clinton's life in the spotlight
Photos: Hillary Clinton's life in the spotlight
Photos: Hillary Clinton's life in the spotlight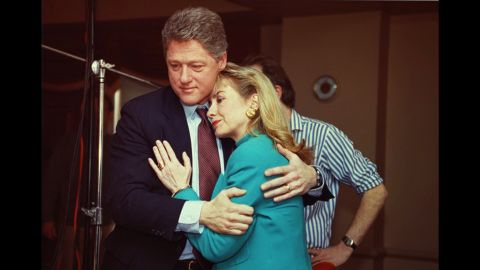 Photos: Hillary Clinton's life in the spotlight
Photos: Hillary Clinton's life in the spotlight
Photos: Hillary Clinton's life in the spotlight