Story highlights
Londoners once flocked to the city's waterways to escape a housing crisis on land
Today, canals are overcrowded, under-resourced and even dangerous
London vies with Hong Kong and Monaco for the unenviable title of the world's most expensive city for housing.
The average house price in the English capital is now nearly £600,000 ($787,000), and a study from the charity Shelter found just 43 properties affordable to people on an average income.
Several of these properties were houseboats.
Life on London's 100-mile network of canals, or 42-mile stretch of the River Thames, has become a popular option for beleaguered citizens, and such homes can cost as little as £20,000 ($26,500).
But as more people swap apartments for houseboats, the popular, romantic vision is giving way to a harsh reality.
Surge in houseboats
The Canal & River Trust (CRT), which manages the canals of England and Wales, reports that boat numbers in London have increased by 57% since 2012.
"We're seeing a huge rise in the popularity of boats, and London is the hotspot," says Joe Coggins, a spokesman for the Trust. "The issue we have is that some people don't move enough and stay in the same areas, which causes congestion."
The Trust offers two types of licenses for boaters: permanent moorings which cost at least £1,000 ($1,320) in popular locations, and "continuous cruiser" licenses, which are around £1,000 a year, but require the boater to find a new location every 14 days – the latter have increased in number by 153% to 1,615 boats since 2012.
This rapid influx of new boaters has put the waterways under pressure, in areas such as Little Venice, the glamorous West London enclave that is home to stars such as Oasis guitarist Noel Gallagher and designer Stella McCartney.
Producer and editor David Akinsanya is moored in this area, awaiting the birth of his child in a nearby hospital. He has spent the past 17 years on his 65-foot barge "Golden Buoy," but rarely visits London now.
"We had a very lovely existence – it was like our secret," he says. "But over the past five years it has gone absolutely crazy. When I come into London I can't stop because there are so many boats."
Different mentality
Akinsanya was attracted to life on the water due to a love of boating, the more relaxed lifestyle, and sense of community.
"People do it now because they have to, not because they want to," he says.
"There is an etiquette to being on the river. At the locks you are supposed to leave the paddles down and the doors closed, now you turn up and find them open."
Akinsanya says he has seen boaters emptying garbage onto the riverbanks, which has fueled campaigns from local residents to ban boats from mooring near their homes.
Other boaters, however, lament the bad management of the waterways.
"It's not that there are too many boats, it's that there are not enough moorings," says Phineas Harper, deputy director of the Architecture Foundation, who has spent four years on the water.
Harper notes that mooring access is being reduced, citing the River Lea stretch around the Olympic Park in East London, where short-stay facilities have been converted into luxury permanent moorings.
Research by urban planner Lee Wilshire shows congestion occurs around scarce shared facilities, such as water points and rubbish disposal units – there are just 13 water points serving London.
"It seems the CRT are deliberately under-resourcing central London facilities and making it harder to be a boater in London," says Harper.
The travelers are also under fire from populations living alongside canals.
Harper describes a "hugely antagonistic relationship between boaters and the people of Noel Road," an affluent North London street that is home to Foreign Secretary Boris Johnson. Residents have complained about noise and smoke from the boats, and overstaying on the canal, which has prompted new restrictions on the number of boats allowed in the area.
Under pressure
Boaters are operating in an increasingly hostile environment, says Marcus Trower, deputy chair of the National Bargee Travelers Association (NBTA), which provides support for boaters with cruising licenses.
"The threat of eviction is the main worry for most people," he says. "We are now inundated with cases."
Of the 5,600 cruiser license the CRT renewed in the past year, 1,130 were given a restricted license, in most cases for perceived rule breaking. Restricted licenses can lead to eviction and the confiscation of boats.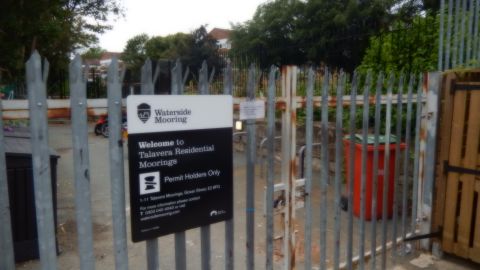 A central problem is the rules do not specify what distance cruisers must travel between stops.
"They say we need to move a reasonable distance without saying what that distance is," says Trower. This ambiguity leaves boaters vulnerable to unexpected punishments.
Trower sees the ongoing insecurity for everyday boaters as part of a business model that prioritizes higher value uses of the canal, from pleasure boats to permanents moorings and burgeoning waterside developments.
"So much of the canal is being developed into pubs and flats and (the CRT) don't think we fit into that … It is getting to the point that none of us can moor in London," he says.
Hidden crisis
Growing demand for accommodation on the waterways has left new boaters vulnerable to exploitation, and potentially dangerous living conditions.
"Every boat we looked at had something wrong with it," says 18-year-old Georgia Hart, a new arrival on the canals. "We were lucky to find a boat builder who helped us."
Horror stories abound, particularly on the Thames, of unscrupulous landlords renting sub-standard accommodation.
"Floating shacks … without running water, central heating or adequate sanitation facilities," is how former boater Sam Forbes described his experience, which ended when a safety inspector found "significant faults … which put the occupants at risk and in immediate danger."
An outreach worker, speaking anonymously, says she found people living in appalling conditions on the water.
"They stop under bridges because they haven't got good waterproofing," she says. "One guy had a shed he built on a floating platform and somehow registered with the CRT.
"When he answered the door, there was water sloshing around inside. There was a stove, so he could have got carbon monoxide poisoning. The boat could sink. For a guy who was drinking heavily it was so, so dangerous."
It is impossible to say how common such cases are, she says, as monitoring of the canals is intermittent.
From the glamour of Little Venice to the hidden squalor under bridges, the waterways that once offered respite from London's housing crisis, are rapidly becoming a symptom of it.