Story highlights
People line up for generators, gas in hard-hit Florida county
Donald Trump meets storm victims on visit to see damage, recovery efforts
In Highlands County, Florida, where the power went out for almost everyone, the days after Hurricane Irma are full of anguish.
"It's just hot. I mean it's been miserable for everyone," resident Adam Keene said.
For the fourth straight day, people in this south-central Florida county faced sweltering heat without power.
"It's been hell. Especially with my kids," Barbara Campbell said. "One of my daughters, she's like 2 years old. She has heat rash all over her body."
Motorists waited for up to three hours at one gas station, while people stood in line for hours hoping to buy a generator at a Lowe's store in Sebring, CNN affiliate WFTS reported.
"It's kind of a low-income area anyway and they're not even looking at the price," a Lowe's manager, Krzysztof Rogowski, told WFTS about the customers' desperation for generators.
After the storm, 99% of power customers had no electricity. Now it's about 76%.
A small army of utility crews – about 1,000 people – from states as far as Texas are working around the clock in this central Florida county with 100,000 residents.
There is hope that many more people will get their service restored in three days.
In other areas, days after Irma, a major hurricane, tore through Florida, residents are slowly returning to find ruins in some of the hardest-hit neighborhoods.
Recovery is only getting started, and some areas remain flooded. Utility companies are working to restore power to the battered Florida Keys as frustrated evacuees emerge from shelters ready to go home.
About 1.9 million utility customers still were without power in the state on Friday morning, officials said. Parts of central and southern Florida will be a sweltering 90 degrees for several days, with humidity making it feel like the mid-90s.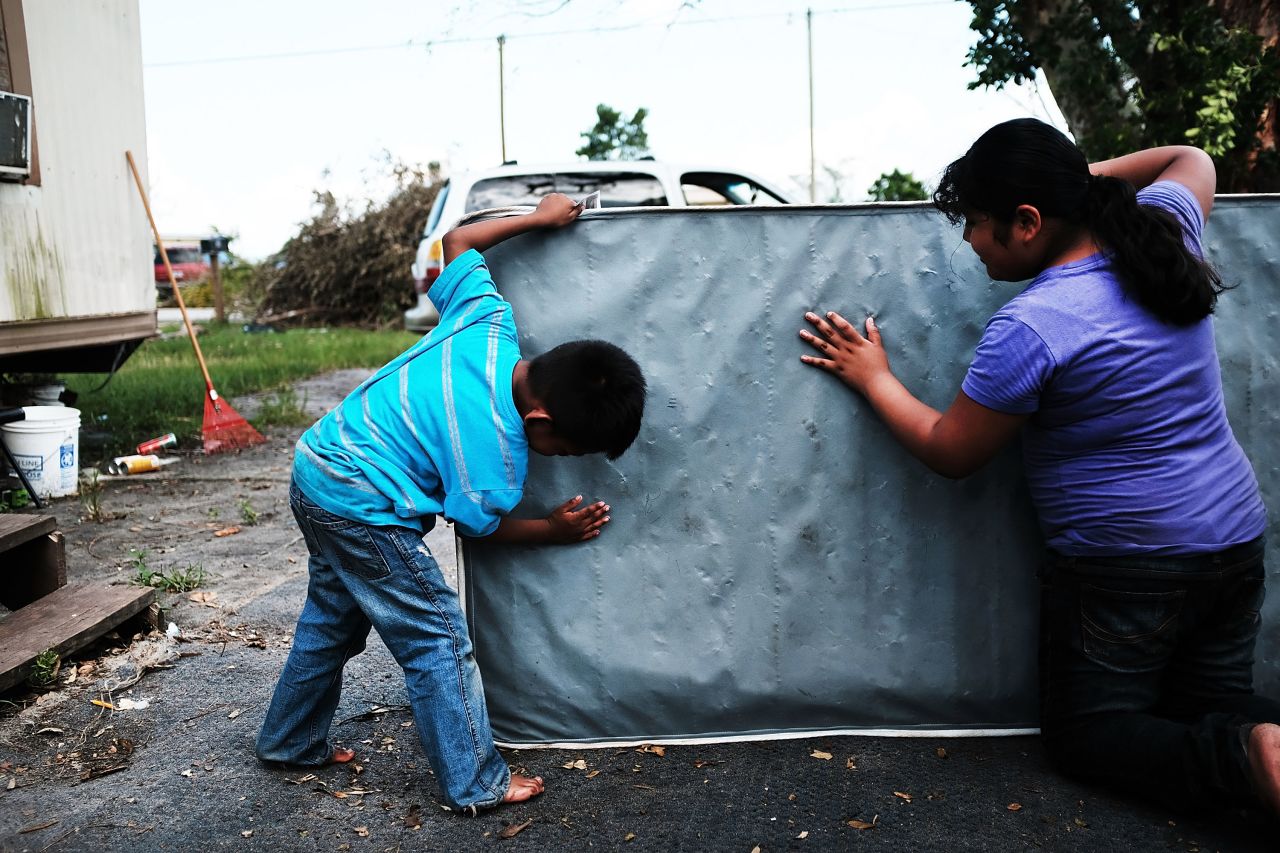 Hurricane Irma slams Florida
As Floridians pick through Irma's ruins, President Donald Trump traveled to the state to view damage, meet with storm victims and receive updates on recovery from state and local authorities.
After meeting with military members in Fort Myers, the President, first lady Melania Trump and Vice President Mike Pence stood under a tent in Naples and handed out food to storm victims.
"I just want to tell you, we are there for you 100%. We'll be back here numerous times," President Trump said in Naples.
Gov. Rick Scott urged first responders to check health care facilities after eight patients died at a nursing home with an air conditioning outage three days after Irma ravaged the state.
In affected areas with a weak phone connection? Get the text-only version of top stories
Some will wait until next week for power
Relief may be days away. People on the west coast, where Hurricane Irma made landfall, will likely have power restored by September 22, according to Florida Power & Light Co.
Customers who lost electricity on Florida's eastern side will likely have it restored by the weekend because fewer electrical poles came down than in other parts of the state, the company said.
Hurricane Irma's furious march through Florida not only darkened millions of homes, it also flooded roads and piled them with debris, blocking off access to neighborhoods.
Power outages hit other Southeastern states, including Georgia, where more than 125,000 homes and businesses did not have power Thursday.
'I didn't think it would be that bad'
Jessica Gonzalez is back in her Florida neighborhood of LaBelle, but the heat is keeping her outdoors.
Her home was damaged by the storm and has no power. She celebrated her 20th birthday this week by waking up in her car with her husband and 2-year-old daughter.
They cook outside and sleep in their car.
"I honestly didn't think it would be that bad. You hear a lot it's Category 5, but you really don't think it's going to hit your house," Gonzalez told CNN's Ed Lavandera, referring to Irma's strength in the Caribbean before the storm set its sights on Florida.
With no power and their house caving in, fellow LaBelle residents Bob and Tara Hahn have moved their 10 children into their oldest daughter's two-bedroom house.
During the storm, a giant tree crashed into their home, sending whipping rain pouring inside. There are no answers on when the power will be back.
Officials told them it'll take weeks, they said. As they wait, they have 17 people living under one roof.
'Walking away … is very difficult'
Transportation officials offered positive news for some Floridians looking to return home: Interstate 75, a major north-south artery, will not be closed in the Gainesville area as once feared.
Officials had worried that a rising Santa Fe River might flood a portion of the highway, north of Gainesville, forcing detours that might have added hours to travel times. But the river has been receding, so the interstate will remain open, the Florida Department of Transportation said.
Brice Barr, who owns a charter fishing boat business in Key West, would like to head back south, but authorities are generally keeping people off the storm-damaged lower Keys, saying it's not safe enough to return.
Barr and his wife fled to his parents' home in the northern Florida city of Bronson ahead of the storm, he told CNN affiliate WCJB, and are watching for their moment to return.
"Walking away from a boat – that is one of my family's main source of income – is very difficult to (do), especially when you secure all your property and everything else knowing that you may not see it again," Barr told the TV station Wednesday.
Other Keys residents have made the drive, only to be turned back. Frustrations grew this week when some residents tried to go home along a two-lane stretch of highway through the Keys but couldn't get through.
Monroe County Commissioner Heather Carruthers asked residents for patience Thursday, citing the high number of power outages.
"If folks don't have power to boil water or don't have fuel to boil water, we're really concerned about health, which is part of why we're not inviting everyone back yet" to part of the Keys, she said.
No power, hot weather
At least 34 storm-related deaths have been reported on the US mainland, according to local officials. They include 27 in Florida, four in South Carolina and three in Georgia. That number doesn't include the nursing home deaths, which police said are under investigation.
The nursing home deaths Wednesday in Hollywood prompted officials to call for action. Florida has the largest percentage of residents age 65 or older – 19.1%, according to the Pew Research Center.
"I'm going to aggressively demand answers on how this tragic event took place," the governor said. "… I am also asking available first responders to immediately check in with the health care facilities in their area to make sure nursing homes and assisted living facilities are able to keep their residents safe."
Before the hurricane smashed into the US mainland over the weekend, it struck northern Caribbean islands, leaving at least 44 people dead, authorities said.
Ryan Young reported from Sebring. CNN's Miguel Marquez, Jason Hanna, Chris Boyette, Tina Burnside, Rene Marsh, Joe Sutton, AnneClaire Stapleton, Darran Simon and Keith Allen contributed to this report.