If you've been on the fence about buying a running watch, we're here to tell you that it's totally worth it. When wearing one, it's almost as if you have your own personal coach. With each run, you'll get updates on how fast you ran each mile, how many calories you burned, information as to where you sped up or slowed down and more.
Even though the value behind having a running watch is pretty self-explanatory, there are a number of factors to consider when pulling the trigger and buying one. According to Runner's World, "there's no 'Golden Rule' for what classifies a watch as basic or advanced, but generally you can expect simpler watches to have fewer added features, greater ease of use, and a much lower dollar sign attached."
To help, we've compiled a list of running watch brands, from the most basic models to the most advanced. That way, you can compare different options and find the one that suits your needs and budget.
1. GARMIN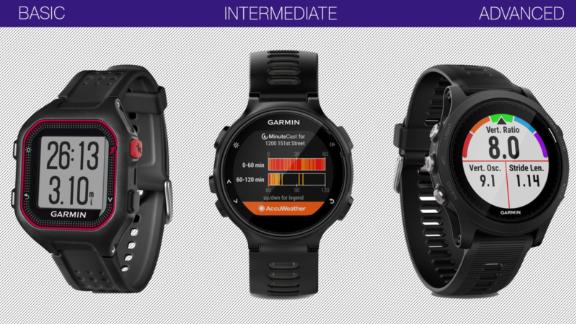 BASIC: The Garmin Forerunner 25 ($99.99; garmin.com) As a point of clarification, the term "basic" as it's used here doesn't have anything to do with quality — especially when it comes to the Forerunner 25. Instead, when we say basic, we're talking about the number of features. When there are fewer functions, the price is typically lower. This particular model tracks distance, pace, steps, heart rate and calories. It connects instantly with Garmin Connect Mobile so that you can share your progress via social media.
INTERMEDIATE: The Garmin Forerunner 735XT ($299.99, originally $349.99; garmin.com) If you're looking to track more than just running, this is the watch for you. The 735XT has multisport features and wrist-based heart rate measurements. With it, you can run, swim and cycle. It also tells you contact time balance, stride length, vertical ratio and more. It syncs your progress using Garmin Connect for live tracking and smart notifications.
ADVANCED: The Garmin Forerunner 935 ($449.99, originally $499.99; garmin.com) While spending $500 on a fitness watch might seem like a large price to pay, it's worth the investment for many athletes. For one, the Forerunner 935 has a sophisticated design (and weighs just 49 grams) so it fits comfortably on your wrist. And since it's a watch designed for both runners and triathletes, one would have a lot of trouble outgrowing this device. With so many functions, including a barometer, altimeter and an electronic compass, you can set off on real adventure and get an accurate idea of hills climbed, steps and much more.
2. TOMTOM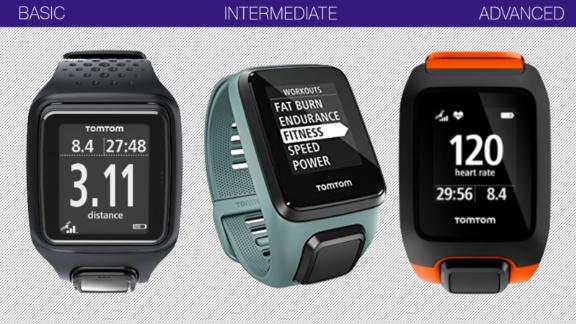 In 2011, TomTom partnered with Nike to create a fitness watch. Since then, it's expanded its line to include the Runner, Spark, Touch and Adventurer. Pictured from left to right, these are our top choices, from basic to intermediate to advanced.
BASIC: TomTom Runner GPS Watch ($74.98; amazon.com) This TomTom GPS watch has an extra large screen and one-button control for efficient use while training. It measures time, distance, pace, calories burned and gives you live stats as you run. There isn't a built-in heart rate monitor, but you can pair it with an external one to monitor workout intensity,
INTERMEDIATE: TomTom Spark 3 GPS Fitness ($187.21; amazon.com) TomTom calls this watch "music and cardio on your wrist." That's because this tracker plays over 500 songs. When measuring progress, there's a built-in heart rate monitor, GPS tracking and a route exploration feature for checking out new running paths.
ADVANCED: The TomTom Adventurer GPS Multisport Watch ($349.99; tomtom.com) This advanced multisport watch not only looks super cool with an easy-to-read display, and it also has a ton of functions. These include a GPS, compass, altimeter, heart rate monitor, integrated music player and more. In addition, it has multiple advanced training modes, such as interval training workouts and the ability to track hiking, biking, swimming, skiing and more.
3. Polar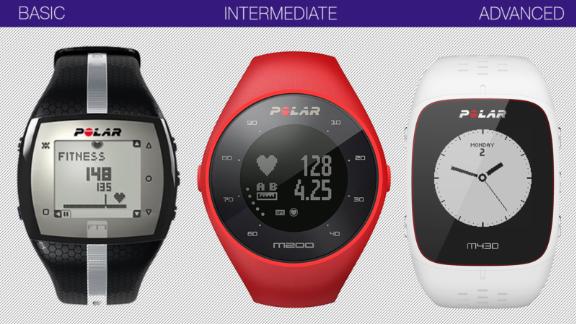 Polar has quality watches that aren't overly pricey. Here are three top-notch items from the brand to fit your training style and budget.
BASIC: Polar FT7 ($99.95; sears.com) Simple and effective, the Polar FT7 fits comfortably with a large backlit screen. This most basic tracker doesn't have built-in heart rate monitoring, but it comes with an H1 coded transmitter to send ECG accurate heart rate signals to your device.
INTERMEDIATE: Polar M200 GPS Running Watch ($124.99, originally $149.46; amazon.com) A bestseller on Amazon, this running watch is straightforward, easy to use and made for those with serious fitness goals. With an integrated GPS, heart rate monitor and sleep tracking, this watch is for those who are watching their habits around the clock. If you're looking to start a running plan, this watch comes with a running program made for your needs. Using Bluetooth, you can study your progress using the Polar Flow app.
ADVANCED: Polar M430 GPS Running Watch ($199; walmart.com) A stylish take on the Polar watches you know and love, the M430 comes equipped with GPS tracking, optical heart rate technology and a personalized running program to support your goals. Additionally, it tracks your steps