Story highlights
With 5 simple steps and a handful of fan-favorite products, you can expect a perfect smooth scruff, no matter how you choose to style it.
It doesn't matter if you've got a solid 5 o'clock shadow or if you look like a full-grown lumberjack, you have to give your beard some TLC to help it look its best. That involves choosing grooming essentials that are chock full of antioxidants to help your facial hair feel soft and hydrated, and to help promote healthy growth.
The basics for this generally are a shampoo, conditioner, beard oil or balm, a brush and a razor. But if you think that you can use your standard shampoo and conditioner, think again. When you're washing your scruff, you need a product that will clean both your hair and your face, something a typical shampoo just isn't made to do.
Thankfully, a number of companies specialize in beard care products. What's important to note about these items is that they utilize natural and essential oils that can stand up to the coarseness of facial hair. The end result if done correctly: a perfect smooth scruff, no matter how you choose to style it.
To get your beard routine down pat, we've rounded up antioxidant-rich products and the top tools to match. And if you're just beginning to care for your beard, we've added a few tips and tricks to get you started.
Note: The prices below reflect the listed retailer's price on the date this article was published.
Step 1: Shampoo
Amazon
First thing's first. You've got to wash your beard. You can do this in the shower after you've finished shampooing your scalp (that way you can get rid of any runoff). It is important to note, that just like the hair on the top of your head, it isn't wise to wash your beard every single day, as this will strip away your hair's natural oils. Depending on your hair's oiliness, it's best to wash your beard once every three days, or about twice a week. That doesn't mean you shouldn't wash your face every day. You should definitely do that.
Beard shampoo is unique in that it can cleanse the skin underneath the beard, which is prone to oil build up. Since facial skin can also be sensitive, look for shampoos that are free of synthetic chemicals. Professor Fuzzworthy's Beard Shampoo ($13.25; amazon.com) is 100% all natural and features nourishing oils like kunzea (which can relieve dry, itchy skin) and lavender (which can help promote hair growth). The product is beloved by many beard enthusiasts, garnering an impressive 4.7-star rating from over 600 customers.
Sephora
Another item that gets top marks is The Art of Shaving's Beard Wash ($18; sephora.com). This paraben-free product utilizes peppermint essential oil, which can increase blood circulation, and therefore, can increase hair growth. It also contains jojoba seed oil, which helps smooth hair and promote shine.
Step 2: Conditioner
Target
Once you've rinsed and repeated, you need to condition. According to Birchbox, conditioner smoothes the hair follicle rather than cleaning the strands of hair. This strengthens the hair shaft to prevent split ends or hair loss, and also minimizes static and unruly hair. The same thing goes for beard conditioner.
Clubman has created a 2-in-1 Beard Conditioner ($5.99; target.com). This isn't shampoo plus conditioner, but rather facial moisturizer plus beard conditioner. Formulated with coconut oil and soy protein, this does double duty in conditioning and the skin soothing department to help you achieve a soft, frizz-free beard.
Step 3: Beard oil
Jack Black
After you've dried off your beard, it's time to lather it up. Beard oils, specifically, are a great resource to help you moisturize your hair at the core. These oils penetrate deep into the hair follicles, and when backed with powerful essential oils, they can help your beard look and feel healthy.
For example, Jack Black's Beard Oil ($24; getjackblack.com) is fortified with Kalahari melon oil, which, thanks to its high content of fatty acids, can regenerate the cell wall and add suppleness to the skin. An added dose of Vitamin E also helps build tissue to repair damaged hair follicles.
Step 4: Beard balm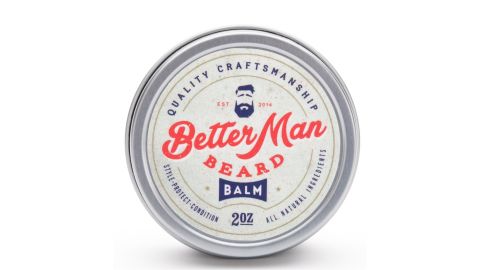 Amazon
While beard oils help your beard's long game, beard balms are all about the short. These products almost act as a pomade and will help make sure fly-away hairs are a thing of the past. Plus, they can also protect your beard from drying out during your daily routine.
If you're sticking to the all-natural and eco-friendly route, we suggest Better Man Beard Balm ($14.99; amazon.com). The balm, which is handcrafted in Idaho, is quick and easy to apply, and uses only organic ingredients. Plus it's cruelty-free and uses therapeutic grade oils to give you a clean, earthy scent. Not too bad for only 15 bucks.
Step 5: Brush
Birchbox
Last, but certainly not least, the beard brush. It's a simple final step to make sure your facial hair is tangle free and looks perfectly put together. The Zeus Beard Boar Bristle Brush ($20; birchbox.com) uses all natural bristles, which plays off of your hair's natural sebum oils to keep your beard healthy. Over 250 bearded customers have weighed in, giving it a stellar 4.7-star rating.
Bonus: Trim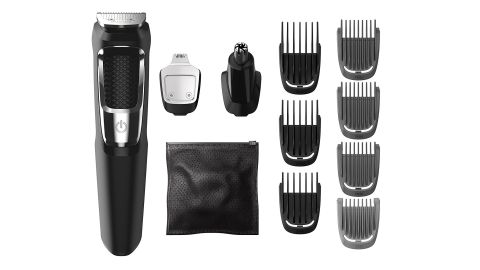 Amazon
You likely won't be using a trimmer as part of your daily beard care routine, but one will be in the mix from time to time to help you keep the shape of your beard. Philips Norelco Multigroom 3000 ($16.45, originally $20.99; amazon.com) has received high marks on Amazon as a Best-Seller, while also being one of the more budget friendly options on the market. The kit features self-sharpening steel blades, a lithium battery that can last over 60 minutes, and has add-ons made specifically for your beard, stache, nose and hair.