Story highlights
These five tech products are designed to solve your everyday problems
They include a solar-powered portable charger and a smart sous vide attachment
CNN —
Some small things can seemingly derail your entire day, like your phone dying when you need it the most, your shower speaker not sounding up to snuff as you're getting ready for the day, or even worse, your meals just tasting blah.
There are plenty of tech innovations out there designed to solve life's little problems. There are precision cookers that can sync up to your smartphone to make the cooking process more hands-off and accurate, so you can have perfect meals with little effort. There are shower speakers that won't make your daily tunes sound watered-down. And with the help of a powerful portable charger, you'll never have to worry about your device dying while you're on the move.
In short, they can make your day instantly better.
Ahead, we've pinpointed five tech products that you can shop right now that do just that. These gadgets will make those everyday annoyances a thing of the past.
Note: The prices below reflect the listed retailer's price on the date this article was published.
1. VicTsing Shower Speaker ($21.59; amazon.com)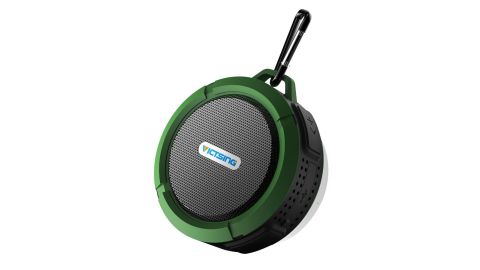 Amazon
There's something so upbeat about starting the day with a shower karaoke session. It wakes you up, gets you in the groove and helps you get into a positive mood right before you step out the door to your 9-to-5. This, however, can completely backfire if your shower speaker's audio isn't great. So when shopping for a device, you'll want to focus on overall functionality and especially audio quality. VicTsing's Shower Speaker is a solid option that checks off both of those boxes. The device seamlessly connects with your smartphone to play your favorite songs for up to six hours on a single charge. It also has a built-in 5W speaker that can stream sounds with clarity and power. It's an Amazon Choice product, with 5,872 past shoppers giving it an impressive 4.3-star rating. As an added bonus, the speaker's heavy-duty design is shockproof, dustproof and water-resistant and also features a variety of attachments, so it can be your go-to shower speaker and also a device you tote around with you on camping trips or hikes.
2. Anova Culinary Sous Vide Precision Cooker ($124.99, originally $149.99; amazon.com)
Amazon
The at-home cooking ideal is restaurant-quality meals that don't require nearly as much effort. Sous vide is a popular technique to accomplish just that. With it, you vacuum-seal your foods in a bag and then cook them in a water bath that's completely temperature-controlled. This method, which is used by some of the best chefs around the world, helps cook your foods evenly and with precision. Anova Culinary's Sous Vide cooker ups the ante by adding Bluetooth connectivity. This will send your phone updates once your meal is ready to go, so you don't have to constantly monitor the cooking. Its integrated app will also give you recipe ideas if you need some culinary inspiration. A great at-home dinner that can rival your favorite restaurant sounds like a win to us.
3. LESHP Portable Solar Power Bank ($16.62; walmart.com)
Walmart
No matter whether you need your phone for business calls, to listen to music on your way home, to function as a GPS or just for emergencies, you'll want (and need) it to be fully charged and ready to go. If you've got a long day ahead of you where your battery could die before you reach home, or if you are always on the move and may not have access to a power outlet, consider solar-powered power banks. These portable chargers, like LESHP's device, can juice up your smart devices without a wall socket. Simply power up the device using the sun, and then use its dual USB port to charge up to two devices at once. Those alarming 10% battery warnings will soon be a thing of the past.
4. Kindle Paperwhite E-Reader ($119.99; amazon.com)
Amazon
Reading can make your morning commute go by much faster or help you unwind after a stressful workday. It's also more than just great escapism; reading has been shown to help bolster emotional intelligence. So by reading something new every day, you're not only getting needed R&R, but also doing your brain a favor. For those who don't want to carry around larger books, consider investing in a Kindle Paperwhite e-reader. The device, which gives you the option to read millions of free titles, as well as others for as little as $2.99, weighs in at a mere 6 ounces, so it's tiny enough to carry around in your work bag or travel case. It can hold thousands of books, so you'll have no shortage to your reading list. Other notable features include a battery life that can handle more than six weeks of usage on a single charge, free cloud storage for Amazon content, a no-glare screen and a built-in adjustable light.
5. Fitbit Blaze ($199.95; fitbit.com)
Fitbit
Nothing makes for a better end to your day than accomplishing a goal, no matter how small. For those who are focused on bettering their physical health, a Fitbit Blaze is a stylish way to stay motivated and set a daily goal that you can knock off your list. It's a sweat-, rain- and splash-proof fitness tracker that can monitor your heart rate, daily step count, sleeping and workout stats in real time. Equally impressive is the tracker's five-day battery life. You can also get step-by-step workouts displayed right on your wrist, as well as guided breathing exercises. The device will send you friendly reminders to move so that you can reach your hourly or daily step goals. But what sets this device apart from other trackers is its advanced technology, which over time learns about your body, such as your effort while working out or your resting heart rate. It makes you more aware of how you're pacing toward your goals so you can adjust accordingly.