Story highlights
In honor of Earth Day on April 22, shop these eight eco-friendly brands
Products range from ethically made leather boots to chemical-free cleaning products
CNN —
For many people, Earth Day is a time to reflect on how we interact with the world around us. You might volunteer to clean up your local park or lobby for environmental protection. If your Earth Day activities include looking for ways to lessen your carbon footprint, you may want to take a hard look at the products you buy throughout the year. If you're not careful about what brands you purchase in the clothing, home and tech categories, you could be contributing to problems from water contamination to energy waste.
If you're hoping to incorporate more environmentally friendly products in your everyday life, from your sheets to your shoes, we've got great news: All eight brands below fit the bill. They'll help you celebrate Earth Day, and really every other day, in style and more sustainably.
Note: The prices below reflect the retailer's listed prices at the time of publication.
When you think of home audio systems or over-the-ear headphones, you don't typically think of sustainability. The House of Marley is hoping to change that. The purveyor of luxury, high-tech audio equipment incorporates earth-friendly and sustainable materials like recycled plastics, metals, bamboo and Forest Stewardship Council-certified woods in its devices.
Not only do the products look great, but you'll also feel great using earth-conscious gadgets.
Some of the company's top-rated products are its Positive Vibration 2 Headphones, a comfortable and booming pair of over-ear Bluetooth headphones, and its Get Together Portable Audio System, an Amazon Choice product that can play your favorite playlists and tracks no matter where you are.
Left to right: House of Marley Positive Vibration 2 Wireless Headphones ($53; amazon.com); House of Marley Get Together Bluetooth Portable Audio System ($179.54; amazon.com).
With every purchase of a product, TOMS helps a person in need – it might be with shoes, medical treatment, water, safe birth or bullying prevention programs. Not only is the brand socially conscious, but it offers eco-friendly styles; its canvas is made of a blend of organic material and post-consumer recycled plastics. The brand also features a line of vegan designs, which are made without any animal byproducts. Some of our favorite vegan goods you can score right now include color-blocked slip-on shoes, warm-weather sandals and even chambray sneakers.
Left to right: Drizzle Grey Chambray Mix Men's Lenox Sneakers ($69.95; toms.com); Natural Metallic Jute Women's Viv Sandals ($59.95; toms.com); Natural Hemp Navy Denim Men's Classics ($54.95; toms.com).
Another shoe brand making a big difference in the industry is Nisolo. Nisolo is focused on making the leather production process as safe and environmentally sound as possible. The brand uses vegetable-tanned leather, which is a much more sustainable and eco-friendly tanning process. It also ensures that its tanneries are utilizing eco-friendly waste disposal systems. Its other products, like its jewelry and accessories, are also made from upcycled materials. And to top it all off, Nisolo goes above and beyond fair trade standards. The company says it pays its local artisans on average 27% higher than fair trade requirements.
Some of the brand's seasonal styles include its Luca Chukka Boot and Diego Low Top Sneaker for men and the Ecuador Huarache Sandal and the Paloma Open Toe Mule for women.
Left to right: Luca Chukka Boot ($198; nisolo.com); Diego Low Top Sneaker ($148; nisolo.com); Ecaduor Huarache Sandal ($118; nisolo.com); Paloma Open Toe Mule ($198; nisolo.com).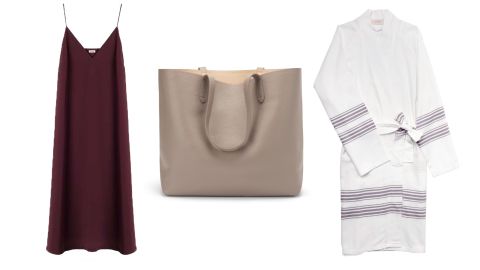 Sometimes less is more. At least, that's clothing and accessories brand Cuyana's guiding principle. The label is a proponent of the lean closet movement, meaning your clothing choices should be all about top-of-the-line staples which prove that quality beats out quantity. To help you declutter your wardrobe, the brand provides a reusable bag with each order, which you can use to donate your unwanted clothing to victims of abuse. You'll even receive a $10 credit for each donation to sweeten the deal. Your old clothes get a second life, instead of ending up in a landfill. In addition, Cuyana employs local craftsmen and women around the world who source high-quality materials native to their own areas. The result is consciously created staples (like the best-sellers listed below) that will live in your closet for years to come.
Left to right: Silk Slip Dress ($315; cuyana.com); Classic Structured Leather Tote ($195; cuyana.com); Turkish Cotton Robe ($95; cuyana.com).
Reformation
Rounding out our list of eco-friendly clothing brands is Reformation. The clothing label prides itself on sourcing quality, sustainable fabrics to create its seasonally inspired lines. This includes using Tencel, a fiber made from renewable plant materials, as well as reusing offcuts which were created during the production process. What separates Reformation from other brands is its ability to tap into trending designs – fast. You'll be able to shop this season's top looks as with any fast-fashion company, but know that what you're getting is quality, environmentally responsible goods.
Left to right: Abaca Marina Basket Tote ($65; thereformation.com); Valero Jacket ($248; thereformation.com); Naomi Top ($98; thereformation.com).
Another company that homes in on sustainable materials such as FSC-certified wood, as well as more innovative materials like repurposed skateboard decks, is Proof Eyewear. The company's three main pillars are heritage, sustainability and giving back. The brand sources recycled and sustainable materials to create its collection of eyewear, which includes sunnies and specs. A portion of every shopper's purchase goes to a worthy organization, anything from national disaster relief abroad to nature conservancies domestically. But for us, the real highlight is how stylish and fashion-forward the designs are.
Left to right: Delta Eco RX ($156; iwantproof.com); Ada Eco ($130; iwantproof.com); Declo Wood ($130; iwantproof.com); Payette Skate ($115; iwantproof.com).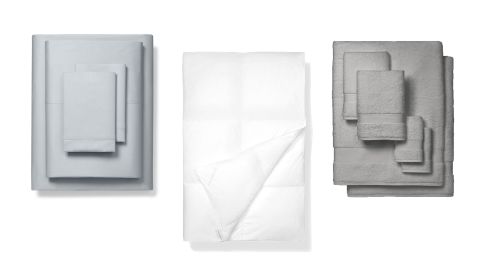 We've waxed poetic about Boll & Branch sheets. The company goes beyond just being organic. It's a GOTS-certified brand, which ensures that the products and production processes use organic material free from any dangerous chemicals or pesticides, and that any dyes used during the creation process won't leak and contaminate local water systems.
Some of our favorite eco-conscious items you can shop now include soft cotton bedding, an all-weather duvet and plush bath towels.
Left to right: Solid Hemmed Sheet Set (starting at $200; bollandbranch.com); Duvet Insert (starting at $300; bollandbranch.com); Bath Sheet Set ($140; bollandbranch.com).
It's not just clothing and tech brands getting on the eco-friendly bandwagon; a number of everyday home products have been given an environmental facelift – think multisurface wipes, dish soap, diapers, laundry detergent and toilet paper. The brand Seventh Generation focuses on turning everyday necessities into something that will ultimately make you a better eco-citizen. This certified B-Corp company produces items from plant-based ingredients which are 100% biodegradable. It prides itself on producing zero waste. You're going to be buying hand soap, paper towels and detergent anyway, so why not buy products that benefit the environment?
Left to right: Seventh Generation Hand Soap, Pack of 8 ($23.92; amazon.com); Seventh Generation 6-Count Paper Towels, Pack of 4 ($67.20; amazon.com); Seventh Generation Ultra Power Plus Dishwasher Detergent Packs, 86 Count ($19.99; amazon.com).