Story highlights
Himalayan salt lamps are created out of pink salt crystals that are native to areas close to the Himalayas.
Its purported benefits helping your mood and purifying the air in homes.
CNN —
Lately, many across the country are spending more time at home, so you've probably thought about investing in home goods that will keep you healthy and happy more than ever before. Perhaps you've bought new workout gear to keep you fit at home, considered tech gadgets to upgrade your work-from-home setup or even tried some products to make your bathroom a bit more spa-like.
There are a lot of products out there that claim to make your home a healthier place. Light therapy alarm clocks are thought to improve your overall mood and help you wake up more naturally, weighted blankets are designed to help you fall asleep faster and sleep more soundly. And Himalayan salt lamps are said to improve your home's overall air quality, one reason they've grown in popularity over the past few years and why we've been looking into them even more recently.
What exactly is a Himalayan salt lamp?
If you've been scratching your head over what exactly a Himalayan salt lamp is, here's a quick explainer. This wellness product is created out of pink salt crystals that are native to areas close to the Himalayas, like Pakistan. The pink salt is used in everything from cooking slabs for grilling to what's known as "salt therapy" at spas.
Himalayan Salt Lamp Health Benefits
When it comes to the lamps, the pink salt is thought to release negative ions into your space, which would be able to get rid of dust particles that may affect your health, thus purifying your space and helping the air quality of your home. Because of that, many believe that it can do everything from increasing your energy levels to alleviating symptoms of allergies. Some people say these pink salt lamps can even help boost your overall mood and help you sleep more soundly.
Do Himalayan salt lamps actually work?
It's important to note that no major studies have supported the alleged health benefits of Himalayan salt lamps when it comes to air quality, but one study did suggest that negative ions can help decrease depression. But that being said, we still think this popular decoration can make a great addition to your home. The lamp emits a pinkish hue that makes the ambiance warm and relaxing. Different designs can fit your home's aesthetic, including miniature versions, which make ideal night lights. Plus, it doesn't hurt that these lamps are currently trending in the home decor space.
Which lamps should you buy?
Currently there are plenty of options out there with high customer satisfaction ratings, some of them going for under $20, so you've got lots of choices. However, our team scoured the market to find you the best of the best, so you know you're getting a quality product with the items below.
Levoit's Kana Himalayan Salt Lamp ($19.79; amazon.com)
An Amazon best-seller sources its Himalayan salt from Pakistan. It has a dimmer that lets you adjust the light as much as you want, and the steel base also provides a more modern spin on the product. Since it has a two-year warranty, it's the perfect gift for your wellness-obsessed friend, who may just use this item 24/7.
Natural Iconic Pink Salt Lamp (starting at $12.99; amazon.com)
It's only 6 inches high, so you can give the trend a whirl before you decide whether you want to invest in a bigger lamp. The coolest thing about this lamp is that it's currently on sale for only $10 and still provides the soothing effects of any typical salt lamp so you know you're getting a bang for your buck.
Windsor Seasons Hand Crafted Salt Lamp ($37.95, originally $42.95; amazon.com)
The Windsor Seasons Hand Crafted Salt Lamp is both a calming lamp and an ionizer and air purifier. The ionized air generated from the lamp helps you achieve a good nights sleep and acts as a mood elevator and stress reliever. A dimmer control switch allows you to set the lamp at the optimal glow that suits your needs. What's even more interesting is that each lamp is crafted by a master craftsman so you know your lamp is one of a kind.
D'aplomb Himalayan Salt Lamp ($39.99, originally $59.99; amazon.com)
For a more aesthetic option for a desk or bedside table, this lamp is great because it is hand carved into a rose. It has a wooden base for a more neutral look, allowing it to match almost any home decor. The dimmer lets you pick the light intensity, with several reviewers complimenting the warm glow the light gives off. One reviewer wrote, "Not only does it create a nice ambient glow, but it also creates a great decoration for my room!." We think that pretty much says it all.
Himalayan Glow 1328 Bowl Salt Lamp with Massage Ball ($47.99; amazon.com)
This salt lamp is shaped like a bowl and comes with five massage balls. Not only does it make for lovely décor and emit a warm light, but you can also use the balls to help massage out those knots for an even more relaxing experience.
Authentic Natural Himalayan Salt Lamp Hand-Carved Modern Rectangle ($49.99, originally $59.99; amazon.com)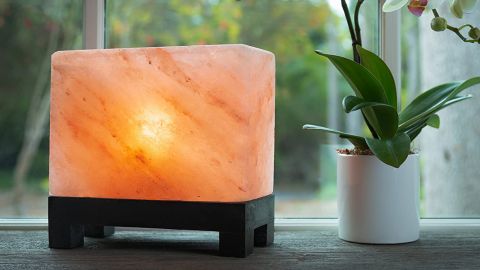 This sleek lamp is also for the aesthetically-minded, as it features a clean cut, modern design. It will fit right in on a coffee table, shelf or counter, plus it comes with a dimmer so you can fully customize the lighting to fit your mood.
Natural Himalayan Salt Lamp with Salt Candle Holders ($14.99; amazon.com)
This kit comes with one salt lamp and two small salt candle holders, so you can light your candle of choice to complete the mood and relax to the fullest.
Mineralamp NSL-101 Salt lamp ($16.47, originally $24.99; amazon.com)
Equipped with a 15-watt bulb and a dimmer, this lamp can get nice and bright, or you can customize it to your relaxation needs. The dimensions vary since each lamp is hand-carved, but they're all about 8 to 11 inches in height and 5 to 7 inches wide.
We can't promise that these will keep your home healthy, but they will keep your home stylish. And that's fine by us.
Note: The prices above reflect the retailer's listed prices at the time of publication.