At a time when American intelligence says Kim Jong Un will do just about anything to conceal the real extent of North Korea's nuclear program, US Secretary of State Mike Pompeo is in Pyongyang to find out exactly what he can prise from the reclusive regime.
In many ways, Pompeo's trip to Pyongyang on Friday sets off a number of ticking clocks for both the White House and the North Korean leader.
For US President Donald Trump, there will be greater pressure for his administration to come away from the visit with a clear declaration from North Korea over its nuclear program and what concrete steps it will take to denuclearize, following on from the promise of the historic meeting between the two leaders in Singapore in June.
How significant was the Singapore Summit?
For Kim Jong Un, his window for offering anything other than tangible measures is closing. In the absence of public timelines over what he will or will not do and when, there is something of a hard deadline he will need to get ahead of, say North Korea experts.
"Between now and the middle of August he has to do something substantive to show good faith, or we will reconvene the exercises," said David Maxwell, a retired US Army Special Forces colonel and a fellow at the Institute of Korean American Studies.
The August exercise, named Ulchi Freedom Guardian, had long been scheduled and final planning with several nations' military forces was well underway when the White House decided to suspend it after the Singapore summit.
Trump said North Korea considered the exercises to be provocative, and that suspending them was important while diplomacy appeared to be working.
Last year, Ulchi Freedom Guardian involved 17,500 US service members, with 3,000 coming from outside South Korea. The drills include practicing readiness under a scenario in which the Korean Peninsula goes from peace to a crisis stage and then into open conflict, according to a defense official.
"This really puts Kim on the spot. He'll have to put up or shut up," Maxwell told CNN. "If Pompeo brings back a declaration of North Korea's nuclear capabilities, where they are, and what they have or at least an agreement to provide an accounting, that would be significant. If he gets blown off completely, then things are done."
Bringing dead Americans home
More than likely, however, is a scenario in which Kim sends Pompeo back to Washington with another vague promise, but with something else that may satisfy Trump in the short term – some of the remains of American troops killed during the Korean War.
Trump had said that Kim committed to repatriating the remains shortly after the summit in June. When Pompeo testified before a Senate Appropriations Committee last month, he acknowledged that the transfer had yet to take place.
"We are intent on denuclearization, make no mistake about it," Pompeo said. "But we are also intent on getting back as many remains of Americans as possible. We are dogged in trying to facilitate this as quickly as we can."
Maxwell says North Korea's delay in returning the remains is not an act of good faith.
"North Korea has already damaged its reputation with the remains. They should have returned those immediately. I hear they have as many as thousands and they are simply holding them hostage. That is not humane and not in keeping with being a responsible member of the international community," he said.
"If they're trying to extract concessions for these bodies as they have in the past, they are going to lose any kind of support they have with these negotiations. It's a simple test. Provide the remains."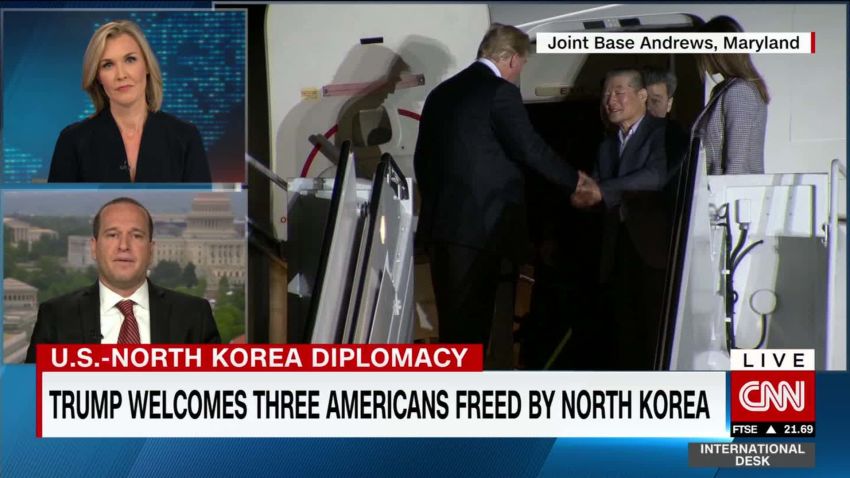 Trump greets Americans freed by North Korea
Conflating the return of the remains with demands Pyongyang dismantle its nuclear program affords North Korea wiggle room, and it also gives the White House the opportunity of another optics win while progress on the nuclear front stalls.
When North Korea released three Americans it had been holding prisoner in May, experts warned that their situation should have no bearing on the nuclear talks, and urged Trump not to be distracted by a photo opportunity.
Kim Jong Un, who has spoken in broad strokes about his ambitions for a denuclearized Korean peninsula, is looking for ways to manipulate the atmospherics in his favor, said Duyeon Kim, Visiting Senior Research Fellow at the Korean Peninsula Future Forum in Seoul.
"Kim Jong Un has proven to be a savvy negotiator, and strategic and tactical thinker," she told CNN. "North Korea also thinks very long-term in its calculations. Unfortunately, Kim seems to have more cards to play than President Trump."
What is North Korea actually expected to do?
As it stands, there are more questions than answers regarding the commitments North Korea has made and the language of any agreement it has signed on to.
"I am not sure what Mr. Pompeo will come back with, but I can promise you that the North Koreans are going to try and slow-roll this as much as possible," said Bruce Bechtol, a professor of political science at Angelo State University who has written several books on North Korea.
"Everything he gets he will need to get in writing or the North Koreans will not abide by it," Bechtol said.
Before he left for Pyongyang, Pompeo tweeted that he was "looking forward to continuing our our work toward final, fully verified denuclearization of DPRK, as agreed to by Chairman Kim." He was referring to North Korea's official name: the Democratic People's Republic of Korea.
Pompeo returning to North Korea this week
However, until the White House or Pyongyang release more specifics regarding their talks and any possible road map, it leaves the question of what North Korea is actually expected to do before sanctions are lifted open to interpretation.
"At the end of the day they have to agree to something, they're not going to agree to something that puts them at a horrible disadvantage," said David Schmerler, a research associate at Middlebury Institute for International Studies (MIIS) in Monterrey. "This whole process has been happening without a whole lot of transparency on both sides. Obviously the North Koreans aren't going to be transparent."
The White House, meanwhile, has emitted differing signals on progress and what it believes North Korea has or has not done.
Trump continues to point to the absence of nuclear missile tests or rocket launches to argue that things are "going well!" as he stated in a recent tweet.
Pompeo has been more circumspect.
"On this trip I'm seeking to fill in some details on those commitments and continue the momentum towards implementation of what the two leaders promised each other and the world," he said before boarding his flight to Pyongyang.
Bolton: US has plan for denuclearizing N. Korea
Meanwhile, National Security Adviser John Bolton has said the administration has set a year's deadline to have Pyongyang break up all its missile and weapons programs, and added that he was sure Pompeo would be discussing this with the North Koreans.
Would that even be possible?
"The estimates I have seen are enough fissile material for 60 to 70 warheads. There could be hidden weapons that we don't know about," says Bechtol.
"Given the fact that North Korea's nuclear weapons program is not that big, I think Mr. Bolton's estimate may be accurate."
He referred to the dismantlement of Kazakhstan's Soviet-era nuclear weapons program as a possible comparison. In 1992 the former Soviet state gave up what was once the world's fourth-largest nuclear stockpile as part of a process that took months of diplomacy and included two other Soviet states: Ukraine and Belarus.
But Bechtol had one disclaimer in using the example of Kazakhstan.
"Of course, Kazakhstan cooperated with us fully. And that leaves us with the biggest question of all: Will North Korea cooperate, transparently, fully, and on a reasonable timeline?"