For months, North Korea has been preparing a massive display of national unity and military might to mark the 70th anniversary of the country's founding.
International journalists have been invited to watch a military parade as it weaves through the capital Pyongyang on Sunday, a torch-lit rally and the Mass Games, a highly choreographed event expected to involved hundreds of thousands of people.
The Mass Games are making a comeback after a five-year hiatus, for reasons that are unclear. It's not a competitive event but a distinctly North Korean piece of performance art similar in size and scale to an Olympic opening ceremony.
North Korea is known for signaling its future intentions and policies by indirect and sometimes opaque methods, so experts will be watching events closely for insight into what leader Kim Jong Un and his top aides are thinking – especially as negotiations with the US over North Korea's nuclear arsenal appear to have reached a deadlock.
"These milestone anniversaries are an opportunity to give the people something to celebrate, instill a sense of pride and they're also an opportunity to send a message to the outside world," said Jean Lee, the director of the The Wilson Center's Korea Center and a former Pyongyang bureau chief for The Associated Press.
Kim has made 2018 a year of diplomacy, personally meeting with the leaders of China, South Korea and the United States for the first times since taking the reins of his country in 2011. Later this month, Kim will host South Korean President Moon Jae-in for a summit in Pyongyang, another event that could factor into the theme of Sunday's festivities.
But major problems remain, not least with regard to Washington-Pyongyang relations. Just last month, US Secretary of State Mike Pompeo canceled a planned trip to North Korea, citing insufficient progress on the issue of denuclearization.
"It's a very delicate time for negotiations," said Adam Mount, director of the Defense Posture Project at the Federation of American Scientists. "North Korea has incentives not to alarm or shock this administration too. I think most observers expect them to avoid assertive or surprising or shocking signals along those lines."
The parade
Experts say Pyongyang uses large military displays to celebrate the achievement of key goals or display new capabilities, while also stoking patriotic fervor domestically.
There's also deterrence purpose, according to Mount – it shows Western intelligence services that North Korea believes it has the goods to hit back if it were attacked.
North Korea releases video of military parade
A toned-down parade would deprive experts who monitor North Korea's weapons programs of a much needed look behind the curtain, but politically it could be construed as a signal of support from Pyongyang for continued negotiations toward denuclearization.
"There's no indication that they've stopped research and development on new missile systems, so at some point you would expect them to demonstrate those in a parade – that's the standard operating procedure," said Mount.
"But on the other hand, North Korea is clearly been invested in and has been gaining benefits from these ongoing negotiations."
Satellite images do not appear to show that North Korea is preparing to parade its medium-range and intercontinental-range ballistic missiles, according to Dave Schmerler, a research associate at the James Martin Center for Nonproliferation Studies.
"If they start parading ICBMs around or anything longer-range that is developed to hit US targets … that could probably sour whatever momentum they're trying to build with the US," Schmerler said. "I'm hedging my bets on them not parading the bigger systems, but they can do what they want in a military parade."
This will be North Korea's second military parade of the year. The first came in February a day before South Korea held the Opening Ceremony for the Winter Olympics. Those games helped kick start the current stage of rapprochement between the Koreas.
The Mass Games
Reports of the revival of the Mass Games surfaced earlier this summer. Since then, tour groups have sold travelers on visits to Pyongyang with the promise of attending the first Games in four years.
The event is a famous North Korean spectacle, one that involves up to 100,000 people dancing and performing gymnastics together in unison. The Games are typically a grandiose mix of performance art and North Korean propaganda which reflect the values of unity and political will.
But like military parades, the Games are also known to indicate Pyongyang's attitudes and relationship with the outside world, so experts will be watching with a keen eye.
The last Mass Games were held in 2013, months after North Korea's third nuclear test. A portion of the Games that year celebrated Pyongyang's missile advances and nuclear program. It's unclear why exactly North Korea stopped holding the Games or why it's reviving them now.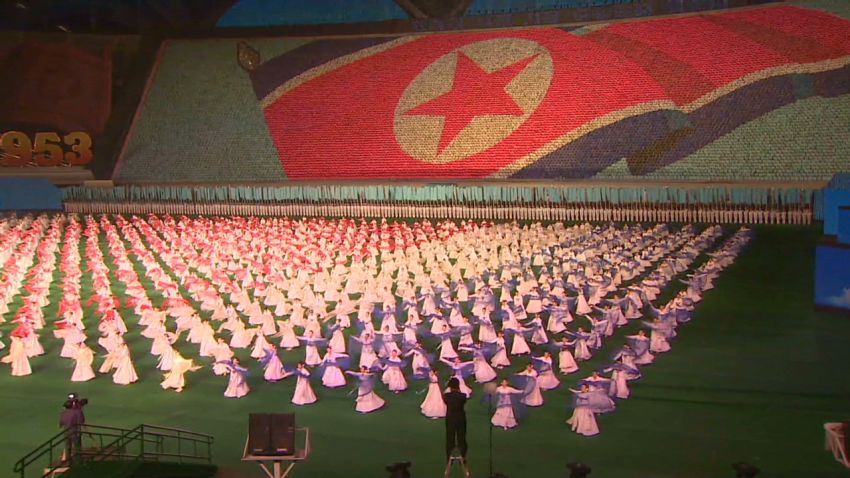 Arirang Festival a reminder of division
"What we'll be looking for this time is if they use these celebrations and the messaging that's embedded within the performances to signal not only to us, but to their people that they've shifted priorities and policy," said Lee, the Wilson Center analyst.
Experts expect to see two prominent themes in the performance: a focus on economics and livelihood and inter-Korean unity, both key priorities for Kim's regime.
"They're very humorous and fun to watch, these new economic scenes," said Lee, who attended previous iterations of the Games.
Thousands of performers will create stunning visual scenes to reflect these priorities – like a depiction of the sea with fish jumping out of it or a thousands of people coming together to create an image of an orchard.
"You can feel that this is entertainment," said Lee. "It's massive propaganda on a huge scale."
CNN's Tim Schwarz and Will Ripley contributed to this report.