Traveling around the country (or the world) is a way better experience when you really enjoy the place where you lay your head at night. While this may seem like a no-brainer, many of us are guilty of cutting corners when reserving accommodations — especially when booking a trip months in advance. A sort of "we'll deal with that when we get there" mentality can kick in when choosing hotels based on budget. But what if, on your next trip, you decided to actually go the full mile and book a hotel with a full range of amenities? From experience, we'd call that the real definition of paradise.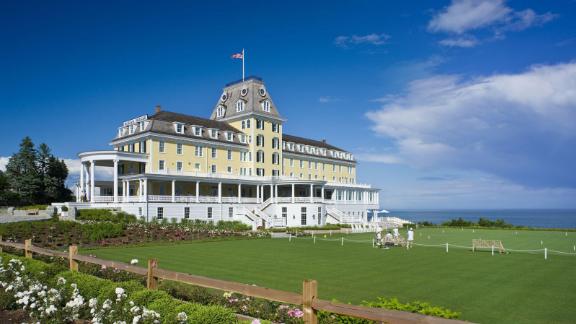 Founded in 1868, the Ocean House in Watch Hill, Rhode Island, is a hotel so packed with amenities that guests can practically get away with bringing nothing. Of course, don't forget to pack clothes, but this grand Victorian hotel has truly thought of it all.
Known for its location (with stunning views of the Atlantic on either side), the Ocean House is a sprawling estate with a bright yellow facade. When seen up close, this sprawling estate is so extravagant (and sizeable), it almost feels surreal.
Inside, guests can enjoy the finest dining at the hotel's restaurants and cooking classes via the Ocean House Center for Wine and Culinary Arts. Highly recommended is Coast, which has a dress code, and offers a seasonal menu with fresh ingredients sourced from local farms. On Sunday, there is a Jazz Brunch, where the hotel transforms the dining room into a buffet-style food emporium with a raw bar featuring fresh seafood, a crêpe station and more.
To experience this hotel as it were in the 1900s, the Ocean House has managed to maintain its original luxury and charm through activities and design. For one, there is a tournament-level croquet lawn just outside, and although the hotel was rebuilt in 2004, more than 5,000 original artifacts were salvaged and lovelingly replaced throughout the new structure's interior.
As a major plus, the hotel offers a Mercedes-Benz program, which allows guests to rent out cars for use during their stay. It's a great alternative to renting a car and offers guests a luxurious way to explore the area and local sites.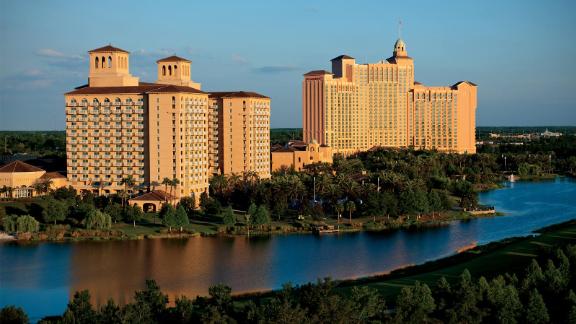 When we think of a hotel that has it all, we think of the Ritz-Carlton Orlando, Grande Lakes. This hotel, with over 1,150 "excellent" reviews on tripadvisor.com, sits on the 500-acre Grande Lakes Orlando estate. There, guests have access to a 40,000-square-foot spa, as well as three pools, including the winding lazy river at the neighboring JW Marriott. Not to mention, if you or your kids are into outdoor activities, the Grande Lakes Sports Center offers biking, kayaking, eco-tours on Shingle Creek, fishing and more. Additionally, should you want to hit the spa or visit one of the on-site restaurants, such as Highball & Harvest, you can drop off your kids at the Ritz Kids Center, where they can participate in interactive learning activities, and even observe live animals that are native to Florida. (Yes, there are baby alligators, safely housed in a tank.) As an added bonus, the Ritz-Carlton Orlando, Grande Lakes (in partnership with the neighboring JW Marriott) just launched its outdoor aquatic water course, where kids and grownups can play and test their agility.