It had been hours since Sen. Elizabeth Warren wrapped her speech here in Manhattan, but the scene in Washington Square Park suggested her work was far from done.
Warren stuck around deep into the New York night on Monday, taking photos with each person who'd waited in line – a process that took nearly fives times as long as the candidate spent delivering an impassioned anti-corruption address to the thousands who filled the park.
The Warren "selfies" – the photos she takes with voters, framed and snapped by a campaign aide as other staffers hustle supporters through, handling their bags and phones, so Warren can take as many photos as quickly as possible – have become a political phenomenon. It's one that manages to be both savvy and kitschy, exhausting and exhilarating.
A lot, it turns out, like running for President.
A Warren aide told CNN on Tuesday that she took about 4,000 "selfies" after her New York rally and has now, since kicking off her campaign last winter, posed for more than 59,000 of them in all.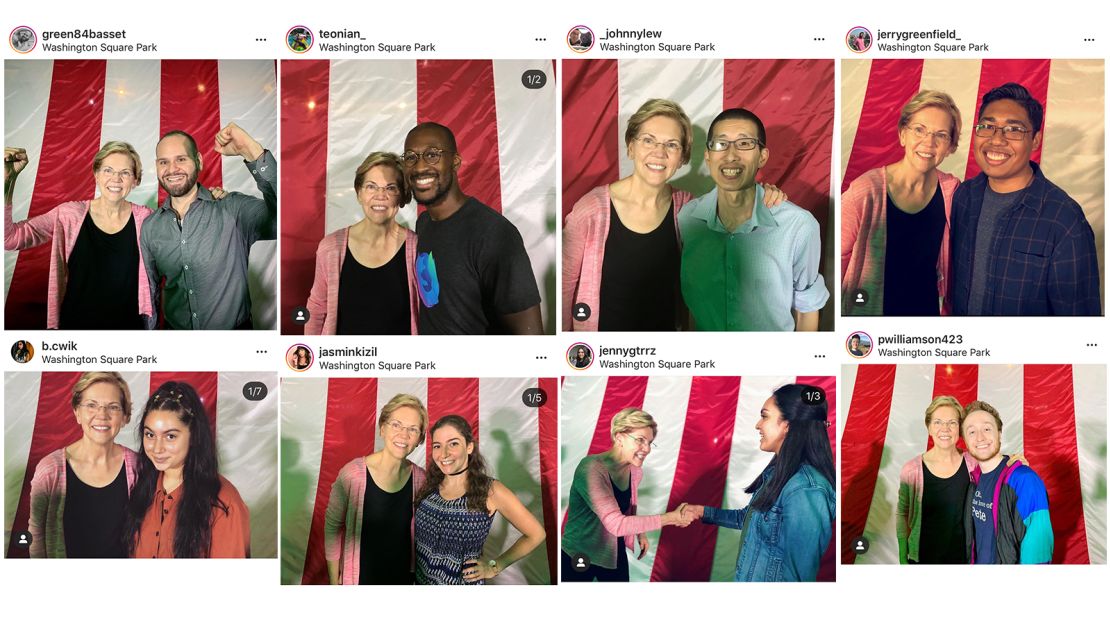 "You know, the lines keep getting longer. That's a good thing," Warren said Tuesday. "I put on my sneakers and a cooler sweater so that we can keep doing it last night, but it was terrific. It was being able to say heart-to-heart to people who came in from all around the area and who really are in this fight, who believe that we're going to get together, we're going to fight hard and we're going to change this country."
The photo lines have become as much a part of the Warren stump menu as her sharp populist rhetoric.
But as the campaign is quick to remind, they are very much part of the same meal. All that time Warren spends with voters after events wouldn't be there if she were tied down with other, more onerous fundraising duties, like dialing rich donors for cash. She forswore that practice early in the campaign.
So instead of filling her schedule with those calls and leaving voters to hang over a ropeline, as many other of her Democratic rivals do, she instead opts to do it all at once.
Roger Lau, Warren's campaign manager, described to CNN in a June interview how the Warren version of the "selfie" line came to be.
"The time I remember most vividly disagreeing with her was about the selfie line," Lau said of his boss and their discussions in 2017, when she was running for re-election to the Senate.
"She said, 'No no, why do we do rope lines?' And I said, 'We do rope lines because one, we want to touch volunteers and engage with them. People appreciate that. Two, the press appreciates that. And three, people end up taking photos. And when they take those photos, it goes mini-viral within their networks. And you know, it's good for organizing.'"
He said Warren came to him with a counterproposal: "What if we invited every single person who wanted to come to stage to take a photo and to, you know, come on stage?"
Lau was unmoved.
"I said, 'No, we can't do that,'" Lau said. "And she said, 'Why?' And I said it's going to take forever. And you're going to be tired. And it's going to be exhausting. And she said, 'I want to do it.' Anyway, we went back and forth for a few weeks."
The turning point, Lau said, came before their first town hall in Framingham. Warren persisted.
"Roger, I trust you," she said, as he remembers the decision coming down. "I know you're always there for me, you always protect me, you decide what you want to do, but if there's even a single person in that room that wants to say hello who wants to take a photo who didn't get a photo, I will have considered this event a failure. So after that, we decided to do it."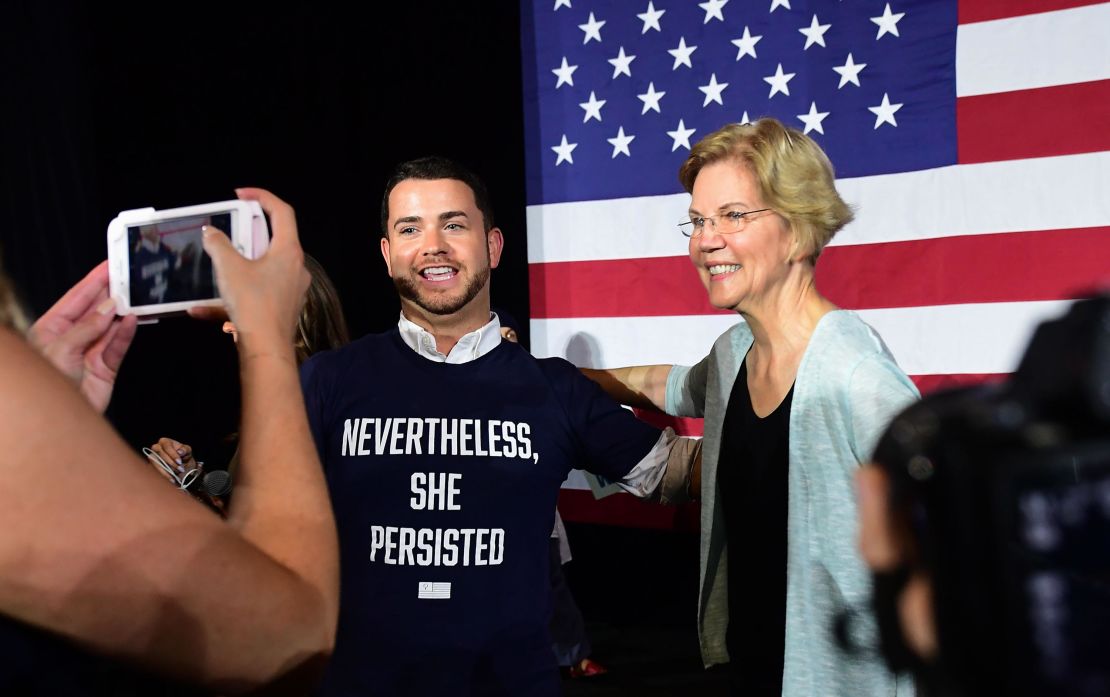 Months on, Warren has done the "selfie" line at all of her large town halls across the country. In Los Angeles last month, at the Shrine Expo Hall at the University of Southern California, thousands of people waited in a line that wrapped around the perimeters of the venue, to take a photo with her.
"She has passion, and the passion is what drives her. Who needs caffeine when you've got true caring?" attendee Robin Cohen told CNN. (Indeed, Warren does not drink coffee.)
And in Seattle last month, the photo queue wrapped around the spacious park underneath the Space Needle – and took four hours to finish. At the end, Warren took photos with the staff of the park who helped with the event, another increasingly common practice.
The campaign told CNN that even if her rallies get bigger, Warren won't stop doing the "selfie" line.
At this point, they might not have any choice.
CNN's MJ Lee contributed to this report