If you're trying to live sustainably in 2020, there are tons of easy swaps that can make your life more environmentally friendly. Reducing plastic waste is a crucial problem for today's environment, and whether it's recyclable and biodegradable phone cases or sustainable fashion, there are plenty of eco-friendly substitutes for the plastic products you use every day.
Since going completely zero waste can be daunting, we asked for advice from Danielle Jezienicki, the director of sustainability at Grove Collaborative, a flexible recurring shipment service for tons of environmentally friendly products.
"In truth, there is no such thing as throwing plastic 'away,'" Jezienicki says. "Plastics, be that your ChapStick or your toothbrush, take hundreds, if not thousands, of years to decompose into harmful microplastics that work their way into soil, water, and ultimately, all forms of life."
When it comes to simple solutions, Jezienicki says her favorite kinds of swaps provide elegant solutions that get you out of a wasteful system. One of her favorite examples is sustainable laundry. By replacing plastic detergent bottles with reusable and recyclable products, you're cutting tons of single-use plastic out of your life. Just make sure you're looking for laundry detergent that's free from harmful chemicals and added fragrances.
Jezienicki also recommends washing with cold water and drying for less time to ensure carbon and energy savings. Ahead, Jezienicki walks us through her eco-friendly tips and tricks for laundry, cleaning products and more.
Eco-friendly laundry
Auto-Dosing Laundry Detergent Dispenser ($16.95; grove.co)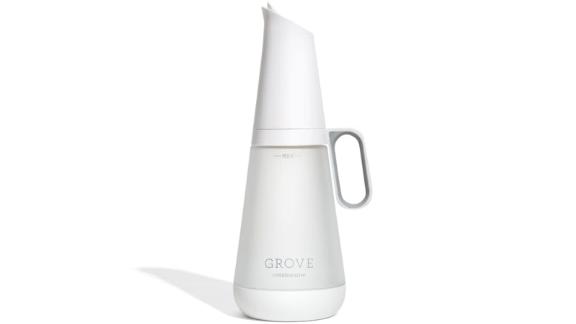 "Our reusable glass laundry vessel is actually a beautiful product that enables one-handed pouring (Hello moms, I know you appreciate this one!) and is the last laundry container you will ever need," Jezienicki says.
Ultra-Concentrated Liquid Laundry Detergent ($9.95; grove.co)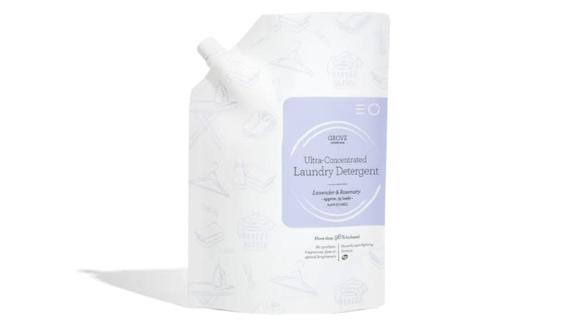 This concentrated liquid allows you to use much less detergent than you normally would, making this bag last much longer than traditional options. The detergent comes in three natural scents, plus these detergent bags are 100% recyclable so you can reduce your plastic waste.
Dropps Stain & Odor Laundry Detergent Pods ($20; dropps.com)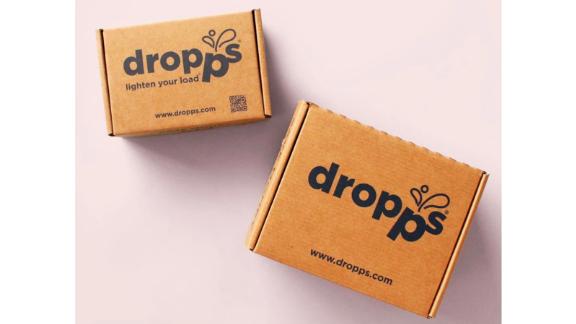 These detergent pods come in a 100% recyclable, repulpable and compostable cardboard box. Plus, the pods are compatible with all machines, made without any harmful chemicals and are naturally scented.
Smart Sheep Wool Dryer Balls ($14.40, originally $29.95; amazon.com)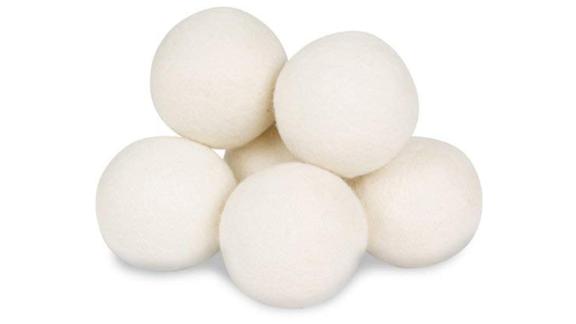 Reduce drying time by simply throwing dryer balls in with your next load, making the drying process shorter. These balls lower energy use, make your clothes super soft and are reusable, so you won't have to throw them away like dryer sheets.
Laundry Swaps ($29.90, originally $36.80; grove.co)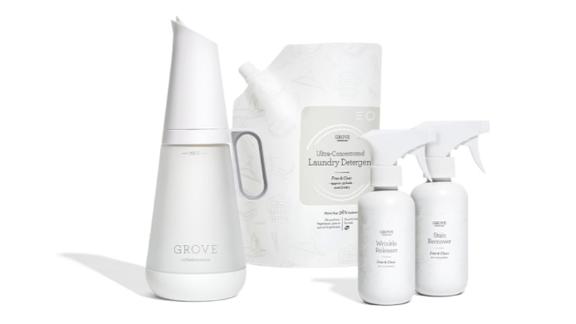 You can also purchase a sustainable laundry starter kit from Grove, which includes detergent, dispenser, a stain remover spray and a wrinkle remover spray, all safe to use and better for the environment than what you normally pick up at the store.
Cutting down on paper
While Jezienicki loves the simplicity of alternative laundry solutions, there are other areas of the home where sustainable switches are more pressing. The biggest swap she thinks everyone should make is reducing the use of paper products.
"They are massively problematic in terms of their contribution to deforestation," she says. "Switch from traditional products (toilet paper and paper towels) to recycled or bamboo alternatives such as Grove's Seedling." Using materials like bamboo reduces deforestation, since bamboo grows much faster than trees.
Besides paper products, Jezienicki recommends examining your life for any wasteful products you use a lot and trying to replace them with more eco-friendly options. Check out some of the handiest cleaning swaps:
3-Ply Jumbo Roll Tree-Free Toilet Paper ($7.95; grove.co)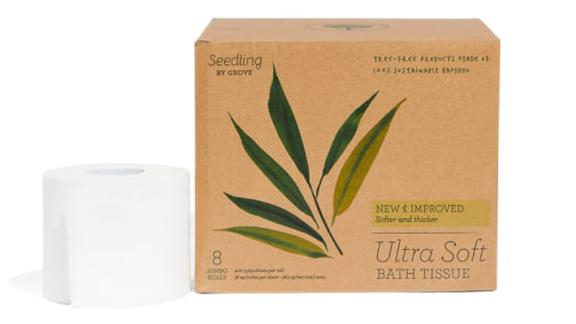 Made from 100% responsibly grown bamboo, this toilet paper is soft and sturdy. Plus, it's safe for septic tanks and comes in plastic-free, fully recyclable packaging.
Seventh Generation Toilet Paper ($29.98, originally $34.99; amazon.com)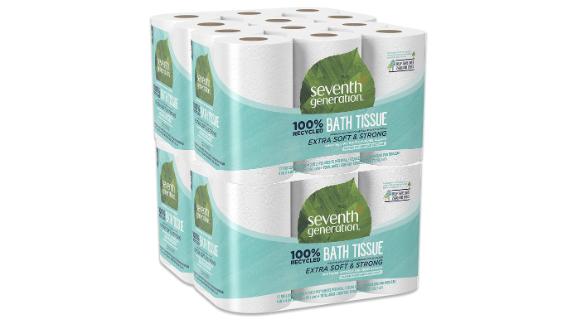 This toilet paper option is made from recycled paper with no added dyes, inks or fragrances. It's also septic safe and comes in 100% recyclable packaging (yes, the plastic wrapping is recyclable, too).
Bambooee Reusable Bamboo Towel ($8.50, originally $15.99; amazon.com)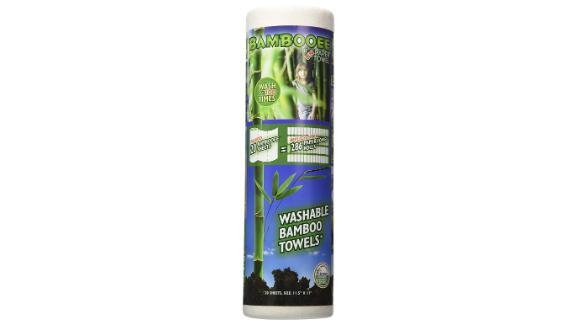 These are reusable paper towels made out of bamboo, so once you use one, you don't throw it away, you just wash it. Machine-washable up to 100 times, they're long-lasting and super absorbent.
The easiest switches to make
"The easiest switches are the things you are excited about because you have found a solution that works for you or solves another problem," Jezienicki says. Think bamboo toothbrushes, soap bars, stasher bags and more. We followed Grove's advice and came up with some of our favorite switches.
100% Recycled Plastic Trash Bags ($4.95; grove.co)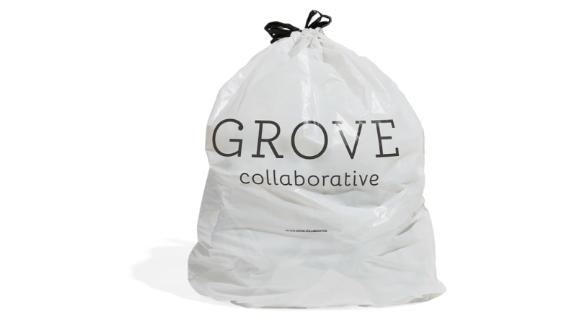 "I love our recycled plastic trash bags because they are another simple swap that creates an end market for recycled plastic," says Jezienicki. "In my house, we don't line the recycle bin — we dump it right into the blue bin, and use compostable bags in the compost bin."
The Dirt All Natural Tooth Powder ($9.99; amazon.com)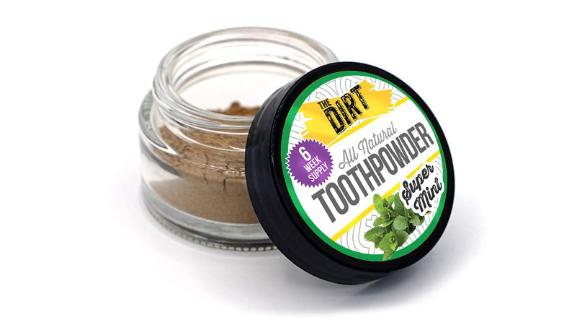 Instead of using normal toothpaste that comes in plastic packaging, try this tooth powder. Yeah, we know it sounds weird, but it's a really good swap for the plastic toothpaste tube you use every day.
Davids Natural Recyclable Toothpaste ($9.95, originally $12; amazon.com)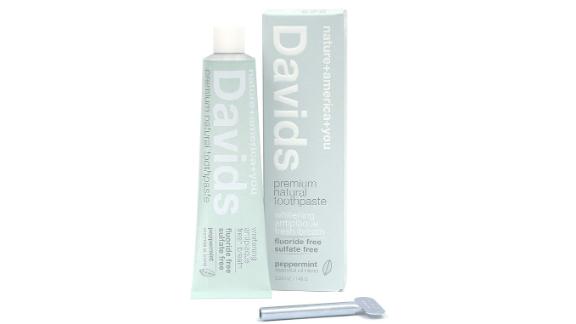 This premium, natural toothpaste comes in a metal tube, so once it's cut open and rinsed, it can be recycled. Even the box and the little plastic cap are 100% recyclable.
Stasher 100% Silicone Reusable Bag ($11.97; amazon.com)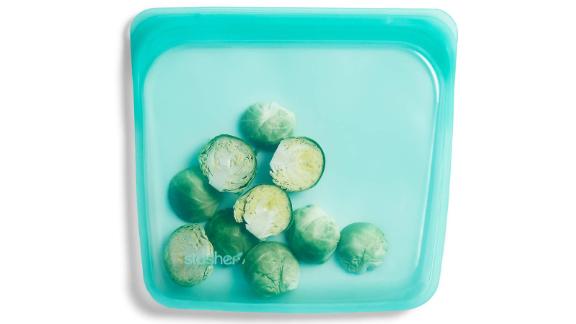 These silicone reusable bags replace plastic ones. Available in varying sizes, they're perfect for storing a quick snack or bulk food. "The other thing I love is carrying a stasher bag with me to the farmer's market or out to eat, for leftovers," Jezienicki says. "It folds flat and creates zero waste or recycling — plus you have a snack on hand!"
To-Go Ware Bamboo Utensil Set ($11.25, originally $15; patagoniaprovisions.com)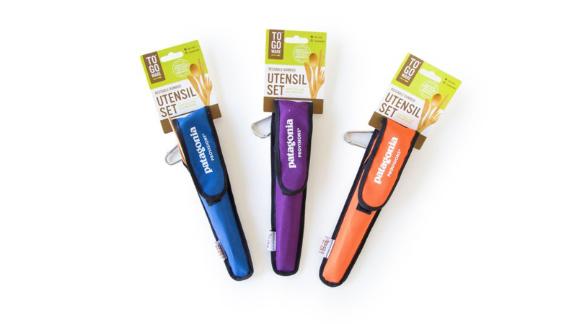 If you eat out and use a lot of disposable plastic flatware, why not try reusable bamboo alternatives? This pack comes with a knife, fork, spoon and chopsticks, all in a nifty pouch that has a carabiner on it, so you can clip it to your backpack or keys.
Beeswax Food Wraps ($18; amazon.com)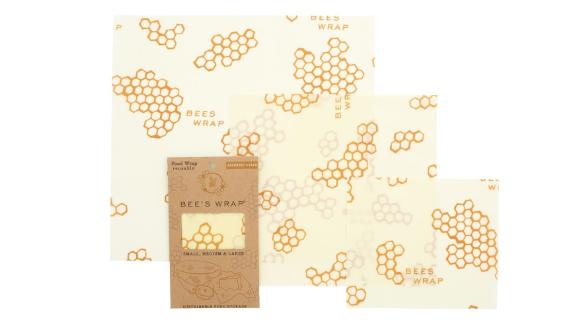 Handcrafted in Vermont, these can replace plastic wrap. Store fruit or loose food or cover a bowl with these wraps. They're washable, so you can reuse them before you eventually compost.
Earth Junky Produce Bags ($16.95; amazon.com)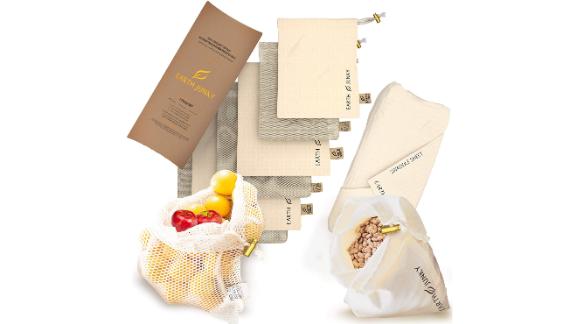 Instead of taking single-use plastic bags from the store for your produce, try these reusable produce bags. This seven-piece set comes with an assortment of muslin and mesh bags for varying sizes of produce.
Yeti Rambler 18 oz ($22.49, originally $29.99; amazon.com)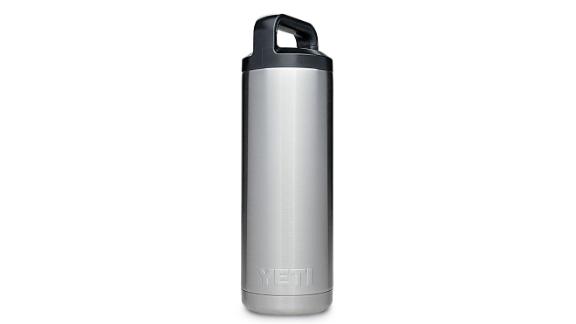 Using a reusable metal water bottle reduces the need for plastic containers. Dishwasher-safe and made with double-wall vacuum insulation, this water bottle can keep your beverage cold all day.
Hydro Flask Coffee Thermos (starting at $22.22; amazon.com)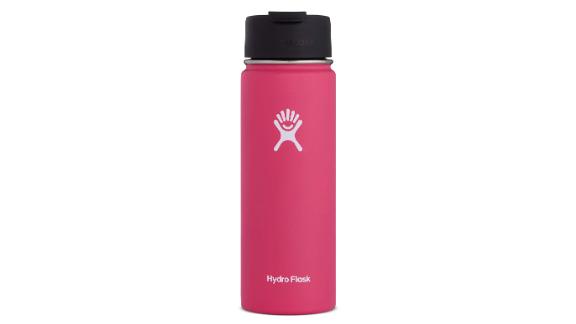 Hand your local coffee shop a reusable bottle instead of taking a paper or plastic cup you'll throw away. This Hydro Flask is vacuum-insulated and made with long-lasting stainless steel.
Full Circle Bamboo Dish Brush ($6.08; amazon.com)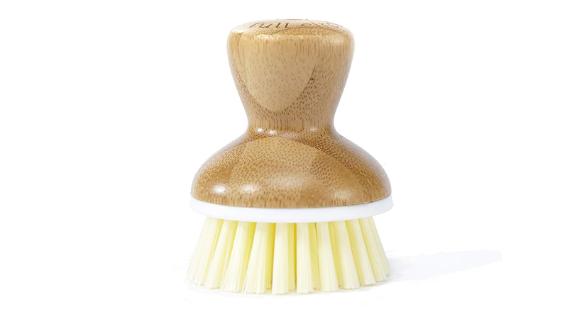 Many normal sponges contain plastic and polyurethane, which are hard to recycle. A simple replacement is this bamboo dish brush with bristles made from recycled plastic.
Cleaning Concentrate Kit ($23.99, originally $26.85; grove.co)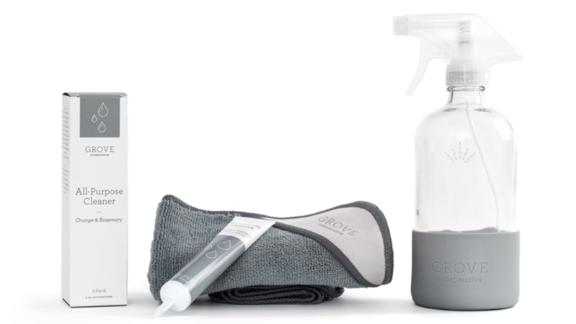 "Once you realize that most brands are charging you to ship the cost of a product that is 90% water and in single-use plastic, you'll love the efficiency of switching to concentrated formats," Jezienicki says. Just add water to this concentrated cleaner for a powerful yet natural spray.
Brush with Bamboo Toothbrush (4 for $16.99, originally $17.99; amazon.com)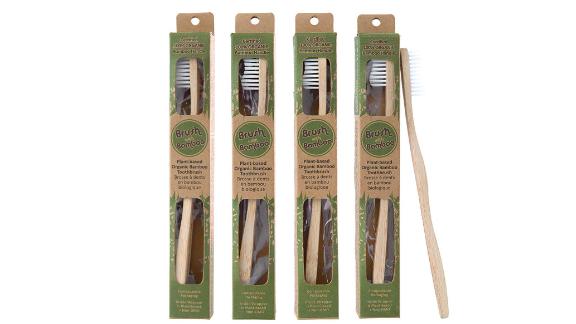 This soft-bristled brush is plant-based and organic. Instead of sitting in a landfill or floating in the ocean, the bristles and the packaging can be recycled, and the handle and the bioplastic wrapper can be composted.
Vikings Blade Stainless Steel Razor ($28.97; amazon.com)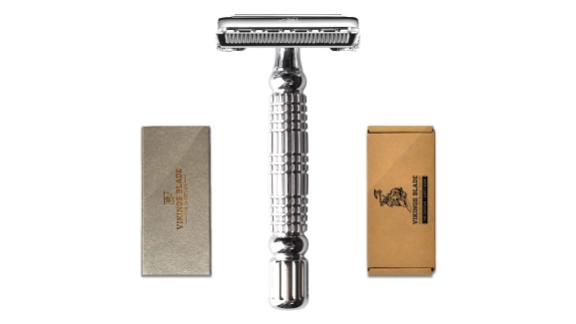 Switching to a stainless steel razor is a great way to get rid of the unnecessary waste of plastic disposables. The single blade provides just as close a shave, and since the razor is made from Swedish steel, it's built to last a lifetime. The replacement blades are also stainless steel, so they can be recycled when worn out.
Biodegradable Dental Floss with Refillable Glass Holder ($9.99, originally $12.99; amazon.com)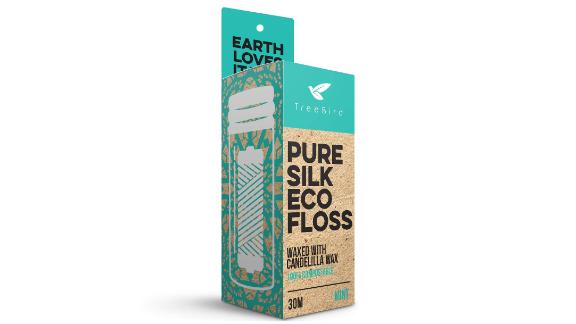 If you floss (which you really should), here's a great replacement for the normal plastic strings. The 100% silk floss is waxed and has a mint flavor. The packaging is recyclable and the floss is compostable.
Rocky Mountain Barber Company Wooden Comb ($11.99; amazon.com)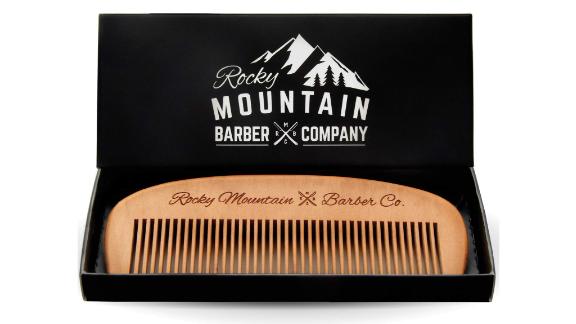 Wooden combs are an easy switch from their plastic counterparts. This anti-static, no-snag, handmade comb is crafted out of pearwood and is fully compostable.
Desert Breeze Wooden Hair Brush ($36.50; amazon.com)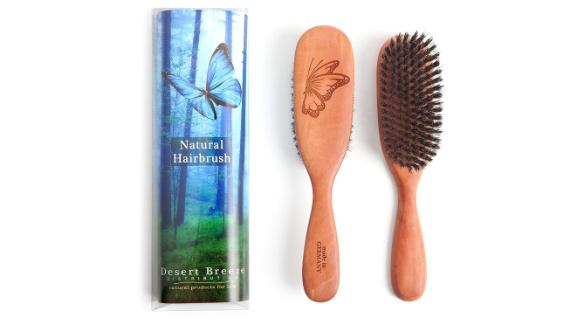 With a pearwood handle and boar hair bristles, this sturdy hair brush is all natural. Made in Germany by a shop with a 100-year history, this brush is a great sustainable alternative and compostable.
Aspen Kay Dead Sea Mud Soap Bar ($9.45; amazon.com)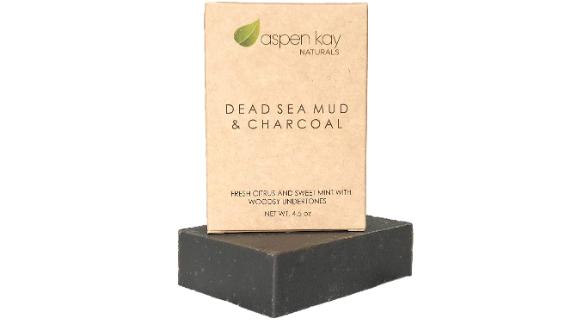 Instead of buying plastic bottles of body wash, try using a soap bar. There are tons of all-natural options, but we love this one because it is organic and chemical-free. It's made with Dead Sea mud, charcoal, shea butter and other natural ingredients.
Note: The prices above reflect the retailer's listed prices at the time of publication.