The reusable water bottle trend is at an all-time high (even becoming something of a status symbol). With an endless stream of bottles — at different sizes, made from various materials and carrying numerous technological claims — flowing into the market, it's easy to get lost in the options. It's also easy to wind up shelling out $40+ for a bottle that does the job no better than one half the cost.
So to determine which bottles are truly worth their price tag, we culled thousands of insulated water bottles down to 16 contenders, after reading through reviews and browsing best-selling bottles across the internet. We then put them through a litany of tests to determine which is best. (For more on our testing process, scroll down.) After two months of testing and a whole lotta water, we were able to narrow down our picks to the three standouts below; we're confident you'll find the one that's best for you and be assured you're getting your money's worth.
Top Picks
The Short of It
We found the Healthy Human Curve to be the best overall insulated water bottle. It performed surprisingly well across our most important testing criteria — performance, durability and portability — all at a reasonable price tag.
Our runner-up pick is the 26-ounce Yeti Rambler. It's a sturdy, customizable bottle that performed slightly better than the Healthy Human Curve in thermoregulation, but fell a bit short overall, especially considering the significant difference in price ($39.99 versus $24.99).
If keeping your drinks the hottest or coldest for the longest amount of time is most important to you, then the S'well bottle should be your go-to, as it performed the best in our thermoregulation tests.
The Long of It
Best Overall: Healthy Human Curve 21 ounces ($24.99; amazon.com)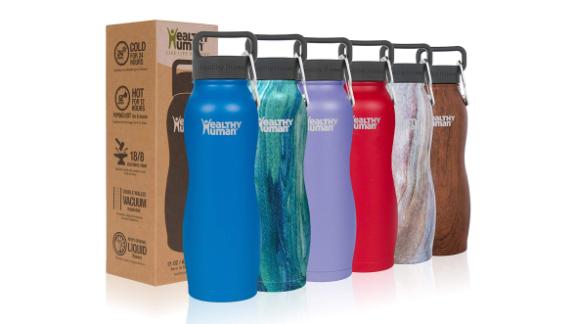 Why we love it in a sentence: The Healthy Human Curve's ability to keep water cold and its exceptional durability — mixed with its relatively low price — makes it the best choice in the world of insulated water bottles.
The Healthy Human Curve scored the highest overall across our testing categories, and even earned the top spot in durability. After dropping the Healthy Human three times from five feet above concrete on its bottom as well as on its lid, the bottle barely showed signs of abuse, aside from some paint chipping on the bottom. It was one of the only contenders that didn't transform into wobbly vessels after the drops. Coming in at 21 ounces, its success during the drop test may have been due to it being one of the lighter options, but the 26-ounce Yeti and other smaller bottles we tested still couldn't live up to the Curve.
Healthy Human also does a solid — though not amazing — job with thermoregulation.