CNN Underscored has interviewed experts to find the best options to help you cope during this uncertain time. Find all of our coronavirus-related coverage here, and let us know your thoughts here.
There's no denying the multiple benefits of yoga. From its ability to alleviate stress and anxiety to reducing inflammation and chronic pain, this ancient practice helps many people improve their overall quality of life.
Especially at a time when many of us are staying home to help stop the spread of coronavirus, and our gyms are closed for the same reason, it's become an essential at-home workout and stress reliever for many.
So it's a good time to invest in a mat of your own to always have at home — or to upgrade from that bargain mat you bought when you first started practicing. When you start to browse, however, you'll wonder if you should go thick or thin in a mat, and whether you need a yoga towel for support. What about yoga blocks? And how do you know if your feet are at the right angles?
Here, a guide — straight from yoga teachers — to what to look for when shopping for a yoga mat, to improve your journey to the best pose of all, savasana.
Best yoga mats
Gaiam SB 6mm Yoga Mat in Purist Blue/Gray ($29.99; target.com)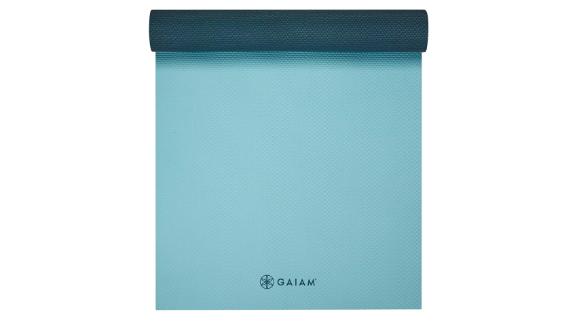 When author and yoga teacher Sara DiVello shops for a mat, she looks for something that will feel extra-cushy. She's been practicing yoga for 20 years and teaching for 12, specializing in super-gentle, ultra-pampering therapeutic flows.
With this bargain-priced toxic-free mat with 6mm cushion, DiVello says, you'll feel supported through each move. Especially for those with sensitive knees, this is a great option. "While we're all at home practicing safe social distancing, it's nice to see the beautiful turquoise and mentally transport yourself to a tropical beach," she adds.
Alo Yoga Warrior Mat ($100; aloyoga.com)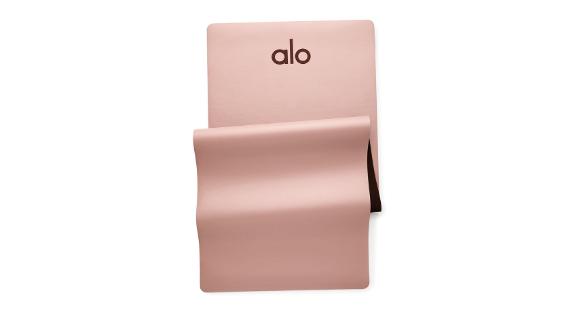 For the past 10 years, Rebekah Grace Rivera has taught yoga classes, trained, mentored and led retreats around the world. When selecting a mat, she looks for grip and thickness. After all, you want to be able to hold your stance comfortably.
"The eco-friendly mat checks every box," she says. "It is the perfect thickness to support your joints. It stays in place on the floor while you transition between shapes and its nonslip surface draws moisture away, so you're not sliding around on your mat as you perspire. And it cleans up with a quick wipe and is antibacterial."
Manduka eKO Lite 68" Mat ($72; dicksportinggoods.com)
The first time Samantha Attard used this mat, she nearly cried because it was so much better than anything she had practiced on before. And that speaks volumes, since she's been a yogi for 15 years, and taught for five of them. Today, she's the founder of Spiro Collective, and she loves this mat because of its thin top layer that is nonslip and firm. And as a bonus, the bottom layer provides some support.
"The combination of these two layers means there's enough cushion so you don't feel like you're practicing directly on the floor, while preventing the wrist pain that can happen with overly thick or squishy mats," she adds.
JadeYoga 368BK Harmony Mat ($73.99; overstock.com)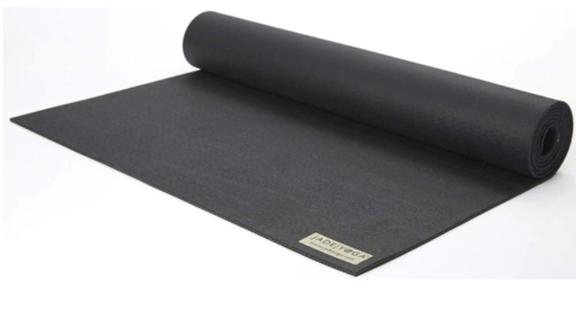 For Colleen Quaid, yoga has been an almost 10-year journey. She started practicing in 2011, earned her teaching certification in 2015 and purchased Mirepoix Wellness Studio in Chicago in 2018. When looking for the right yoga mat, she appreciates one like this, that requires no break-in time. In fact, she says, it has the best grip of any yoga mat she's ever used.
"Many of our students have been converted to using a JadeYoga mat for their home practice because of the positive experience they have had with the mats while practicing at our studio," she says. "As an added bonus, JadeYoga mats are made from trees and for every mat and block sold, another tree is planted in its place."
JadeYoga Level 1 Yoga Mat ($39.95; rei.com)