A quality nonstick pan is a true kitchen essential; from stir-fries to burgers to omelets, the stovetop staple basically does it all. Not all pans are created equal, however, and with thousands available in every possible price range, it can be tough to cull through marketing jargon to find the very best one.
So, to determine which nonstick pans were truly the best, we sorted through dozens of published reviews and perused user feedback to settle on 12 to put to the test. We cooked four different meals on every single contender, assessing nonstickiness (as in, could an egg really be flipped without oil or butter and leave no trace?), ergonomics, cleaning ease, temperature distribution and tolerance, durability and general aesthetics. After a lot of pancakes and too many eggs to count (yes, we know our job is tough), we were able to narrow our picks down to the three winners below.
The best nonstick pans
The short of it
If you're a minimalist and prefer to have just a single pan in your kitchen, you'd be set with the T-fal E76597. This pan's depth gives it multipurpose functionality: It cooks standard frying-pan foods like eggs and meats, and its 2½-inch sides are tall enough to prepare recipes you'd usually reserve for pots, like rices and stews. It's a high-quality and affordable pan that outperformed some of the more expensive ones in our testing field.
GreenPan's Ceramic Fry Pan boasts materials that'll please any chemical-conscious consumer. Unlike many nonstick pans, this one is free of materials that may pose long-term health risks, including PFAS, PFOA, lead and cadmium. The nonstick coating is, instead, made from sand, so it won't release any toxic fumes in the case of overheating.
The HexClad 10-Inch Hybrid Pan feels fancy (and yes, it's pricey as well), but it's also a sturdy piece of cookware that blew the competition out of the kitchen during every one of our tests: Food slid off easily, it was a breeze to clean, and heat was evenly distributed while cooking. If you're looking for a pro-level upgrade to your cookware, this is everything you want in a nonstick pan wrapped in a pretty package.
The long of it
Best Overall Pan: T-fal E76597 Ultimate Hard Anodized Nonstick Fry Pan with Lid ($44.99; amazon.com)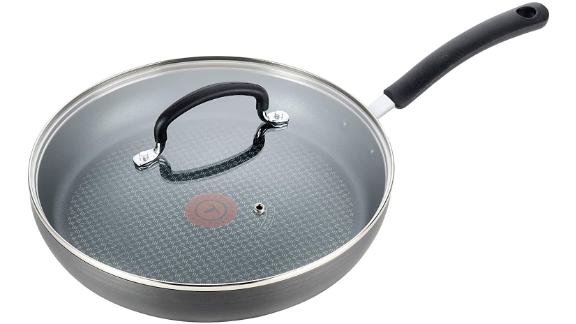 Why we love it in a sentence: Whether you're looking to steam a mountain of veggies or sear a steak, this affordable option can handle it all with ease.
This pan is a steal. At just under $45 (with lid included), it can cook way more than the average frying pan, with the ability to boil and stew. Its extended side height helps contain voluminous veggies — like kale — that would otherwise overflow before they're wilted down by heat.