It's no wonder people love pizza. The ultimate comfort food, pizza's cheesy goodness is filling and delicious, but it's also inexpensive and casual and messy, making it the perfect meal for a gathering with the immediate family, or with a few socially distanced friends.
"Pizza, on an emotional level, it's one of those foods that are fun, comfortable and feel-good," says Anthony Mangieri, founder and chef of Una Pizza Napoletana, which has locations in New York City and New Jersey. "Most people connect some part of their childhood to pizza — everyone is connected to pizza! It makes them feel safe. And honestly, even bad pizza tastes great."
Adds Nancy Silverton, chef and co-owner of the Mozza Restaurant Group and a James Beard Award winner, "I love pizza because people love pizza. It brings people together."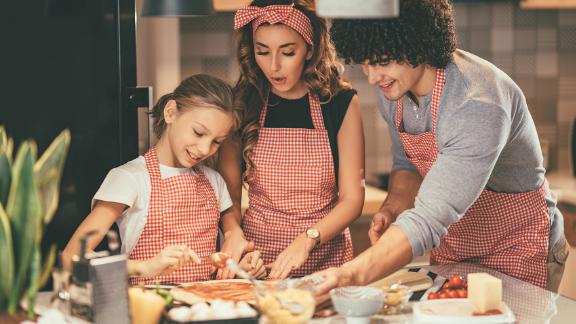 But hosting a pizza night is not foolproof. Says Mangieri, "You need to minimize stress." If you're having pizzas delivered or grabbing from takeout, you're going to want to reheat them at home on a pizza stone. "Preheat the stone in the oven and put the cooked pizza on it for a few minutes to crisp it up and get it piping hot again," he says. "Pizza stones are amazing, they heat the pizza better, simulating the floor of your local pizzeria's oven."
For Silverton, an outdoor pizza oven is a must. "When I think of home pizza parties I think of an outdoor party and a pizza oven that draws people to the oven the way a backyard barbecue grill does," she says. "It provides conversation."
And when it comes to serving your meal, the less fuss the better, according to Mangieri. "It doesn't have to be formal — cut the pizzas into bite sizes and your guests can just be free to grab whatever they want. People are looking for simple, fun, easy things for their life."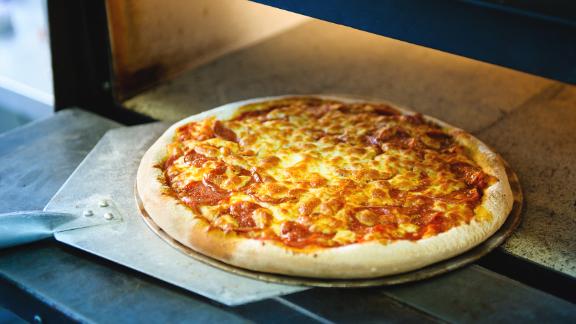 According to Silverton, you really don't need much to have a great pizza night. "An outdoor oven (wood or gas-fired). Dough and toppings," she says. "Friends. And music. Combine the above essentials and it's the universal recipe for a good time."
There you have it, folks. Check out our list of everything else you'll need — from the pizza-making appliances to the serving tools to the ambiance details — below.
The appliances
Ooni Koda Gas-Powered Outdoor Pizza Oven ($329; ooni.com)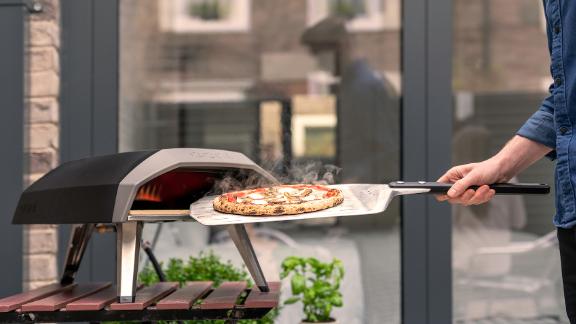 The Ooni Koda is definitely having a moment, as people coast to coast, staying home because of the pandemic, have clamored to get their hands on the gas-powered outdoor oven, which churns out restaurant-quality Neapolitan pizzas all day long. The portable appliance needs 15 minutes to heat up (it reaches up to 932 degrees Fahrenheit), and then can create a perfectly cooked pie every 60 seconds. Preorder your Koda now, and it will ship in late July.
Breville Smart Oven Pizzaiolo ($1,000, originally $1,500; surlatable.com)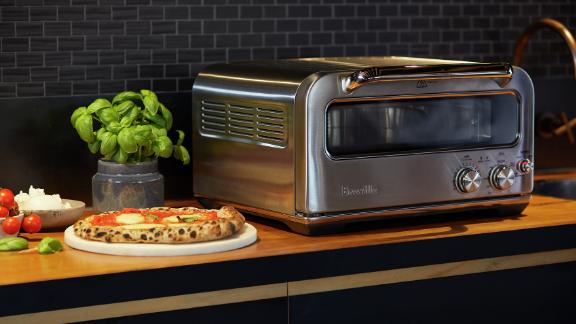 For city dwellers who are short on outdoor space, Mangieri suggests this countertop oven. "These are really amazing, whether you're bringing a pizza home, heating up a frozen one or making a pie from scratch," he says.
With this oven, you can achieve brick oven quality from your kitchen, as it reaches a whopping 750 degrees Fahrenheit, without getting hot on the outside surface as it sits on your countertop. Churning out gorgeous pizzas in as little as two minutes, the oven features three types of heat that mimic the conditions in a brick oven.
Pizzaiolo's settings include options for New York style, thin and crispy, wood-fired and frozen pizzas. Our favorite detail is how the oven stone rises to meet you when you open the door. The elephant in the room, of course, is the price, but when you consider how much you'd spend building an actual brick oven in your backyard to achieve the same results, a thousand bucks suddenly doesn't seem so bad.
Presto Pizzazz Plus Rotating Oven ($46.34, originally $49.99; amazon.com)
Turning continuously to ensure even baking, the Presto Pizzazz heats from above and below — the temps for both are controlled separately — and can cook both fresh and frozen pizzas. More to know: The removable, nonstick baking tray is dishwasher-friendly.
Betty Crocker Pizza Maker ($44.14, originally $59.95; amazon.com)