While it feels as if summer has just begun in some parts of the country, many states are gearing up for a new school year that will start before we know it. After a spring semester of remote learning amid the Covid-19 spread, sending our little ones back to the classroom — whether they're heading to pre-K or high school — is daunting. We talked to multiple professionals about the best ways we can arm our kids for the safest experience possible. Here are their thoughts.
Don't send kids to school sick
"First and foremost, parents should not send any child who is symptomatic of illness to school," says Michael LaSusa, superintendent of schools in Chatham, New Jersey. "This means that parents should develop a routine for quickly checking their child for a fever in the morning and also confirm that their child does not have a cough or any other sign of illness. If a child does have a fever, the parent should not give the child fever-reducing medication and send her/him off to school, but instead be sure to keep the child home."
Bring your own school supplies
As for what our kids need in their backpacks as they head out the door, Noreen Lazariuk, superintendent of the Sussex Charter School for Technology in Sparta, New Jersey, told us, "Every student should have their own set of classroom supplies. The schools will not be able to provide communal supplies of basics like pencils, pens, highlighters, etc. due to the need to prevent spread of the virus."
Pack hand sanitizer
Board-certified pediatrician Dr. Candice W. Jones agrees, saying that the goal is to reduce sharing in the classroom as much as possible. She adds, "Kids should have a 60% or higher alcohol-based hand sanitizer, which kills most types of bacteria, viruses and fungi. I recommend everyone having their own, not just to avoid hand-washing in communal bathrooms, but also for other situations like on the bus. And it's important to practice using these items with your child before sending them off to school." (We know that hand sanitizers can have wildly different scents — and that's putting it nicely — so we also rounded up some hand sanitizers that actually smell good.)
Have a supply of masks on hand
Not surprisingly, a new "supply" on our collective shopping lists this year is masks. LaSusa, Lazuriuk and Jones agree that students should have at least one or two spares with them daily in case their masks break or get dirty. LaSusa also recommends practicing wearing face masks now, before the school year begins. "Parents should gradually build up face covering 'endurance' in their children by having them wear a face covering for longer and longer periods of time," he says. "If a child spends zero time during the day right now in a face covering, then that child will have a tough time spending four hours wearing one when September rolls around. We need to build up this endurance gradually."
Keep home safe by having a back-from-school protocol
Something else to consider as students head back to school is keeping our homes as clean as possible — which includes disinfecting the kids when they get home. "When children return from school they should immediately sanitize their hands," advises Jones. "Once at home, at the very least they should remove clothes/shoes and place them in the laundry or in a designated safe place for disinfecting. A shower would be great, but is not absolutely necessary."
Stay positive
The overarching essential for the 2020-2021 school year, however, is a good mindset. "My advice is to stay positive," says Lazuriuk. "As parents you are constantly teaching your children. Your example is one they are exposed to more than any classroom or teacher. If your children hear you speaking optimistically about the school year they will adopt that attitude." Adds LaSusa, "I think we all need to maintain a sense of flexibility and patience, and also recognize that students are going to need some time to reacclimate to school, especially when the adults in their school are wearing masks and the whole environment looks different. We need to adjust the expectations we have for children and meet them where they are, not where we think they 'should' be."
With all that in mind, we've rounded up a slew of back-to-school essentials for the classroom, your home and your child.
Uncommon school supplies that are essential this fall
MaskClub Kids' Masks ($13.99 each or $9.99 for a monthly subscription; maskclub.com)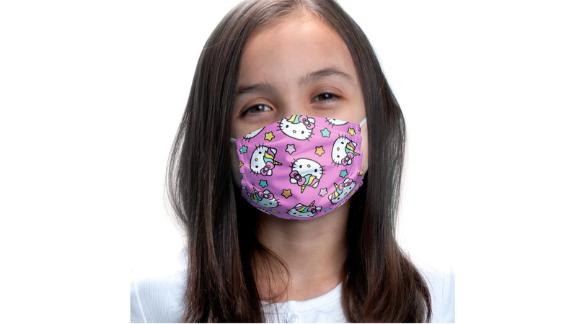 There's a subscription-based club for pretty much everything these days, and that now includes masks. Meet MaskClub. For $9.99 a month, you can have a new mask sent to you monthly, or you can opt to purchase single masks for $13.99 each. What differentiates this company from many other mask purveyors is twofold. First, for every mask purchase, the company donates a medical-grade mask to First Responders Children's Foundation, which distributes the masks to paramedics, emergency medical technicians, police officers, firefighters and medical personnel treating Covid-19 patients. So far, MaskClub has donated more than 100,000 masks to first responders. Secondly, the company recently rolled out thousands of kid-sized masks for ages 4 to 12, featuring everything from Hello Kitty and SpongeBob to cupcakes and camouflage. Is your second grader superhero-obsessed? Never fear: You'll have thousands of options to choose from here.
_______________________________________________________
Touchland Power Mist (starting at $12; touchland.com, ulta.com & urbanoutfitters.com)