CNN —
The laundry aisle can be an overwhelming place — there are many different detergents to choose from and stain removal products for virtually every mess you could make, and then there are add-on products that remove odors or add scents or that promise to leave your clothes soft and free of static. And now, as disinfecting and sterilizing have become increasingly top of mind for consumers because of the Covid-19 pandemic, a new type of laundry product is increasingly taking up space on those shelves: laundry disinfectants.
But what are laundry disinfectants, or laundry sanitizers? How do they work, and when should you use them? And are they necessary? We spoke with experts to learn more about these products and if they should have a place in your laundry room.
What are laundry disinfectants?
Laundry disinfectants, like Lysol Laundry Sanitizer and Clorox Laundry Sanitizer, are products that are designed to kill certain bacteria on fabrics when used in washing machines. A note: All of these items below often go out of stock but are restocked regularly by retailers, so be sure to keep an eye out and keep refreshing.
Lysol Laundry Sanitizer ($9.97; walmart.com or $20.99, originally $23.01; amazon.com)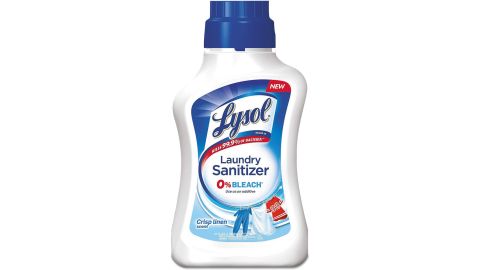 Amazon
Clorox Laundry Sanitizer ($7.98; walmart.com or $7.99; target.com)
Walmart
In addition, there are spray and aerosol fabric sanitizers that are designed to clean fabrics without relying on the washing machine.
Tide Antibacterial Fabric Spray ($16.25, originally $18.30; amazon.com)
Amazon
Clorox Bleach-Free Fabric Sanitizer & Stain Remover ($3.86; walmart.com)
Walmart
Clorox Fabric Sanitizer Aerosol Spray ($4.97; walmart.com or $4.99; target.com)
Walmart
Mary Begovic Johnson, the scientific communications director for Procter & Gamble, says, "Sanitizing and disinfecting products contain chemicals that kill germs, and they are regulated by the US Environmental Protection Agency (EPA). Generally, sanitizers reduce the number of certain bacteria (by 99.9%) to a safe level, while disinfectants kill bacteria and viruses."
However, the list of bacteria and viruses on which these products are effective is limited; consumers should carefully read the manufacturer's labels to understand what these products work on — and what they don't. Typically, laundry sanitizers are effective against the following:
Klebsiella pneumoniae, which can cause pneumonia, meningitis and GI-related issues
Staphylococcus aureus, which can cause staph infections
Salmonella enterica and Escherichia coli, foodborne pathogens that can cause gastroenteritis and systemic infections
Proteus mirabilis, which can cause urinary tract infections (UTIs)
Do you need to "disinfect" your laundry?
The short answer is no.
Patric Richardson, a laundry expert who runs the website The Laundry Evangelist, says, "The reality is your clothes are sterile just with a regular wash." Johnson echoes that, saying, "The basic laundry cleaning process of using detergents combined with washing hands after handling soiled laundry and transferring wet laundry from the washer to the dryer provides adequate hygiene for everyday laundering, even on cold water settings."
There are, however, certain times when disinfecting laundry may be needed. Johnson says that laundry sanitizers "are recommended for use in special circumstances: households with confirmed or suspected enteric infections (stomach ailment, vomiting, diarrhea); persons with weakened immune systems; and work clothes potentially contaminated with pathogens of human, animal or agricultural origin."
If your laundry needs do require a disinfecting product, Johnson recommends that they be used in combination with a deeper-cleaning detergent like Tide's heavy-duty formulas. She also adds that these products "are not needed for everyday cleaning."
Tide Hygienic Clean Heavy-Duty Liquid Laundry Detergent ($17.94; walmart.com)
Walmart
Tide Hygienic Clean Heavy-Duty Power Pods ($21.99; target.com)
Target
Laundry disinfectants and Covid-19
According to these laundry, cleaning and sanitization experts, laundry sanitizers are not needed to protect against the viruses that cause colds, the flu and Covid-19. "The regular laundry process combined with special handling instructions and the use of a high-quality detergent is enough to help protect healthy, active households against the germs that cause diseases like Covid-19, the flu and colds," Johnson says.
Johnson recommends using the following special handling precautions when doing laundry for someone who has been sick:
Wear disposable gloves when handling dirty laundry like clothes and linens used by a person who is sick or contaminated work clothes
Wash those items separately from other people's items
Do not shake dirty laundry
Remove gloves and wash or sanitize hands immediately after handling contaminated laundry, and wash or sanitize hands again after transferring wet laundry from the washer to the dryer
Clean and disinfect clothes hampers, appliances and other surfaces that have had contact with the soiled laundry
While these products offer no benefits when it comes to the novel coronavirus, it is understandable that consumers may still want to use laundry sanitizers as the pandemic continues to put lives at risk. Richardson offers reassurance to people who reach for products like laundry sanitizers out of concern that they're not doing enough to protect themselves and their loved ones against coronavirus. "I think we want to do something extra as a means of being safe, but what we're already doing is safe," he says. "I don't think you need a new product to do that. I think you already have the tools in your toolbox."