It was only supposed to be for a few weeks. A few months at most. One year ago, when the pandemic shut down offices and schools, many working parents were forced to shoehorn their working lives and the school lives of their children into one place: their home. And they had to figure out how to manage it all at once. Millions are still doing it.
While parents kept scanning the horizon for solutions to this seemingly impossible task, many eventually realized there was no one-size-fits-all fix. They'd have to rig up their own way to cope.
For some families, it was abandoning screen time limits, converting a playroom to an office or getting a pandemic puppy. For others, it was creating a "pandemic bubble," moving to the beach or buying an RV.
When CNN Business spoke with a handful of professional women at the dawn of shutdowns last March, they were gamely organizing their work lives around their children being at home as if preparing for a collection of snow days or a quirky staycation – planning fun cooking projects and hiking with the kids while on conference calls.
What they could not have imagined was the ways in which their lives would change and that they would still be in this situation one year later.
Making a vacation a permanent lifestyle
Last March, Maira Wenzel was toggling between keeping her two kids on task with online school and taking work calls in her children's playroom, which was a quiet place away from her husband – who was fielding his own work calls.
"We were sharing an office. Quickly we realized we couldn't do that anymore," she said.
In the summer, they took a break from their home near Seattle to visit Manhattan Beach in southern California.
They love the California weather and had long dreamed of living by the beach, she said. But had always viewed the move as a retirement plan. Suddenly, she said, "We said to ourselves, 'Why not do it now? Since we can work remotely?'"
Microsoft, where Wenzel and her husband both work, was open to people working remotely permanently, she said.
"That's when it became a reality. Plus, we are right next to LAX. It will be a quick jump on the plane if we need to go back for meetings."
Over the winter break, the family moved. The boys started their new school in January, remotely at first, and now attend in person.
As part of the move, the boys also negotiated a puppy. They named her Luli.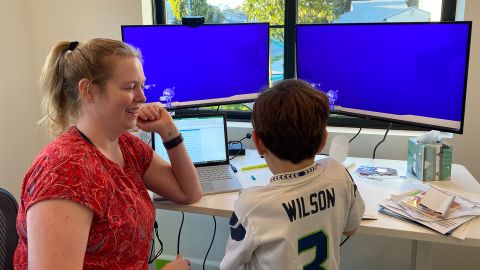 "I never thought we would leave Seattle," she said, while walking Luli in her new neighborhood. "I never thought I could work from home. This year has really changed our world."
Hitting the road
Katie Perez, her husband and their two elementary school-aged daughters settled into a reliable routine after work and school went remote. And, like many families, they got a pandemic puppy, a black miniature poodle named Rosie.
But they dearly missed the activities and people they used to have in their daily lives and they missed having family adventures.
"I am not a person who has ever done well doing the same thing every day," said Perez. "I'm an extrovert. I like new opportunities. My favorite days are when you throw me in a country where I don't speak the language and I have to navigate. Being in a situation where I'm in a house and I'm doing the same things again and again? There was some grief about that."
So they bought an RV.
"We got in the RV and went to Yellowstone," she said. "We did isolated vacations where we could get out and have adventures and not see anyone else. This summer we're going to see the Redwoods."
That, along with more connected time with her children and some modest improvements in their life skills, like doing the dishes and staying on top of their school work, have been the big wins for her this year. The rest, Perez said, has been difficult.
"It has been a hard, emotional year," she said. And for all the things that disappeared from their lives, it still didn't seem like there was much time left once three meals and snacks were made and cleaned up and constant endless laundry loomed.
"My house is more trashed than it ever has been in my life," she said. "The amount of cognitive load that we've had to take on… Managing school with them and my own work. The constant risk assessment for safety. Does everyone have clean masks?"
Building a new support system
Nicole Coomber's four boys, who range in age between 5 and 9, have been remote learning since last March.
But online school has left her kids struggling, she said, and most of its management – not to mention the endless tech support – has fallen to her.
Meanwhile Coomber, an associate clinical professor of management and organization at the University of Maryland, teaches her own classes remotely and, as an assistant dean, she has been negotiating the safe return of the full-time MBA program to the classroom.
"I feel guilty. Why can't I do better at this?" she said about juggling it all. "I have a literal PhD in Education and this has been the hardest thing I've ever done. I still can't figure it out."
In September, Coomber decided to form a "bubble" with other families in her children's school in Washington DC. Together, the three families with five elementary school-aged kids between them (Coomber's 5-year old twins don't participate) take turns hosting a day of remote school.
"We put together a master schedule, then it would change," she said. "We were always printing out schedules."
They also drafted a "Pod Rules of Engagement," in which they all agreed to limit their exposure to other people so that the kids could learn and play together safely. Any time anyone did anything like go into an office or visit a doctor, they let each other know.
"It was a lifesaver," she said. "It wasn't just the kids that needed that social interaction, but the parents, too. We couldn't do Thanksgiving or Christmas with our own families. So we did it with them. It was nice to have a microcosm of a social system, when you felt a little lost."
Carving out a space for working out
Not long after Alicia Carrithers, who markets commercial gym equipment, began working from home last March, her hours were cut. She went on partial unemployment as gyms across the US shut down and demand for new machines dried up.
So she worked harder, she said, to show her employer her value, all while struggling to cover her bills with less income. Meanwhile Carrithers, who lives with her boyfriend, was also caring for their two-year-old, making sure her 10-year-old was safe once he returned to private school in the fall and helping to support her boyfriend's two middle-school-aged children learning at home.
"I didn't have my normal routine, everything was kind of on the fly," Carrithers said. "And emotionally, it was stressful. We are all in this house together. It has strained our relationships."
She had to abandon strict limits on screen time, especially since it became such an important space for the older kids to connect with friends.
Financially, the year has put her behind, she said. While the family could always cover the primary bills, other things needed to take a back seat.
"I stopped putting money in retirement and I have forbearance on my student loan," she said. "I'm not paying anything over the minimum on the car payment. Everything was just bare minimum to make sure we had enough for the basics."
In order to deal with it all, Carrithers leaned into working out. The garage that unceremoniously housed the Peloton and a squat rack – and a lot of stuff in storage – prior to the pandemic, got a home-gym makeover. They pulled out the junk, painted the walls, put in a mat floor and arranged the equipment.
Lately, things have started to look up. Last month, Carrithers returned to full-time work and got off unemployment.
"It is definitely getting better," she said. "Some of the kids are playing sports this spring. Just being able to see their friends has been huge."