Do us a favor: Open up your makeup bag or medicine cabinet. How many unused creams do you have in there? How many serums did you try, thinking, "Maybe this'll be the one," only to see zero results? You're not the only one who's sick of filler ingredients, irritating additives and formulas that don't even come close to delivering on their promises. That's why people are obsessing over Hanacure, a new approach to skin care that uses proven science alongside thoughtful ingredients.
In other words, Hanacure does not toss things in and hope for the best, like so many other beauty brands. Rather, every step of the process is thoughtful, deliberate and scientifically backed.
First, the brand uses its proprietary in-house lab to discover formulas that maximize efficiency so you can get the most results in the shortest amount of time. Next, each ingredient is hand-picked with precision and chosen from the cleanest sources. Finally, because Hanacure is "forever inspired by the lotus flower," which represents rebirth and renewal, the brand skips the parabens, sulfates and phthalates. (That means it's safe for sensitive skin, especially since it's noncomedogenic and dermatologist-approved.)
In fact, you may have heard of Hanacure already, given it's been reviewed by some of the top beauty publications, including Vogue. It's also gone viral on certain social media platforms because — after seeing all the shocking before-and-after posts — people can't wait to try it for themselves. Last but definitely not least, since proven science is kind of its thing, 97% of clinical study participants agree that Hanacure is the most effective skin care treatment they've ever tried.
For those who are looking forward to clearing out their medicine cabinets once and for all, here's the best news: Unlike other skin care brands, this one doesn't have a huge, overwhelming line of products. Hanacure offers just three cross-functional formulas: a cult-favorite facial set, a do-it-all moisturizer and an impurity-dissolving cleanser. All three steps are extremely easy to fold into your daily routine, but when combined, they address just about everything — including fine lines, inflammation, clogged pores, redness, dryness and hyperpigmentation.
Here's the rundown on each product:
The All-in-One Facial Set ($110; hanacure.com)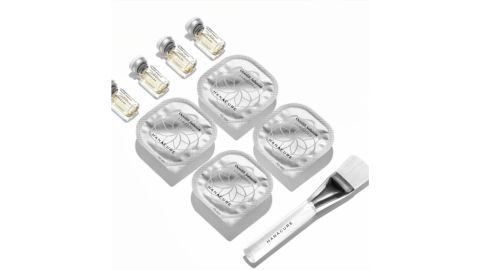 If you're familiar with Hanacure, its cult-favorite, hypoallergenic, award-winning mask is likely the reason why. (It's earned more than 9,000 reviews and a near-perfect 4.9-star rating, after all.) This facial set features deliberate ingredients like beta-glucan, lotus leaf and copper tripeptide-1, but the star of the show? Octolift®, a technology that absorbs contaminants in your pores and binds with carbon dioxide in the air for a tightening, compressing effect. With a single application, this mask works to reduce wrinkles, hyperpigmentation, enlarged pores and dull skin.
Nano Emulsion ($47; hanacure.com)
Scan the 2,000-plus reviews and you'll see Hanacure's Nano Emulsion moisturizer described as "amazing," "truly hydrating" and "the best product out there." Even though it's "like 10+ creams and serums in one" due to its high concentration of nourishing ingredients, it's still shockingly lightweight and nongreasy. In addition to fast absorption for a makeup-ready canvas (thanks to nanotechnology), it's also designed to reverse signs of aging and skin damage.
Microphol® Neutralizing Cleanser ($28; hanacure.com)
This cleansing balm doesn't just remove makeup residue from your skin. It actually neutralizes the pH and dissolves environmental toxins, which leaves your complexion "fresh, restored and brilliant." Most importantly, even though it works itself into a rich lather, it's not harsh or stripping; a revolutionary ingredient called pholiota retains 6,000 times its weight in water, which ensures that your skin stays deeply hydrated. Since this cleanser is hypoallergenic and clinically tested, it's safe for even the most sensitive skin.