Over the past few years, we've all become very grateful for workout clothing and loungewear. Now we're learning to incorporate that same level of comfort into our everyday wardrobes, and Fabletics' new Any-Wear Collection is here to help with performance-ready styles for every part of your life.
This new line is more than just activewear; it's made for everywhere, anytime and includes more than 40 new pieces for lounging, living, work or working out. Still, while the new additions are undeniably stylish and can definitely be worn out of the house, they prioritize comfort with silky-smooth fabrics, ample stretch and plenty of breathabil\ty. You can get them in sizes ranging from XX-small to 4X-large.
The majority of Fabletics customers choose to sign up for a "Flexible VIP Membership," which allows you to get the absolute best deals on your favorite pieces. Here's how it works and why it's awesome:
On the 6th of each month, VIP members are charged $49.95 for a Member Credit. This credit can then be redeemed for either an outfit or item up to $80. Member Credit can be redeemed both online and in-store, making it accessible and accommodating to your individual shopping preferences.

You have full control over your monthly credits, thanks to unlimited "skips"! Between the 1st and 5th of the month, you're given the option to "Skip the Month," which means you won't be charged.
Unused credits build up throughout the year and eventually expire after 12 months if not used. But don't worry — Fabletics regularly sends reminders to ensure you don't forget to cash-in those valuable credits!
First time sign ups are welcomed to the club with 70% off everything plus two for $24 bottoms.
Once a member, you get 20-50% off everything, always. Yes, always! And with new arrivals being added weekly, the options are endless.
You also score free access to the Fabletics FIT app, which gets you full access to 100's of workouts, guided meditations and fitness programs by top trainers.
Keep reading to check out some of the new releases from Fabletics' Any-Wear Collection.
The 24/7 Ponte Skinny Zip-Split Pant, Hero Style (VIP price $70, retail guest $89.95; fabletics.com)
These are not your average slacks. Yes, they have the structure and tailored appearance of work pants, but the comfortability and stretch make you feel like you're wearing your favorite leggings all day at the office. The Fits-Perfect Ponte fabric is designed to smooth any lines and shape your silhouette, but won't cut in or constrict.
Cloud Seamless Tank Midi Dress (VIP price $60, retail guest $74.95; fabletics.com)
The soft, cooling fabric might resemble your favorite nightgown — especially since it doesn't have any seams or sleeves — but thanks to its side slit and scoop neckline, it'll still turn heads. Wear it alone (it's plenty breathable for hot weather) or layer it; the below-the-knee silhouette also works alongside leggings for cooler months.
Vegan Leather Jogger (VIP price $70, retail guest $89.95; fabletics.com)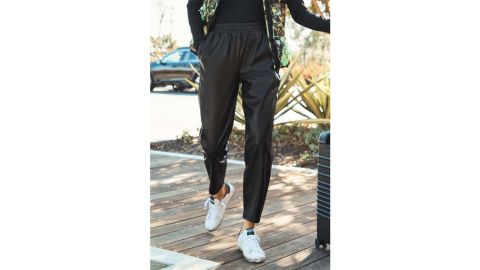 Joggers are experiencing a well-deserved fashion comeback, as is faux leather, so naturally, these vegan leather joggers will be the most on-trend new item in your wardrobe. They're relaxed all throughout the leg, but cinch at the waist with encased elastic — and they even have on-seam pockets.
Cloud Seamless High-Neck Tank (VIP price $35, retail guest $44.95; fabletics.com)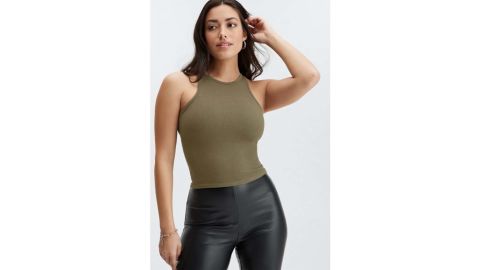 Grab this Cloudrib high-neck tank and wear it while working out or going out. Its super-soft ribbed fabric glides against your skin, while its halter-like design is versatile and stylish.
Cloud Seamless High-Waisted Skirt (VIP price $43, retail guest $55.95; fabletics.com)
A stay-put ribbed waistband. A midi-length silhouette. A stylish side slit. A soft, ribbed fabric. Pair this Cloud seamless high-waisted skirt with everything from a sweater and boots to a tank and flip-flops. Either way, you'll be looking stylish and feeling free.