We're used to daily deals from Amazon, but when the retailer puts a ton of great beauty products on sale at the same time, consider us here for it. Now through April 27, you can save big on eco-friendly products as well as everyday essentials from brands like Burt's Bees, Bic, and Colgate.
Remember that with Prime you'll get super-fast shipping, so this is kind of an instant-gratification thing (or day-after gratification). Get shopping while the sale is still on for everything your spring and summer skin needs — and read on for our top picks below.
$14.99 $7.99 at Amazon
Start your day calmly — and keep your skin calm too — with this gentle moisturizer for your face and neck. If you have eczema, know that the formula has received kudos from the National Eczema Association, too.
$9.29 $6.62 at Amazon
Razors are an annoying thing to spend money on, and they tend to be pretty pricey. Get your shave on and pay just 70 cents per razor with this sunny deal.
$13.96 $11.87 at Amazon
Toothpaste is something we use every day, so it's also something that makes sense to buy in bulk. Score four tubes of this ultra-fresh Colgate for less than $3 each on Amazon right now.
$33.99 $16.09 at Amazon
Get a close shave with this pack of eight refill blades for your Fusion 5 razors — and don't do that wasteful thing of using a whole new razor each time your blade gets dull. This set comes with a free shaving cream free from parabens, dyes and more.
$11.97 From $10.01 at Amazon
It's the time of year where kids get a little stinky, and this three-pack of Tom's of Maine deodorant will keep them feeling cool and confident all summer long.
$24.99 $21.22 at Amazon
Get whiter teeth overnight with this handy tool, which makes it easy to target precise areas of your teeth. You can get a brighter smile in just weeks when you add this pen to your oral care routine, and right now it's just $21.22.
$12.99 $8.91 at Amazon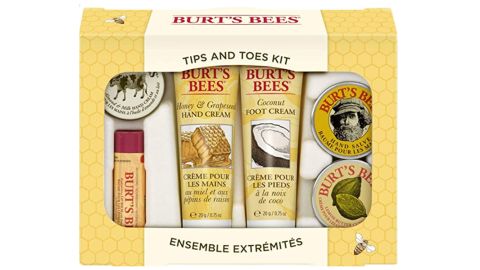 This gift set is on sale just in time for Mother's Day and has everything needed for hydration, including hand cream, foot cream, hand salve, cuticle cream, hand cream and lip balm. Whew.