Direct-to-consumer brand Misen offers thoughtfully designed, high-quality cookware without the hiked-up prices you're used to. Thanks to premium tireless product development and premium materials, Misen's cookware promises an enhanced cooking experience for novice home cooks and professional chefs alike.
Right now, you can save big on some of Misen's most popular items, including their nonstick starter set, carbon steel pan and knives. Since Misen already prioritizes affordability as a baseline for all their goods, sales on their site are rare, so don't hesitate if you've had your eye on something. You can take 20% off customer favorites when you apply code MOM22 at checkout, now through April 23 at midnight. Everything is ready to ship straight to your (or Mom's) door — as long as it doesn't sell out first.
$213 From $170.40 at Misen
We can confidently say that this pan, which has over 5,000 5-star reviews, will be a new favorite on your stovetop. The titanium-infused plasma primer and high-tech coating ensure a long-lasting nonstick surface, so you won't need to replace this pan any time soon. The silicone grip keeps the handle cool to the touch, and its ergonomic design allows for easy flipping and maneuvering. Alongside a full set of three nonstick pans, you'll also get three lids and a silicone spatula. You're already saving by bundling items, but you'll get an extra 20% off with code MOM22.
$65 $52 at Misen
Just like cast iron, durable carbon steel develops a nonstick surface through seasoning, but it's lighter and easier to maneuver. This pan is a perfect alternative to a cast iron or nonstick pan, boasting lifetime durability and impressive ease of use. Perfect for the stovetop or the oven, this pan is an essential for any kitchen.
$70 $56 at Misen
A high-quality knife can make a world of difference in the kitchen. This one, a smaller version of Misen's classic chef's knife, promises premium control, power and safety. It's designed to be comfortable in hand and ideal for anyone with smaller hands. Made from durable steel with a 15 degree edge angle, this knife encourages proper grip while maintaining its sharpness even after heavy use.
$85 $68 at Misen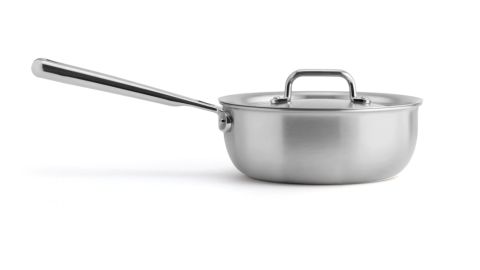 A saucier is a must-have in any kitchen — it can perform almost any small-scale task on the stove, and its rounded walls make it easy to stir and clean. This 5-ply stainless steel pan offers optimal heat conduction, and the ergonomic handles offer a secure grip that stays cool to the touch.
$115 $92 at Misen
Whether you're fixing up a batch of chili or making stock from kitchen scraps, the stockpot has the capacity for all your kitchen projects. Don't be caught empty-handed at the next holiday gathering — this pot has you covered with the proper size and enviable durability suited for any task.
$50 $40 at Misen
If you're investing in high-quality knives, it only makes sense to keep them stored properly. This knife block, made from ash or walnut wood, keeps up to five knives (plus a pair of kitchen shears) stored safely and securely. Thoughtfully constructed with a low-profile design and easy retrieval, this knife block is a durable, safe and stylish way to show off your knives.
$70 $56 at Misen
The serrated knife is an essential kitchen tool — and it's not just for bread. Durable yet delicate, this versatile knife is perfect for hard and soft foods alike. The premium Japanese steel blade ensures proper "bite," meaning you'll be able to safely cut through anything from pineapple to pastries.
$675 $380 at Misen
If you're building a kitchen from scratch, this is a rare opportunity to get a high-quality matching set at a relatively low price. Whether you're upgrading your tools or venturing into the kitchen for the first time, this collection of cookware is sure to last you a lifetime. The 12-piece set includes a 10- and 12-inch flat-bottomed pan, a 3-quart sauté pan, a 6-quart Rondeau, a 2- and 3-quart saucier, an 8-quart stockpot, and lids. With every tool you need for a well-stocked kitchen, the sky's the limit. You're already saving by bundling items, but you'll get an extra 20% off with code MOM22.