Editor's Note: Sign up to get this weekly column as a newsletter. We're looking back at the strongest, smartest opinion takes of the week from CNN and other outlets.
What can be done to prevent mass shootings in America's schools? A. Keep guns that can kill dozens of people a minute out of the hands of potential shooters. B. Improve the security of school buildings to stop intruders from entering and respond quickly when threats arise. C. Increase mental health care for troubled young people.
D. All of the above.
Democratic and Republican officials offer differing and often conflicting takes. Limiting access to guns, which faces determined opposition from the right, holds the greatest promise of making a difference. But there is also a powerful case to be made for an "all of the above" approach. In a 2018 opinion piece, Ron Avi Astor, now a professor at UCLA, offered seven solutions involving a variety of approaches that could help. He argues that they are still valid.
Art Acevedo, a former police chief in Austin, Houston and Miami, wrote of the painful aftermath of the May 24 school shooting in Uvalde, Texas. Nineteen children and two teachers were killed at Robb Elementary School, where police officers waited roughly 50 minutes before confronting the shooter.
"Collectively, we in law enforcement hurt because in Uvalde, we failed the children. We failed the teachers. We failed the families…."
Acevedo said "police had to assume that there were a lot of wounded, innocent children inside those classrooms. Their duty was to gain access to those classrooms at all costs, neutralize the threat and take those children out of that classroom… By not going in, the police in Uvalde absolutely made the wrong call."
"If you can't go in through one door, find another one. If you can't go in through the door, go through a window. And if you can't go through the window, crash through the drywall."
But Acevedo added, "We also need to look at the failures of leadership by our elected officials — failures that created the circumstances that required a police response in the first place. How was it that a troubled kid with homicidal thoughts was able to walk into a gun store right after his 18th birthday to buy assault rifles and high-capacity magazines with hundreds of rounds?"
"In this country, we've raised the smoking age to 21. We've raised the drinking age to 21. And yet, we still have a lot of states where 18-year-olds can buy weapons of war — weapons that use ammunition designed to inflict the greatest amount of damage to the human body."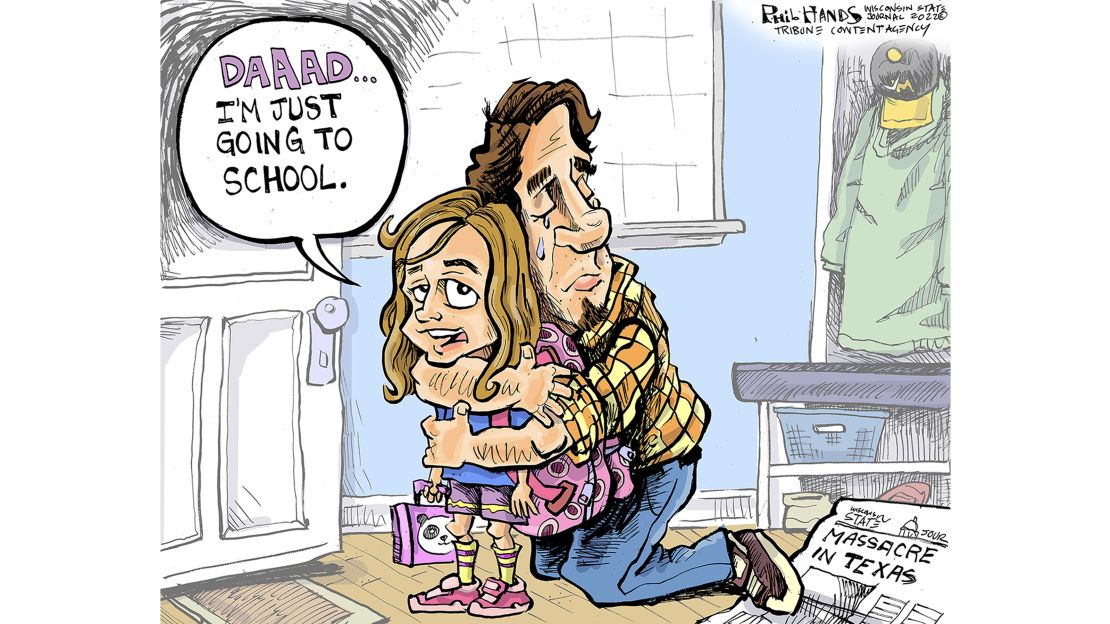 When news breaks of another mass shooting, a feeling of hopelessness can set in. Yet Philip Alpers, founding director of GunPolicy.org, pointed out that "three nations – Australia, the United Kingdom and New Zealand – tightened gun controls after mass shootings to safeguard future generations."
"That said, it is futile to suggest the US could destroy rapid-fire semiautomatic firearms in the way Australia did. To match the one-third of civilian guns sent to smelters in the years since Australia's gun law reform, Americans would have to destroy as many as 130 million firearms."
"Yet the results of Australia's gun buyback are encouraging. Stringent limits on the availability of high-risk weapons were followed by fewer firearm-related homicides overall, and a much greater reduction in mass gun homicides."
Rinad S. Beidas was a 17-year-old high school senior in 1999 when two Columbine High School students killed 13 people in their school before dying by suicide. People called it an "anomaly," but these kinds of events are now all too familiar. "Now that I'm a 40-year-old child psychologist doing firearm safety research and a mother to two elementary school students, I have trouble reassuring my kids when they ask me, 'Mom, are we safe? Will someone come shoot us at school?'"
Beidas, a professor of medical ethics, health policy and psychiatry, suggested that the first step is to "establish some common ground. Safety is important to every single person, firearm owner or not. Parents want their children to be safe at school. Teachers want to go to work without having to contend with an active shooter. Gun safety — which includes responsible and secure firearm storage — is not the same as gun control, and it's something we can all agree upon."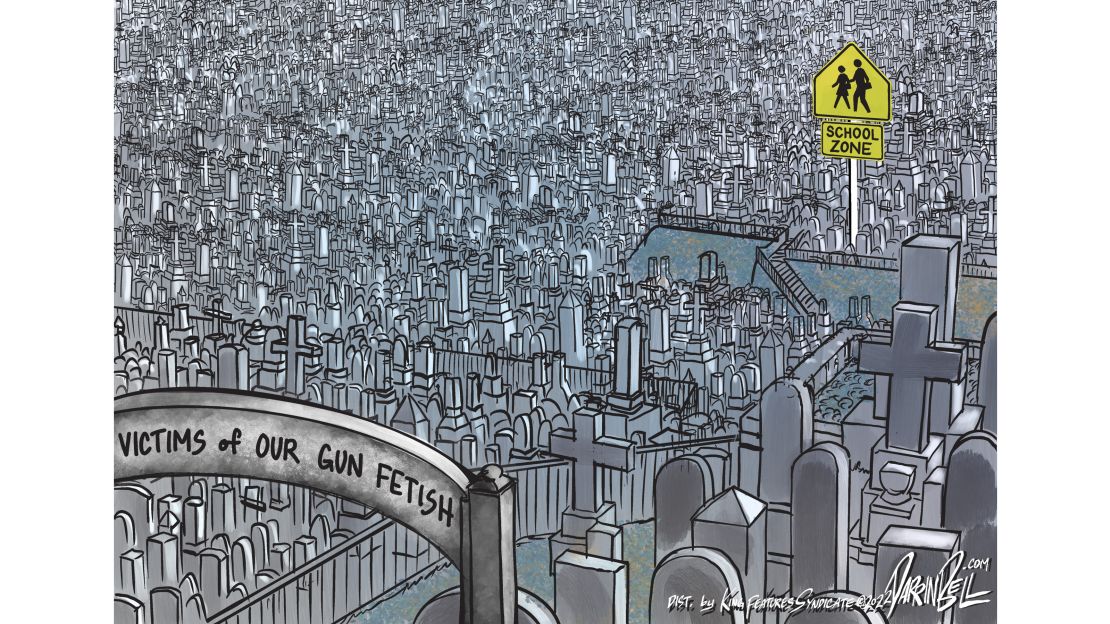 For more:
Asha Rangappa: The backdoor solution to gun reform in America
SE Cupp: Congress won't fix mass shootings, but I know who could
Nicole Hemmer: The NRA isn't the main obstacle in US gun politics anymore
Peniel Joseph: What Steve Kerr and Beto O'Rourke are exposing for all the world to see
James C. Moore: What people don't get about guns and the Constitution
Peter Bergen: This. Is. Not. Normal
Julian Zelizer: The one thing Ted Cruz gets right about guns
The food war
Russian President Vladimir Putin's war against Ukraine has resulted in sharply higher fuel prices, as nations seek to reduce their dependence on oil and natural gas from Russia. But an even more alarming prospect is a food shortage resulting from Russia's blockade of Ukraine's Black Sea ports, normally a major source of grain exports.
Writing for the Guardian, Simon Tisdall argued, "When the history of the Ukraine war is written, Russia's reckless action in weaponising food and deliberately disrupting global supplies, thereby risking the lives of countless millions, may be counted a bigger crime than even its unprovoked attack on its neighbour."
Tisdall noted that "António Guterres, the UN secretary general, said Ukraine-related shortages could help 'tip tens of millions of people over the edge into food insecurity.' The result could be 'malnutrition, mass hunger and famine in a crisis that could last for years' – and increase the chances of a global recession."
Get our free weekly newsletter
Sign up for CNN Opinion's new newsletter.
Citing the increase in food prices and high unemployment rates that played a role in triggering the "Arab spring," Frida Ghitis wrote that the world's economic challenges will likely spark political turmoil. "Of all the emergencies, the most urgent is the 'seismic hunger crisis' that the UN World Food Programme says is already 'enveloping the world' and could drive 48.9 million people to the edge of famine. That's many times more than the nearly 6.3 million people confirmed to have died of Covid so far."
"To prevent such a catastrophe, world powers should consider ways to break Russia's blockade of Ukrainian ports. Putin is attempting to weaponize starvation, cynically suggesting he would help ease global hunger if the West lifts sanctions against Russia. The sanctions, it's worth remembering, were triggered by Russian aggression. Europe should also work to boost Ukrainian exports by rail, even if that would not make up for seaborne routes."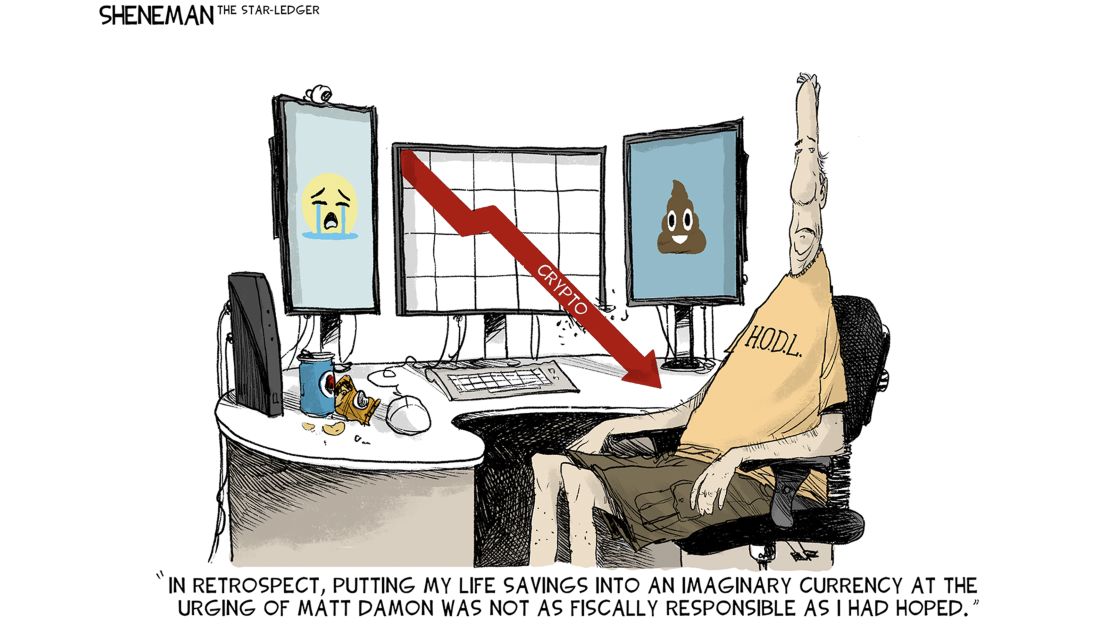 Putin's two sides
In more than two decades of covering Putin, Jill Dougherty saw two sides to the Russian leader. "In the early days of his presidency, he said all the right things about democracy and Western-style economic reform," Dougherty recalled. "Yet, within a year of being elected President, he had begun his crackdown on the media. Now, there are virtually no independent media left in Russia."
The Ukraine war reveals "the same Putin I saw in the Kremlin Library nearly 22 years ago. A man erupting in fury, bent on retribution. He had launched the Second Chechen War that decimated the republic and its people. Now, he has unleashed a war that will have devastating consequences both for Ukraine and for Russia. He reserves a boiling yet impotent fury for the US," Dougherty observed.
Daryna Shevchenko, chief executive officer of The Kyiv Independent, an English-language news site in Ukraine, wrote, "This war was waged on my country because a neighboring state felt threatened with the democratic path we chose and convinced its 140 million people that we shouldn't exist. For far too long the West turned a blind eye to Russia's military aggression — in Georgia, Syria, Crimea and Eastern Ukraine — until an attempted full-on invasion of Ukraine in 2022 at a scale impossible to ignore. And it mustn't look away now."
For more:
Casey Michel: Here's a way to make Russia pay for Putin's ruthless war in Ukraine
David A. Andelman: Europe's oil embargo includes a birthday present for Orban
Biden's struggle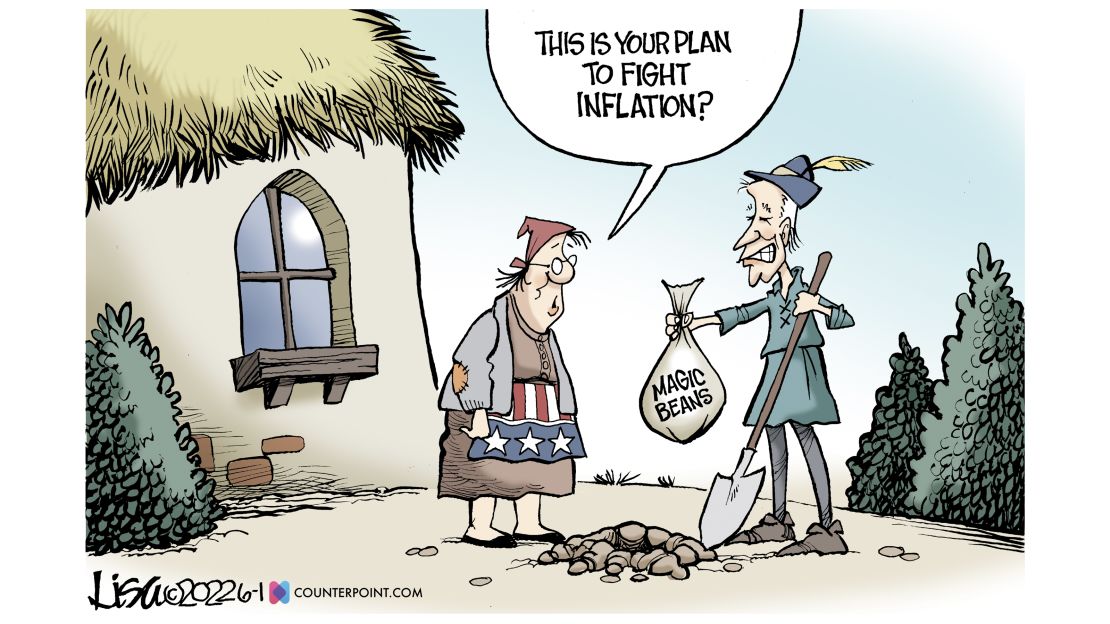 President Joe Biden made a strong appeal for congressional action on gun safety Thursday, but few people expect he can make headway in the face of Republican opposition. The speech came as the administration seemed largely powerless to quickly tamp down inflation.
As Julian Zelizer noted, Biden "won the 2020 election based, in part, on the idea that he would offer political experience the nation had not enjoyed since President George H.W. Bush and provide the legislative prowess of Presidents Lyndon Johnson and Richard Nixon. He established a striking contrast to the turbulence of the former President, promising to be a steady leader who could govern. But two years into his presidency, Biden appears increasingly overwhelmed…and if Biden can't turn things around, or offer some modicum of hope, he could meet the same fate (Jimmy) Carter did."
"By the time Carter was running for reelection, it seemed like he was struggling to keep up with events – rather than effectively containing them. Like Biden, Carter faced a series of major crises: economic stagflation; an energy crisis that resulted in high gas prices and low supplies; the Iran hostage crisis; and a Soviet invasion of Afghanistan that put the Persian Gulf region at risk." Carter lost his bid for re-election to Ronald Reagan.
For more:
Peter Bergen: Trump and Biden were both foolish about Afghanistan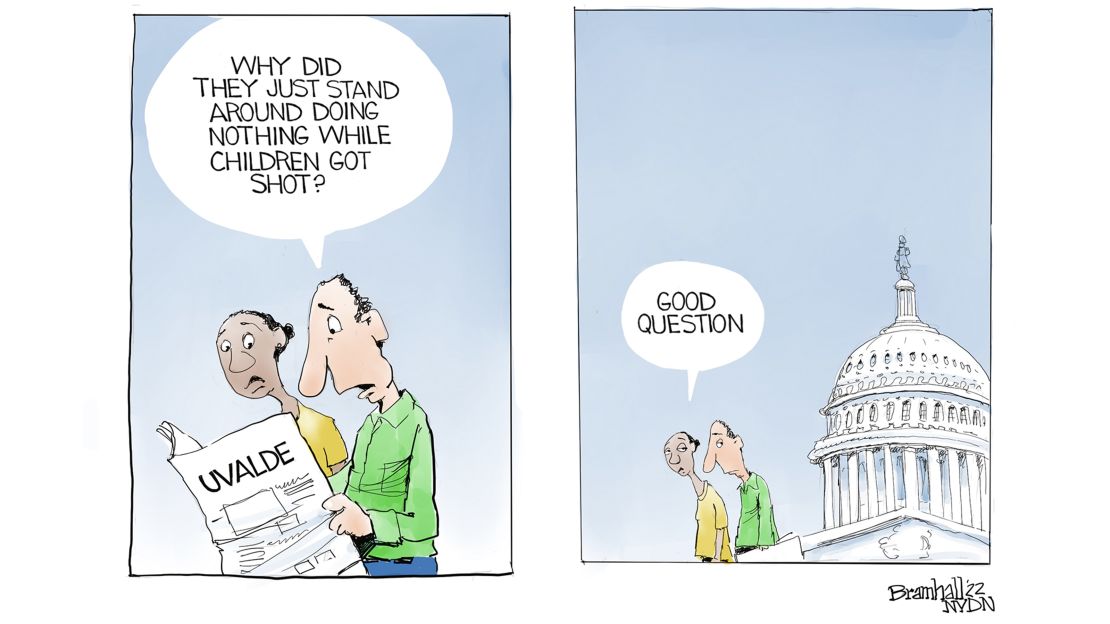 Depp/Heard
Johnny Depp and Amber Heard were each found liable for defamation in their lawsuits, with the jury awarding Depp more in damages. "The outcome of this trial affects far more than Depp and Heard, because it epitomizes just how much our society has regressed since the peak of the #MeToo movement," wrote Kara Alaimo.
"The fact that Depp sued Heard for defamation shows the threat that other women will now have to consider when weighing whether to report abuse: the possibility that they could be accused of defamation."
Sheryl Sandberg's exit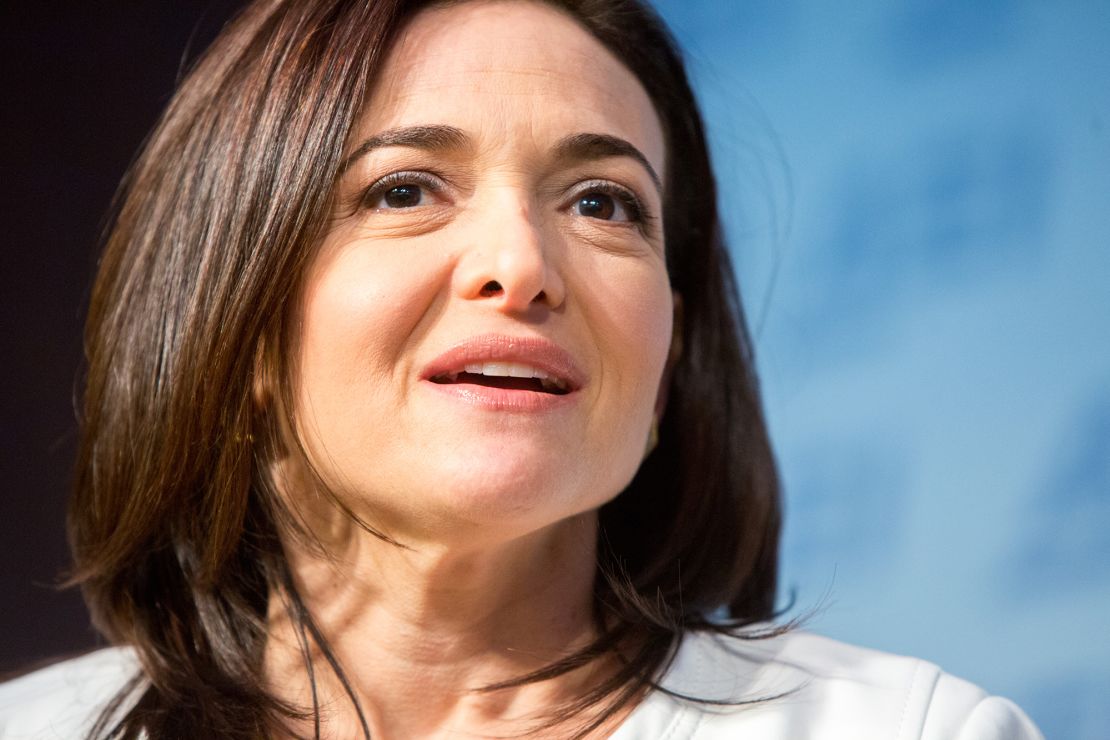 A decade ago, Sheryl Sandberg seemed to go from strength to strength. As Nicole Hemmer wrote, "Facebook had just gone public, making Sandberg a billionaire. She had played a major role in creating that wealth."
"While she reveled in the company's success, it was not the only project she cared about. She had recently begun to speak about the challenges women faced in the corporate world, and had landed on a solution: Women needed to seize more leadership opportunities and advocate more forcefully for themselves, an act she called 'leaning in.'"
But by the time Sandberg stepped down last week as chief operating officer of Facebook's parent company, her reputation had "lost some of the luster it acquired in those heady days when 'Lean In' debuted at the top of the best-seller lists. Facebook, tarnished by a series of scandals as well as major questions about its business model, has gone from being seen as Silicon Valley golden child to dystopian Big Brother. And intersectional feminism and the #MeToo movement have made the ideas in 'Lean In' seem naïve at best."
Pride month 2022
This year's Pride month, 53 years after the Stonewall uprising, has a different, more political feel, Allison Hope wrote.
"The clarion call to conjure the ferocious spirit of the very first Pride March more than 50 years ago is stronger than ever. Back then, LGBTQ+ people were demanding to be seen, to be rendered visible after generations, centuries, of being forced out of view; or much worse, prosecuted, marginalized or beaten and killed simply for who they loved or how they presented."