Editor's Note: Sign up to get this weekly column as a newsletter. We're looking back at the strongest, smartest opinion takes of the week from CNN and other outlets.
In one of his "Federalist" essays urging New Yorkers to support the newly drafted Constitution, Alexander Hamilton called the judiciary the "weakest" part of the government and wrote that it "will always be the least dangerous to the political rights of the Constitution; because it will be least in a capacity to annoy or injure them."
In the last few days, though, the US Supreme Court has looked like the most powerful part of the government as its conservative majority threw out the national right to abortion that existed for nearly 50 years and invalidated New York's more-than-a-century-old law regulating the right to carry guns.
With lifetime jobs, and no higher court to look over their shoulder, the justices reign supreme –but not above controversy.
Both of last week's landmark decisions flew in the face of public opinion. In CNN's poll in May, 66% of Americans opposed completely overturning Roe v. Wade. That's exactly the same percentage that supports greater restrictions on the sale of guns, according to Gallup's latest poll.
"The Supreme Court, which once seemed reluctant to issue decisions that too blatantly undercut popular opinion, now appears willing to court controversy and declare its indifference to what Americans think," wrote Mary Ziegler, a historian and Florida State University law professor. "Not surprisingly, according to the latest Gallup poll, only 25% of Americans have confidence in the Supreme Court."
Where do we go from here? "America is far more politically polarized now than it was when Roe was first decided," Ziegler noted. "Negative partisanship – the intensity with which people dislike those who disagree with them politically – has grown since the 1980s. In this political climate, conservative lawmakers are more likely to take extreme stances on abortion and, in some cases, seek to punish abortion providers and pregnant people without doing anything to help new parents or children."
O. Carter Snead, a Notre Dame University law professor, saw the court's decision as a positive turning point. "Roe and its progeny have been very bad for America. By virtue of those precedents, the Supreme Court imposed on the nation an extreme, one-size fits all regulatory regime for abortion of its own invention, without any justification in the text, history or tradition of the Constitution.
By taking the abortion issue largely out of the hands of the legislature, Snead argued, "Roe eliminated the need for us to talk to one another in the political sphere in a way that has real and concrete meaning for the laws and policies that bind us … There was no need for those who disagreed to discuss the issue since we weren't allowed to govern ourselves. But that all has to change now. We need to re-learn how to talk about abortion as a precondition of self-governance."
The overturning of Roe will further weaken public trust in the court, wrote Dahlia Lithwick in Slate. "For the first time in constitutional history, the United States Supreme Court, by a 6-3 margin, took a fundamental constitutionally protected right away from half the population; a right around which generations of women and families have ordered their lives…
"Make no mistake, the same court that just 24 hours earlier had determined that the decision to carry a gun on the streets is such an essential aspect of personal liberty that states may not be permitted to regulate it, has now declared that decisions about abortion, miscarriage, contraception, economic survival, child-rearing, and intimate family choices are worthy of zero solicitude. None."
For more:
Robert Klitzman: Roe's reversal doesn't just hurt women – it harms us all
Clarence Thomas' next goals
Writing about Justice Clarence Thomas, Jeffrey Toobin recalled Maya Angelou's remark, "When people show you who they are, believe them."
Toobin observed that Thomas, a longtime opponent of abortion, has accomplished his goal and noted that in Friday's concurring opinion, he "made his next goals just as clear: 'In future cases, we should reconsider all of this Court's substantive due process precedents, including Griswold, Lawrence, and Obergefell. Because any substantive due process decision is "demonstrably erroneous," we have a duty to "correct the error" established in those precedents.' Griswold protected the right of married couples to buy birth control; Lawrence prohibited states from criminalizing consensual sex; Obergefell established a national right to same-sex marriage. Thomas is saying – explicitly – what he plans to do. Believe him."
"The main reason to believe Thomas is that he has the votes."
Meanwhile, on guns
The abortion ruling overshadowed Thursday's momentous decision on guns. Errol Louis wrote that the court finding which "struck down a New York law that restricts the right to carry concealed weapons in the nation's most populous city, is a triumph of conservative ideology over common sense."
"New York City is home to about 8.8 million people – with the addition of hundreds of thousands of commuters and tourists every day – all in about 300 square miles," Louis noted. "Despite the density of people, the Big Apple annually ranks among the safest cities in America, due in part to a law dating back a century that limits concealed-carry handgun licenses to those who can establish 'proper cause.'"
Writing for Vox, Ian Millhiser noted in his majority opinion, Justice "Thomas announces that the government bears the burden of showing that any gun law 'is consistent with this Nation's historical tradition of firearm regulation.' But if 'tradition' is so important, why must New York's 100-year-old law fall? As a practical matter, moreover, that Thomas places the burden of proof on the government means many gun laws are likely to fall because, when the historical record is unclear, the government loses."
Syndicated columnist David Harsanyi praised the court's gun ruling. "The New York permit case, of course, has absolutely nothing to do with mass shootings," he wrote. "Concealed carry permit holders aren't mass shooters; they're one of the most law-abiding groups of citizens in the country – less likely to abuse their guns than the police. There are numerous examples of shootings being stopped by gun owners. The notion that a murderer is going to apply for a license to carry out a killing spree is about as plausible as a murderer adhering to the restrictions of a gun-free zone."
A different take on the courts
It was 50 years ago this week when liberals lost their majority on the Supreme Court – and the likelihood they can regain it soon is slim.
Brad Snyder, author of a forthcoming biography of Felix Frankfurter, who served on the court from 1939 to 1962, suggested that liberals should rethink their views. "The liberal search for a swing vote on a 6-3 conservative court is a fool's errand. The democratic political process – suspending the filibuster and passing a federal law preventing the states from abridging abortion rights – is their only hope."
Conservatives have honed their judicial philosophy of "originalism," which the court deployed in last week's rulings. Snyder argued that Democrats need a counter to it and suggested reviving the notion of "judicial restraint." He wrote, "Judges who practiced judicial restraint often upheld state and federal laws and rarely overturned the court's precedents. This approach appealed to liberals who believed that the court should defer to democratically elected bodies while ensuring that minorities were not discriminated against or shut out of the political process."
After nearly 30 years of inaction on gun safety, Congress last week passed a bill to respond to the recent wave of mass shootings, including the killings in Uvalde, Texas, and Buffalo, New York. It remains to be seen whether the courts will uphold the law, which includes measures to improve mental health and school security resources.
Rep. Tony Gonzales, a Texas Republican, voted for the Bipartisan Safer Communities Act, which President Joe Biden signed on Saturday.
"Growing up, I was a victim of domestic abuse," Gonzales wrote for CNN Opinion. "When I was 5, my mom and I escaped our broken home and found refuge in a battered women's shelter. Despite the troubles in my childhood, I knew I had a safe haven to escape to every day: school."
"Unfortunately, that is not the case for many children in our nation today. A month ago, a gunman opened fire on Robb Elementary School in Uvalde, Texas – just 38 miles from where I grew up and a part of the district that I now represent. That despicable crime led to the death of 19 innocent children and two teachers…"
"The warning signs in the Uvalde shooter were clearly missed. The shooting was preventable. This legislation can and will save lives in the future."
A 'tragic parody'
In a 1967 comic novel, Jimmy Breslin wrote about a mob boss facing a challenge from a younger racketeer who he believed "couldn't run a gas station at a profit even if he stole the customers' cars." The book, which was later adapted for the big screen, was called "The Gang That Couldn't Shoot Straight."
Breslin's book came to the mind of Arizona House Speaker Rusty Bowers when he was asked by Rep. Adam Schiff Tuesday to describe the supporters of former President Donald Trump who wanted him to help overturn Biden's victory. "I just thought, this is a — this is a tragic parody."
Bowers recalled Trump's lawyer Rudy Giuliani arguing that the election was fraudulent and saying, "We've got lots of theories. We just don't have the evidence." Bowers wrote in his personal journal, "I do not want to be a winner by cheating."
"Bowers refused Trump's relentless pressure to recognize and appoint fake electors," wrote former Rep. Charlie Dent, a Republican. "Bowers' testimony was compelling and powerful. He said he asked for evidence of fraud and received none."
"Trump and his minions believed fervently that they could overturn state certified elections by having GOP controlled state legislatures offer alternative slates of presidential electors who would then vote for Trump in state capitols across America, and then deliver those results to the National Archives," Dent observed.
Get our free weekly newsletter
Sign up for CNN Opinion's new newsletter.
"According to this tall tale, Congress would then certify these fake electoral votes, and Donald Trump would be re-elected. The gobsmacking audacity of this alleged scheme is breathtaking in its insanity…"
Bowers and two Georgia election workers also testified to the personal toll the election-fraud lie took on them.
Bowers' office received "in excess of 20,000 emails and tens of thousands of voicemails and texts which saturated our offices." He and his family had to "worry what will happen on Saturdays because we have various groups come by and they have had video panel trucks with videos of me proclaiming me to be a pedophile and a pervert and a corrupt politician and blaring loudspeakers in my neighborhood and leaving literature both on my property, and … arguing and threatening with neighbors and with myself."
As Frida Ghitis noted, "Choking back tears, two women who had tried to do their part for American democracy told their story; the story of how former President Donald Trump, in trying to hold on to power after losing an election, nearly destroyed their lives."
Trump and Giuliani publicly vilified Georgia election workers Wandrea "Shaye" Moss and her mother, Ruby Freeman, baselessly accusing them of tampering with the votes. "Trump's followers unleashed their fury against the women," Ghitis wrote. "The threats, the racist insults, kept coming. 'Be glad it's 2020 and not 1920,' one message read, according to Moss, suggesting perhaps lynching or who knows what horror."
"As the threats mounted, the FBI alerted Freeman to the danger. She had to move out of her house. 'There is nowhere I feel safe. Nowhere,' she told the committee. 'Do you know how it feels to have the President of the United States target you?'" Ghitis argued that their stories "stand as proof of how Trump is dismantling American democracy one belief at a time, one poll worker at a time, one idealistic citizen at a time. That is not just heartbreaking. It demands action."
The Justice Department is investigating the January 6, 2021 Capitol riot and monitoring the House select committee's hearings. A Georgia district attorney is looking into Trump's controversial call urging that state's election officials to find him enough votes to overcome Biden's margin.
In the New York Times, former Justice Department official Jack Goldsmith wrote that the January 6 committee's evidence "poses for Attorney General Merrick Garland one of the most consequential questions that any attorney general has ever faced: Should the United States indict former President Donald Trump?"
"Indicting a past and possible future political adversary of the current president would be a cataclysmic event from which the nation would not soon recover. It would be seen by many as politicized retribution. The prosecution would take many years to conclude, would last through and deeply affect the next election and would leave Mr. Trump's ultimate fate to the next administration, which could be headed by Mr. Trump. Along the way, the prosecution would further inflame our already blazing partisan acrimony…"
Trump's effort to invalidate the election was the focus of Thursday's hearing in which three former Justice Department officials testified.
"In perhaps the most vivid moment of the day, (former Acting Deputy Attorney General Richard) Donoghue – citing notes he took at the time – testified that in a phone call, President Trump directed him and the Justice Department to 'just say the election was corrupt and leave the rest to me and Republican Congressmen,'" wrote Elliot Williams.
"At this point, I'm not sure which is worse: a president trying to bully the Justice Department into carrying out an investigation, or his trying to use it as his mouthpiece."
As SE Cupp observed, Georgia Secretary of State Brad Raffensperger testified Tuesday "that he refused to follow former President Trump's instructions to 'find 11,780 votes' so that he, and not Joe Biden, would be that state's winner. We might be in a very different place if he and others had done what Trump had asked."
"But the bad news is, other Republicans running for that job in key states have indicated they would significantly change the way elections are done, essentially weakening the integrity of elections and opening them up to more partisan chicanery and manipulation."
For more:
Laurence Tribe and Dennis Aftergut: Republican election sabotage has already started. New Mexico is proof of that
Dean Obeidallah: Republicans in Texas just voted to reject democracy
Gas tax
Feeling the pressure of public anger at high gas prices and fretting about a possible wipeout for Democrats in November, Biden proposed a three-month federal gas tax holiday, which would suspend the 18.4-cents per gallon tax that is used to fund highway and bridge construction. "It is symbolism, nothing more, not least because it relies on Congress acting," wrote Bloomberg columnist Liam Denning.
"Biden is calling for lawmakers to do something, not doing anything himself. There is very little any president can do to meaningfully lower gasoline prices in the short term, and in any case, doing so blunts the painful but useful price signal to reduce demand. Pushing Congress to enact a tax holiday is the perfect distillation of decades of US non-policy when it comes to our strategic energy goals: The impotent calling on the dysfunctional to do something ineffectual."
The search for lower oil prices is behind Biden's planned meeting next month with Saudi Crown Prince Mohammed bin Salman, which comes despite the president's campaign vow to treat Saudi Arabia as a "pariah" after the killing of journalist Jamal Khashoggi.
"The President will try to get as much as he can out of the meeting with MBS," wrote former diplomat Aaron David Miller. "Likely pressing the Saudis to pump more oil; align closer with Israel; support the West's effort against Russia on Ukraine; and cooperate with other Gulf states and Israel on containing Iran. And he may succeed in some of it … But the Saudi takeaways from the meeting will surely be that oil and influence have prevailed."
Title IX
More than 50 years ago, four women came together to collaborate on getting the 37 words that would make up "Title IX" signed into law by President Richard Nixon as part of a larger education omnibus package.
"The handful of women who were behind Title IX didn't even lobby on its behalf," wrote Leigh Fondakowski, "because they knew drawing attention to its inclusion could have killed the whole bill, according to Bernice 'Bunny' Sandler, one of the architects behind Title IX. And even this handful of women did not then recognize the full scope and long-term implications of this law: that it would require gender equity in hiring and admissions practices on nearly every college campus in America, revolutionize women's sports, and become the mechanism for handling sexual harassment and sexual assault on campuses – terms that were not even commonly used in 1972."
"Armed with telephones and typewriters, these women – including Sandler, legal scholar Pauli Murray, Reps. Edith Green and Patsy Takemoto Mink, among others – created a movement that one of them would call the 'academic sex revolution.'"
"With factions in Congress obstructing legislation and a majority on the Supreme Court seemingly determined to undo the progressive legacy of the 1960's and 70's," Fondakowski wrote, 'let's use this opportunity of the 50th anniversary of Title IX to celebrate the women and men who still believe our governing body can work – that public policy can lead to great change."
DeSantis
Florida Gov. Ron DeSantis has more than $100 million in his reelection campaign fund and last week topped a poll of potential GOP presidential primary candidates in New Hampshire, narrowly edging out Trump.
"There is good reason for Trump to be worried," wrote Julian Zelizer. "When it comes to both policy and rhetoric, DeSantis can fit comfortably within the orbit of the modern GOP, having promoted some of the core themes and talking points that came to the surface during the Trump presidency. During the pandemic, for example, DeSantis was at the center of the fight that emerged around Covid-19 precautions, and he signed a bill into law that prevented organizations from imposing vaccine mandates…"
"The Florida governor, who was educated at Yale and Harvard Law School, has displayed a grasp of public policy and governance that Trump has never shown," Zelizer noted. And "the devastating findings of the House select committee on January 6 could help DeSantis. While there are certainly Republicans who will see the committee's investigation as a witch-hunt, others in the party who recognize the ugliness of the US Capitol attack might prefer a candidate who isn't, as far as we know, directly associated with the attempt to overturn the election."
Don't miss
Arundhati Roy: 'The damage to Indian democracy is not reversible.'
Stephanie Griffith: Arthur Ashe's greatest achievement was off the tennis court
Sara Stewart: Emma Thompson's new film captures the truth about sex
Holly Thomas: What Jennifer Lopez's story in "Halftime" leaves out
Jennifer Harvey: The kids I coach are the living rejection of anti-LGBTQ hate. They shouldn't have to be
David A. Andelman: Macron has suddenly become as constrained as Biden
AND…
Beyoncé powers through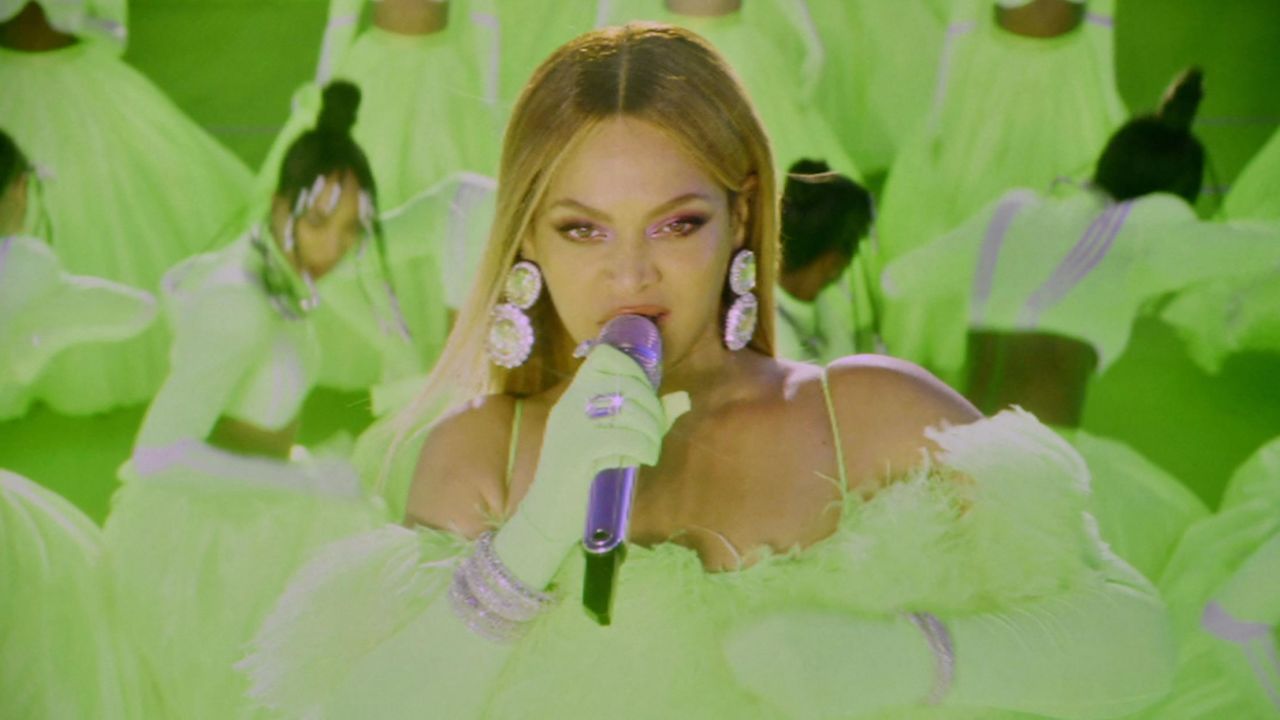 "I just quit my job," Beyoncé sings in "Break My Soul," the new single Holly Thomas called a "burnout anthem."
"I'm gonna find new drive, damn, they work me so damn hard
Work by nine, then off past five
And they work my nerves, that's why I cannot sleep at night"
As Thomas noted, "Everyone listening to 'Break My Soul' understands that Beyoncé lives an enchanted life. She belts out that she 'quit' her job, and we know that if she actually had, she's already got enough money to fund a thousand retirements."
"But burnout songs aren't instruction manuals. They're expressions of frustration that are, by necessity, created by people with far more energy and resources than the people intended to hear them. It would be agonizing if Beyoncé produced a record about being tired that actually sounded tired, complete with earnest suggestions that we all just take a bubble bath."
"Who's got time? We're powering through – so bring on the caffeinated, adrenalized beat, and we'll yawn and stretch and try to come to life."