Editor's Note: Tim Benton is Director of the Environment and Society Programme at Chatham House. From 2011-2016 he was "champion" of the UK's Global Food Security programme, a multi-agency partnership of the UK's public bodies (government departments, devolved governments and research councils) with an interest in the challenges around food. The views expressed in this commentary are his own. View more opinion on CNN.
As farmers across Ukraine attempt to bring in their wheat harvests in the coming weeks, it could be make-or-break for global food supplies.
Last year, Ukraine was the fifth largest exporter of wheat onto the global market. The invasion in February followed the planting of the winter wheat crop, which, despite the incursion of Russian tanks, is now ready for harvest.
But this harvest will be markedly different as the war continues to rage. Those farmers who have stayed are wary of unexploded missiles and ordnance that lie scattered in their fields. Some are musing burning crops rather than risk losing their combine harvesters and tractors – or their lives – bringing them in.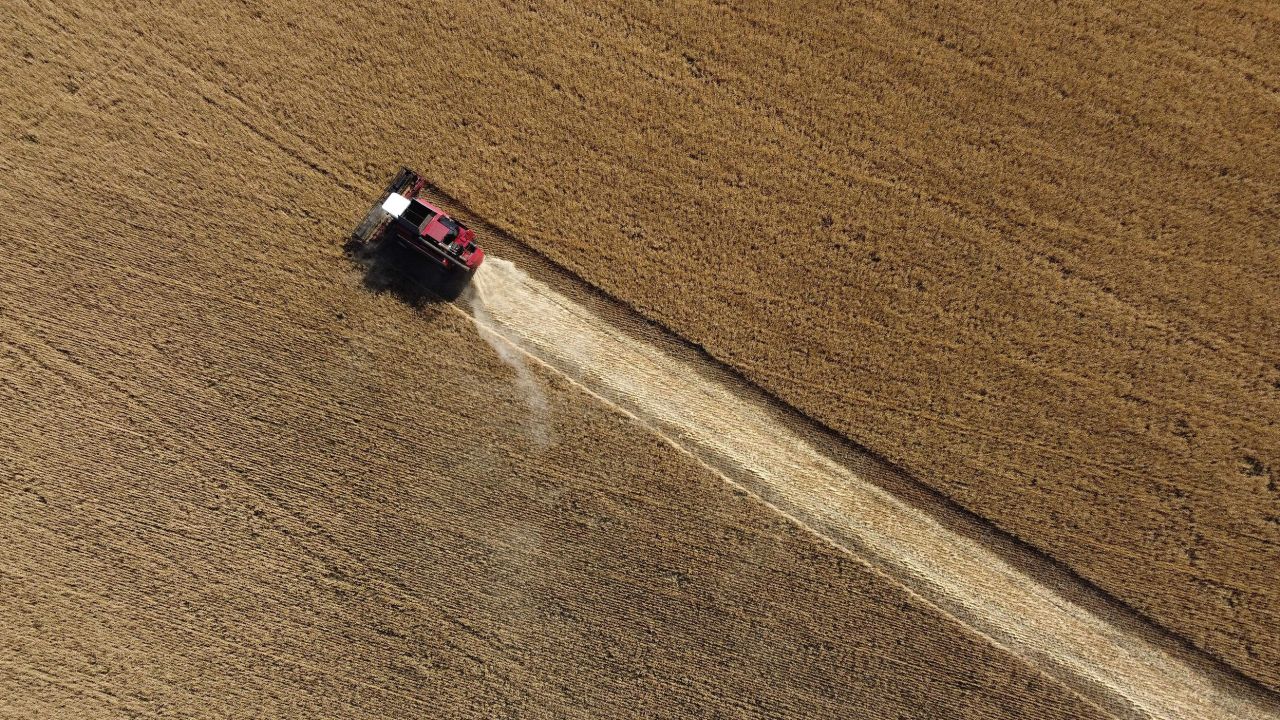 Adding to the crisis, Russia's deliberate blockade of Odesa's ports is preventing the grain harvested last year being shipped from Ukraine to import-dependent countries like Egypt, Libya and Somalia – all now in desperate need.
In occupied areas of Ukraine, there are reports of grain being illegally trucked to ports in Crimea, or even to Russia – and shipped out as Russian produce. The Ukrainian government claims over $100 million worth of grain (roughly 500,000 tons) has been stolen.
The conflict has simultaneously highlighted the reliance of developing countries on food imports and sparked a global price escalation, affecting both rich and poor countries alike and exposing what some have long feared: That our interconnected global food systems are far too fragile to cope with such shocks.
Before the war, Ukraine and Russia were together supplying 100% of Somalia's wheat imports, 80% of Egypt's and 75% of Sudan's. If Ukrainian ports remain blocked, grain silos won't be emptied and the new harvest may simply rot on the fields while millions go hungry.
The blockade of Odesa has been combined with Russia's occupation, siege and assault on other surrounding ports, effectively cutting Ukraine off from the outside world. Efforts to attempt to move food out via Ukraine's road, rail and river systems cannot match the capacity of bulk carriers leaving ports.
Part of this crisis is driven by the interrupted Ukraine exports and part by disrupted fertilizer supplies from Russia, China and Belarus – starting last fall. Russia is the world's largest exporter of fertilizers overall. Disruptions, including economic sanctions now on Russian and Belarusian fertilizer exports, mean that fertilizer prices have skyrocketed and there are shortages.
Along with wheat, Ukraine is also the biggest exporter of sunflower oil and the fourth largest exporter of maize. By impeding the flow of grain from this breadbasket region, food becomes a powerful weapon in Russian President Vladimir Putin's arsenal. This is nothing new for warmongers. For centuries, siege tactics have been deployed to starve populations.
What is new is that this tactic is not being deployed to subjugate the country under attack, but to hurt the world's most vulnerable to create political leverage for Russia. Exporting stolen grain as "Russian" to Russia's allies adds further insult to injury.
The United Nations' calls to urgently lift the blockade have been met with demands that sanctions against Russia be lifted first. The Kremlin also denies allegations it is stealing grain.
Countries most reliant upon food imports now face being tipped into critical food insecurity. The World Food Programme's director recently warned that 45 countries are one step from famine, and all around the world the poorest are suffering, because even in richer countries where food supply is not a problem, its price increasingly is.