Editor's Note: Sign up to get this weekly column as a newsletter. We're looking back at the strongest, smartest opinion takes of the week from CNN and other outlets.
At the age of 27, Marjorie Merriweather Post inherited her family's cereal business and helped turn it into a leading food industry company. She wasn't only an astute proprietor, but knew how to entertain in style: Post sported Marie Antoinette's diamond earrings at parties, owned what was then the world's largest private sailing yacht and, with her second husband E.F. Hutton, built a spectacular red-tile-roofed villa in Palm Beach.
Named for its perch between the Atlantic Ocean and Lake Worth, Mar-a-Lago opened in 1927 with 58 bedrooms and a dining room that borrowed design ideas from the Roman palace housing Italy's prime minister.
In the 1970s, near the end of a life filled with philanthropy, Post resolved to donate her Florida estate to the US government as a retreat for visiting world leaders and presidents. Donald Trump buying it in 1985, 12 years after Post's death – and turning it into a private club with a $200,000 initiation fee – was not what she had in mind. But when Trump won the 2016 presidential election and made Mar-a-Lago the palm-tree-ringed home base for an avowedly populist movement, a facsimile of Post's idea came true. The estate was now the "Winter White House."
It was at that property where an extraordinary scene took place on Monday: FBI agents carried out a court-ordered search of the former President's office and storage rooms at the mansion, hauling away more than 20 boxes of records, some of them marked "top secret/SCI" – one of the highest levels of classification. His reaction was swift and furious, and GOP commentators rushed to Trump's defense.
"Trump called it 'the weaponization of the Justice system,' arguing that a criminal case against him threatened to unravel American democracy," wrote Frida Ghitis. "It was a curious claim for a man who launched his 2016 presidential campaign on the chant of 'Lock her up!'– calling for the imprisonment of his then-political rival Hillary Clinton."
His backers treated the Justice Department's pursuit of the case as a fateful step, akin to Caesar's crossing of the Rubicon, Ghitis noted. "Trump's most militant followers are openly calling for vengeance, even violence, while his suit-and-tie backers stoke their anger – much as they did before January 6 – claiming the republic is under the gravest of authoritarian threats. They warn, in their coda, that the GOP will retaliate against Democrats if and/or when Republicans take power again." Even so, Ghitis concluded, "Prosecuting Trump is risky, but not doing it – if the evidence proves that he is guilty of a crime – is an even greater danger to the United States."
Republicans who had lambasted some Democrats for calls to "defund the police," now jumped in with their own sweeping takes. As Republican strategist Doug Heye wrote, Rep. Marjorie Taylor Greene "tweeted, 'DEFUND THE FBI' – yes, in all caps. She did this shortly after tweeting an image of an upside-down American flag which, according to the US Flag Code, should only occur as 'a signal of dire distress in instances of extreme danger to life or property.'"
"By aping what had exclusively been terrible Democratic messaging on 'defunding' law enforcement, Republicans, in subservience to Trump, hurt their own chances by losing focus and moving away from their own messaging in what otherwise should be a successful November," Heye observed.
It wasn't only extreme Republicans like Greene who lashed out at the FBI and Justice Department over the search. "What this episode has made visible," wrote E.J. Dionne Jr. in the Washington Post, "is how eager legions of Republican politicians are to be judged by their loyalty to Trump, no matter what he did. Voters should render their own decisions accordingly."
Also in the Post, Hugh Hewitt called for Trump to release the search warrant – and it wasn't long before US Attorney General Merrick Garland asked a court to unseal it. "Most Republicans rightly believe that Trump has been unfairly targeted by civil servants motivated by partisanship going back years, long before his stunning election in 2016 and certainly thereafter," Hewitt observed.
"That Trump allegedly sought to squirrel away documents comes as no surprise," wrote Nicole Hemmer. "His tenure in political office – indeed, his entire career – has been marked by careful avoidance of written records, which is likely one reason he doesn't use email. While in the White House, he had a habit of regularly destroying records, something Politico described as his 'odd and enduring habit of ripping up papers when he's done with them.'"
In his newsletter, "The Dispatch," Jonah Goldberg wrote, "Like all the people bleating about the 'Biden regime,' I have no idea if searching the former president's home was a wise decision. But from every account I've read, it was a lawful decision. Dictators do not typically seek warrants from judges when they send police to search the homes of their political opponents. Heck, if the reporting is to be believed, the White House didn't even know what had happened until after the deed was done."
The developments put Garland squarely in the spotlight after he had been criticized for what some observers saw as the slow pace of investigations regarding Trump. "If some thought he was moving slower than they would have liked, he's now clearly moving faster than we all expected," wrote Norman Eisen, E. Danya Perry and Dennis Aftergut. "If you believe that no one is above the law, and that the powerful and the powerless should be treated the same in the face of probable cause of crime, the new pace of Garland's investigation is profoundly reassuring."
Trump relished the chance to attack the FBI and Justice Department, noted Julian Zelizer. "By positioning himself in an adversarial stance, he can stoke distrust in institutions and make the case to his supporters that he is still one of them – rather than a part of the establishment. The billionaire businessman and former president of the United States is still at odds with 'the system,' or at least so he claims. This plays particularly well among his supporters who believe conspiracy theories about 'elites' orchestrating nefarious plots, or those who are fearful of the government intruding on their rights."
On Tuesday, one of Trump's sternest critics, Rep. Liz Cheney, faces a tough primary in her home state. "Wyoming's sole member of Congress has become a pariah in her own party, stripped of her House leadership position, expelled by her state's GOP, widely derided and essentially banished for having the audacity to fight for something conservatives like her used to hold dear: America's democracy," wrote Jodi Enda. But "shed no tears" for Cheney: She is "the breakout star of this summer's blockbuster TV series: the hearings of the House committee investigating the January 6, 2021, attack on the Capitol."
For more:
SE Cupp: 'This is why we hate politics and distrust government.'
Dean Obeidallah: The revolting celebration of January 6 at CPAC
The surprise in Congress
A Democratic-led Congress that thought it might have to go to voters empty-handed this fall actually passed a historic bill Friday that invests heavily in fighting climate change and institutes a long-sought curb on drug prices.
In passing the Inflation Reduction Act, wrote climate scientist Adam H. Sobel, Congress took a "huge" step toward establishing the US as a leader in fighting climate change.
"The last year and a half have been a painful roller-coaster ride for those of us who care about the future of human beings and other species on planet earth, and who accept the global scientific consensus about how climate change threatens us," Sobel noted. The bill "is expected to deliver somewhere in the vicinity of a 40% reduction in the nation's carbon emissions by 2030, compared to 2005 levels, most of the way towards President Biden's pledge of 50-52% over the same time period. … There has never – never – been climate legislation anywhere near this substantial passed in the United States."
Psychologist Drew Westen wrote that "Many historians will likely view Biden's first two years as the most effective legislative years of any president in a half-century. Yet somehow, the sum of policies with approval numbers in the 60s or 70s, yields presidential ratings in the 30s. Why? Because voters aren't consciously weighing the costs and benefits of Biden. They are associating him with the skyrocketing cost of living."
"Successful political campaigns are all about associations and emotions. This year, Republicans have the easier task: Every time voters go to the grocery store, they feel the sting of inflation." That helps explain why Biden has seized on falling gas prices and July's milder consumer price index to say his policies are working.
For more:
Oren Cass: The problem Joe Manchin highlighted is crucial for America's future
Frida Ghitis: Biden is racking up wins but getting no love for it
Afghanistan a year later
It was only a year ago that the world witnessed wrenching scenes of people seeking to flee Afghanistan along with retreating Americans as the Taliban retook Kabul. Zarifa Ghafari, the youngest female mayor in the nation, got past Taliban checkpoints on her way to the airport by hiding in the footwell of a car. She found refuge in Germany and shared her thoughts last week with CNN Opinion.
Peter Bergen faulted the Biden administration for going ahead with the Afghanistan withdrawal that had been negotiated by Trump. "To be sure, Afghanistan wasn't Norway, but it was becoming a somewhat functional, democratizing Central Asian state that saw striking progress in reducing child mortality and increasing life expectancy, one that provided jobs for women and education for millions of girls; it nurtured scores of independent media outlets, and held regular, if flawed, presidential elections," Bergen observed.
"All of that changed when the US began withdrawing and the Taliban took over the entire country on August 15, 2021. Women's rights evaporated. They have no right to work, except in a narrow set of female-related jobs such as cleaning women's toilets in Kabul; when they travel distances of more than 45 miles they must be accompanied by a male relative, and the Taliban have ordered women to stay at home and to cover themselves completely should they ever venture out. Their male relatives will be punished by the Taliban if women don't follow these directives. Girls do not have the right to be educated after the age of 12…"
"Following the Afghan debacle, Biden's favorable ratings dropped to the lowest level of his presidency to that point to 46%. They have never recovered."
Olivia Newton-John
Olivia Newton-John's life was far more complicated than one might guess from the sparkling success of her starring role in "Grease" and her country music and pop performances. "The highs in Newton-John's life were more marvelous than most, but they were matched by dire lows," wrote Holly Thomas. "After her initial breast cancer diagnosis in 1992, she lived alongside the disease for the rest of her life, becoming as beloved for her related advocacy as she was for her most memorable role. She became a national treasure in Australia, where her work was pivotal in supporting research and treatment at the cancer center in Melbourne that bears her name."
Newton-John, who died last week at 73, "made such an impact as an artist and advocate that much of the rest of her extraordinary and sometimes strange story is comparatively sidelined. Even a selective overview reveals a woman gifted with a chameleon-like ability to reinvent herself – and underscores the futility of any attempt to pigeonhole a person's experience based on their most visible triumphs or misfortunes."
Romance
Ever since the start of the Covid-19 pandemic, people have looked for ways to find solace. Olachi Ihekwaba, a master's student at New York University and an intern at CNN Opinion, wrote, "People are flocking to what brings them the most comfort or joy during what can seem like a never ending pandemic." In her case, it's romance.
"Much of my summer has been spent compulsively keeping up with the romantic travails of 15-year-old Belly Conklin as she comes of age against the backdrop of the fictionally alluring Cousins Beach in season one of 'The Summer I Turned Pretty.' Having read the book on which the show was based over a decade ago when it was first published, the seven-episode season, released mid-June, has been an unexpected balm…"
"During a time when public health concerns slowed down possibilities of finding love in real life, romance books, shows and movies created a safe space for people when nothing else made sense. And this safe space was precisely what grounded many folks as real life grew harder."
Don't miss
Lydia Strohl: I saw the terrifying attack on Salman Rushdie, a man who lives with danger and chooses to thrive
'Lives torn asunder.' The children of Indian Partition, 75 years on
Gene Seymour: What happens next to Brittney Griner is beyond our control
Jill Filipovic: What this unauthorized performance of 'Hamilton' is really showing us
Peggy Drexler: Why we're obsessed with the little league hug
Reshma Saujani: The chilling ways your social media makes you vulnerable to police surveillance
Ed Morales: James Franco controversy spotlights Hollywood's perpetual blind spot
Lala Tanmoy Das and Eric Kutscher: Two ways to fight monkeypox and end the stigma around it
Nora Neus and Tadrint Washington: Before deadly violence hit Charlottesville, she dreamed of saving lives. Hers was changed forever
Kara Alaimo: This WhatsApp change is one small step toward the healthier lives we deserve
AND…
Serena Williams' next steps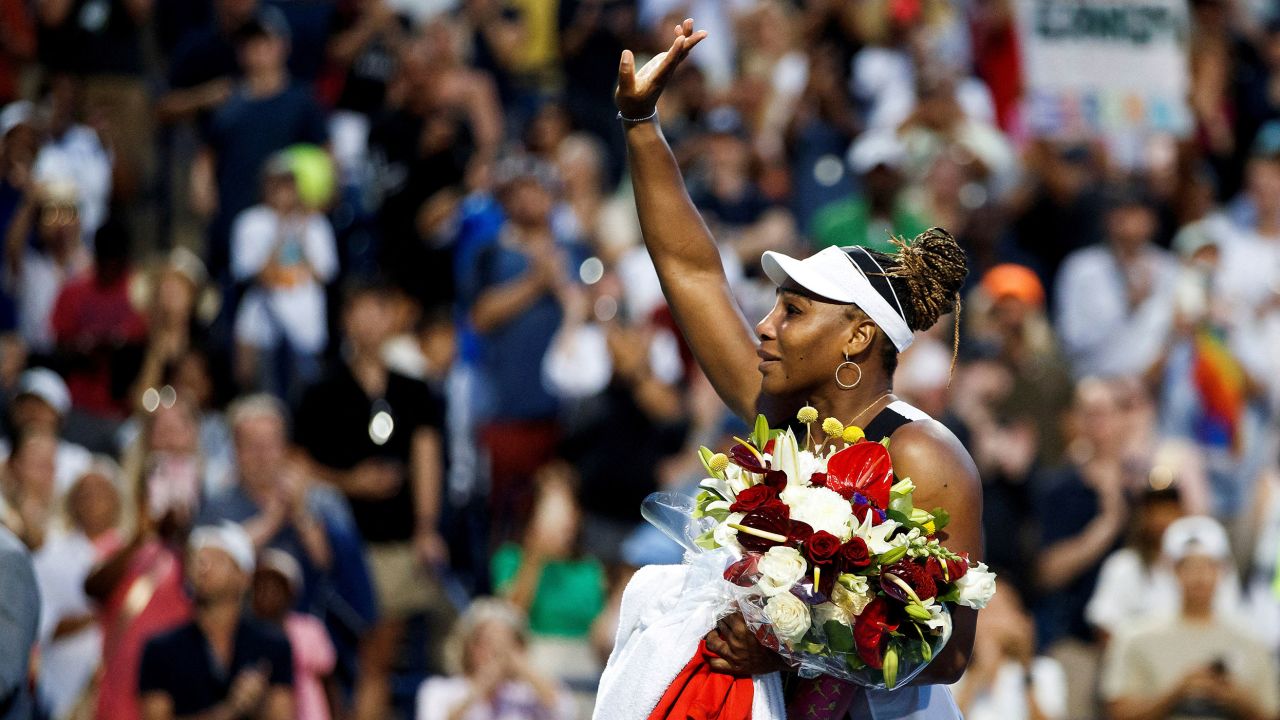 Roxanne Jones' grandfather, "a war veteran, packed his bags and migrated back down South when he retired. And there he sat on his porch, enjoying my grandmom's peach cobbler and listening to crickets until the day God called him home – just a decade later." That is not the kind of retirement Serena Williams, winner of 23 Grand Slam championships, had in mind last week when she revealed that she is stepping away from professional tennis.
Among her plans: building up Serena Ventures, a venture capital firm that has already invested widely.
"By using the word 'evolve,' Serena has done what society has failed to do when it comes to framing talented women who excel early in a chosen career, then leave on their own terms and lean instead into themselves," wrote Jones. "Embracing our full humanity, many women shift their focus to other goals they can transcend in life, be it motherhood, launching a business or exploring other life passions."