Editor's Note: Sign up to get this weekly column as a newsletter. We're looking back at the strongest, smartest opinion takes of the week from CNN and other outlets.
When Russian President Vladimir Putin ordered the invasion of Ukraine in February, many questioned the commitment of his troops to the cause. How strongly would they fight a neighboring nation with longstanding ties and a shared history?
Seven months later, Russia's failure to overthrow Ukraine's government, along with the army's growing death toll and its recent forced retreat in the northeast, has only heightened that question.
Motivated soldiers are "willing to endure effort and real sacrifice for a national cause which they understand and in which they thoroughly believe," according to James A. Ulio, the adjutant-general who built the US Army from a sparse 200,000 troops to a victorious fighting force of 8 million during World War II.
One of Ulio's bosses, Gen. George C. Marshall once said, "The soldier's heart, the soldier's spirit, the soldier's soul, are everything … It is morale that wins the victory."
Increasingly Putin is seen as failing to inspire his troops – and his nation – to commit to his cause.
On Wednesday, Putin ordered a partial mobilization and renewed the threat of using nuclear weapons against rival forces. "The cornered Putin is dragging a significant portion of Russians behind him," wrote Andrew Kolesnikov. "He has de facto declared war on the domestic front – not only on the opposition and civil society, but on the male population of Russia."
"Why is Putin taking the risk? Because he himself has encouraged the lack of public attention to the war for several months. Mobilization is fraught with serious discontent in society. That is precisely why he decided to make a partial mobilization, rather than a full one. In the long run, he laid a mine under his regime; in the short run, he will face sabotage."
There's a "crisis inside the military," Anne Applebaum wrote in the Atlantic. "The Russian army faces not just a logistical emergency or some tactical problems but also a collapse in morale. That's why Putin needs more soldiers, and that's why, as in Stalin's time, the Russian state has now defined 'voluntary surrender' as a crime: Under a law approved by the Russian Parliament … you can be sent to prison for up to 10 years. If you desert your guard post in Donetsk or Kherson (or change into civilian clothes and run away, as some Russian soldiers have done in the past few weeks)…"
"Support for Putin is eroding – abroad, at home, and in the army. Everything else he says and does right now is nothing more than an attempt to halt that decline," observed Applebaum.
The Russian leader's nuclear threats can't "be taken lightly from a state which has turned toward fascism and holds just over half of the world's nuclear weapons," James Nixey commented.
"Yet an increasing majority of western and now non-western powers are realizing that nuclear blackmail cannot be surrendered to, and that the consequences of Russia winning the war would have long-lasting debilitating effects on European and global security. Many world leaders may wish to make concessions over the heads of Ukraine's leaders. But it is politically awkward to do so when aggressor and victim are so clearly distinguishable from each other. And when Russia is on the run."
For more:
David A. Andelman: Putin's nuclear threats confront the world with an urgent choice
Trump's losses
Former President Donald Trump suffered two major legal setbacks Wednesday.
New York State Attorney General Letitia James' lawsuit accusing Trump and three of his children of "staggering" fraud was eclipsed within hours by another legal move, wrote Steve Vladeck. A "unanimous three-judge panel of the Atlanta-based US Court of Appeals for the Eleventh Circuit lifted a district court ruling that had partially blocked the Justice Department's ongoing criminal investigation into whether Trump unlawfully retained at Mar-a-Lago (and refused to return) a large tranche of government documents."
"The immediate effect of the panel ruling is to clear the way for the Justice Department to continue its work. But the broader significance of Wednesday night's ruling … is the fact that a panel that included two Trump appointees poured very cold water on the only arguments he had left to defend against the Mar-a-Lago search."
Trump's legal troubles and his low standing among voters – aside from Republicans – have stirred some doubt about whether he really will run for the presidency in 2024. SE Cupp said that the former president "is embattled, to say the least. Now, that's never stopped Trump before. They don't call him Teflon Don for nothing. But the stakes seem a little higher now, and the road ahead a lot rockier."
In the Financial Times, Edward Luce wrote, "Trump keeps hijacking the narrative, which is great for 'Maga' Republicans but bad for the party. It is sometimes forgotten that Trump has never won the popular vote…McConnell wants the conversation to be about inflation and woke liberals. Trump wants it to be about Trump. The more Trump re-enters voters' minds – with the help of the FBI and the Department of Justice – the worse are Republican prospects. In June Democrats trailed Republicans by more than two points. Now they are in the lead."
For more:
Dean Obeidallah: Seven days that summed up the GOP's embrace of extremism
Paige Alexander and Gleaves Whitney: Americans are fed up, candidates. Clean up your act
Julian Zelizer: The January 6 hearings must go on
Biden's surprises
President Joe Biden surprised many with his comments in a "60 Minutes" interview last Sunday. As historian Thomas Balcerski noted, "Biden said it was 'much too early' to decide whether he will run again in 2024 – adding uncertainty to an already unsettled political landscape."
"Though Biden still has time to make his decision, he should consider another factor: the weight of history. Should Biden choose not to run again, he would be the first first-term incumbent president not to do so since Rutherford B. Hayes in 1876."
Get our free weekly newsletter
Sign up for CNN Opinion's new newsletter.
When incumbent presidents have ruled out a second term, Balcerski wrote, "More often than not, the decision led to electoral uncertainty and defeat for the party in power."
Biden also stirred discussion by declaring, "The pandemic is over," though he added, "We still have a problem with Covid." Dr. Kent Sepkowitz, an infectious disease expert, observed that the pandemic indeed "is not synonymous with Covid-19. The risk of catching a bad case of the virus called SARS-CoV-2 will remain with us for the foreseeable future. And how well we handle its quieter version will determine just how long we remain pandemic-free."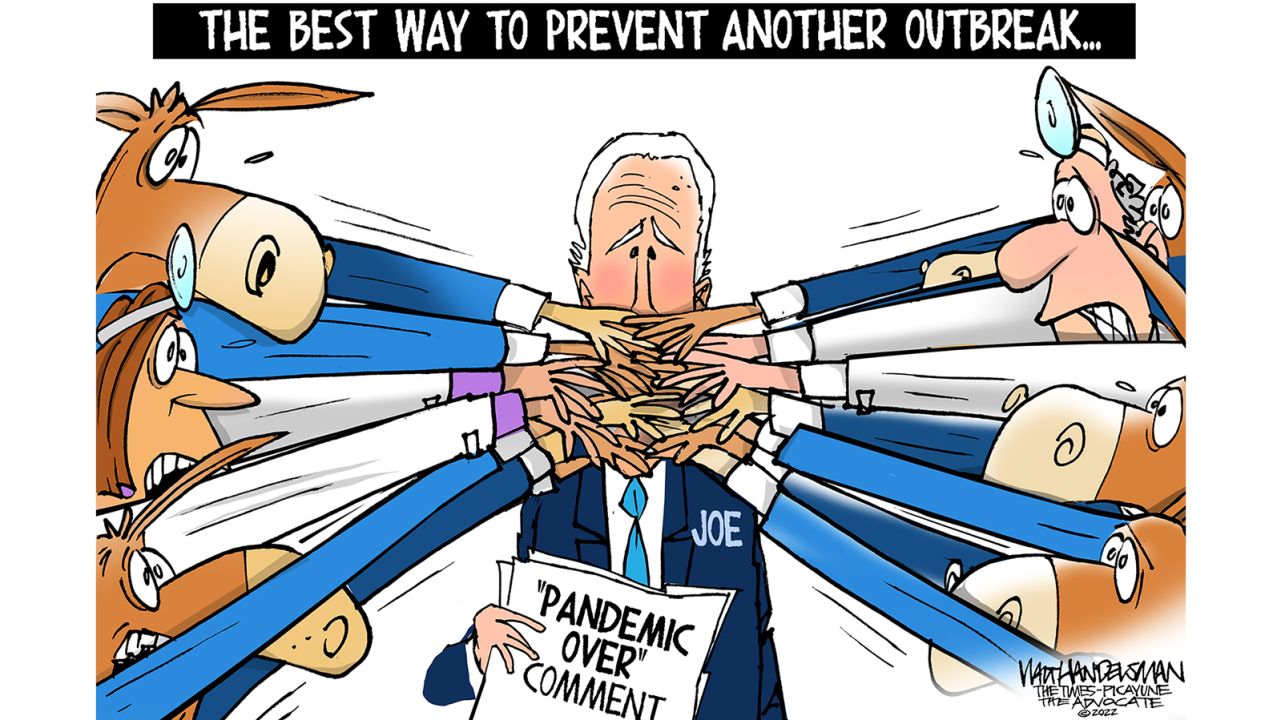 'The Woman King'
"The Woman King" is a filmgoer favorite with a 99% audience score on Rotten Tomatoes. As Nsenga K. Burton wrote, "The film tells the tale of the Agojie, the most powerful all-woman army in world history, their unparalleled commitment to their country, to each other and to their King Ghezo, played exceptionally by John Boyega."
"But there are calls to boycott the film because, to its critics (even those not calling for a boycott), it underplays the role played by the Dahomey Kingdom in the Atlantic slave trade. In their eyes, this fictional film, inspired by true events, doesn't tease out enough information about a horrific history – the kidnapping and sale of Africans by the Dahomey and Oyo kingdoms – that is, in the film's narrative arc, a subplot, while the main storyline centers on a group of badass African women, living, loving and laboring together to ensure their people remain free…"
"Hollywood has spent much of its existence repudiating the talents of Black women. The effort by some to erase their work in 'The Woman King' is lamentable. But it shouldn't work – and it won't. Anyone who finds the film's depiction of the slave trade problematic should watch it anyway – and then join a lively debate about what worked, what didn't and how it could be more accurately portrayed."
Iran protests
After 22-year-old Mahsa Amini died in the custody of Iran's morality police, protesters took to the streets. According to Amnesty International, at least 30 people have lost their lives due to the protests.
Marina Nemat, who has written powerfully of her own persecution at the hands of Iranian authorities, observed that "Mahsa Amini is dead because she let the world see a few locks of her hair. She was 22-years-old, beautiful, and full of hope and promise. She died in the custody of Iran's morality police. She was neither the first, nor will she be the last."
Nemat herself was a teenager during the 1979 Islamic revolution, which installed a theocratic regime in place of the monarchy.
"I was one of those who spoke out against the regime and paid the price – though not as dearly as some of my fellow activists," Nemat wrote. "At the age of 16, I was accused of being an anti-revolutionary and sent to Tehran's notorious Evin prison."
"Even now, decades later, every night when I go to bed, I think of my cellmates. Many are dead, executed by the Islamic Republic of Iran in the 1980s. And those who survived, like me, were tortured in prison. Guards and interrogators, all men, tied us to bare beds in small, windowless rooms that stunk of sweat, urine, and fear, and they lashed the soles of our feet with lengths of cable – heavy, hard, and cruel."
Puerto Rico perseveres
Five years after Hurricane Maria devastated Puerto Rico, another storm, named Fiona, lashed the island with wind and rain. Power was blacked out, along with running water service for more than 700,000 people, Ed Morales noted.
The hurricane hit just days after Bad Bunny, who garnered the most nominations for this year's Latin Grammys, released a new video for "'El Apagón (The Blackout),' a song from his best-selling album, 'Un Verano Sin Ti.'" Morales wrote that Bad Bunny's "edgy exuberance and irresistible rhythmic brilliance are evident, but the boasting has a protective function, one that coaxes Puerto Ricans to persevere through bad times and puts the island's longstanding problems in the spotlight…"
"Through artists like Bad Bunny, Puerto Ricans know how creatively powerful they are, that they deserve to live their lives without constant electrical blackouts and that they want to stop being displaced and used as a tax haven and real estate playground for the ultra-rich."
The migrant wave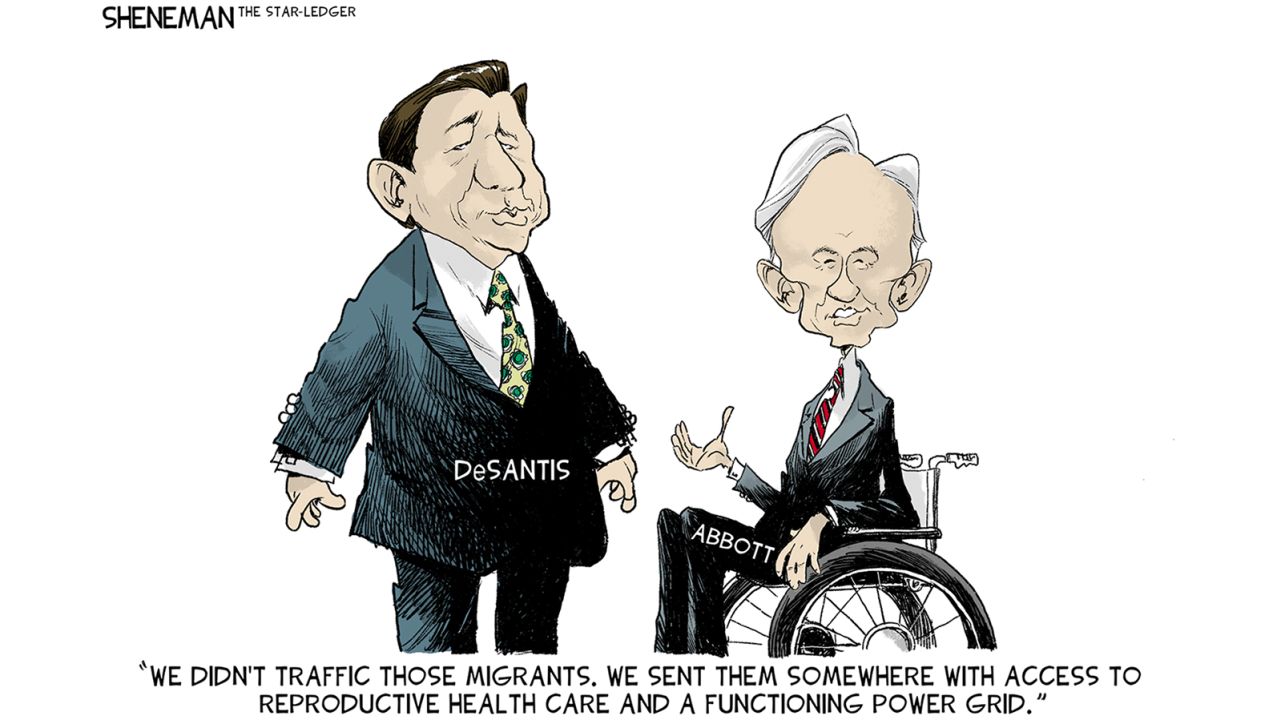 Last week, national headlines focused on a group of roughly 50 Venezuelans who were flown to Martha's Vineyard from Texas. But it's important to note that they make up just a fraction of the migrants GOP governors have sent north in recent months.
New York City Mayor Eric Adams said that 13,000 have already arrived in New York. This is straining the city's resources, wrote Jill Filipovic. "For the red state governors who fall into DeSantis and Abbott's camp, this is the point: They say that they've been taking on the burden of dealing with desperate newcomers, and they think that liberal states should share in the problem. Maybe, they seem to think, this will make liberals get tougher about border enforcement…"
"Immigrants are not a problem. Immigration is only a problem because our support systems are weak and underfunded, our court systems understaffed and still reeling from pandemic shutdowns, and some of our neighboring countries oppressive basket cases.
"For the most part, these problems are solvable – at least the ones within our own borders. But they aren't going to be fixed by more brutal border policies that force people to take ever-greater risks. And they certainly can't be fixed by trafficking scared and confused people – and turning their tragedy into a vindictive political joke."
For more:
Norman Eisen and Christine Todd Whitman: DeSantis' actions should raise alarm bells
Why he did it
"What I did was both unusual and unpleasant," wrote Michael Thaddeus. The article that brought to light inaccurate data that Columbia University submitted to U.S. News, Thaddeus added, "was written not by a disgruntled rival but by a tenured professor in Columbia's own math department. Many people must have scratched their heads and wondered, 'Why did he do it?'"
Thaddeus is that math professor. "I began looking into the matter because my suspicions were piqued by Columbia's dubious claim to U.S. News that 83% of its undergraduate classes enrolled under 20 students. I assumed that Columbia would address the questions I raised promptly and forthrightly. I never guessed that its response would be so slow and clumsy, causing the scandal to drag on for months. While the short-term damage to Columbia's reputation has been painful to witness, I'm convinced that it was necessary for me to speak out. Columbia's leadership over the last two decades has made an unsustainable choice to portray life at the university in ways that are fundamentally at odds with reality."
There's a broader lesson, he argued. "At the most basic level, the U.S. News ranking is a failure because the purported facts on which it is based cannot be trusted. Plainly, its vetting of the data reported by colleges has been cursory, even shoddy."
"Fortunately, society is waking up to the chicanery of the rankings scam. The US Secretary of Education, Miguel Cardona, called college rankings 'a joke' in a speech last month."
Fed shock
The Fed hiked interest rates by three-quarters of a point for the third time this year and stocks plunged to their lowest level since November 2020. Mohamed A. El-Erian wrote for CNN Business that more interest rate increases are on the way from the central bank, which was slow to react to spiking inflation. Because the Fed is raising rates "in a weakening economy, it will face criticism for damaging not just domestic economic well-being, but also global growth."
"This unfortunate situation the Fed is in – damned if you do, and damned if you don't – is illustrative of a deeper issue. Having missed the window when a 'soft landing' for the economy was feasible, (that is, lowering inflation without much damage to the economy), the Fed now finds itself distressingly far from the world of 'first-best' policymaking."
Don't miss
Jennifer Rodgers: How the Adnan Syed debacle might have been avoided
Rosa Prince: Saying goodbye to the last Queen of England most of us will ever know
Gene Seymour: I've lived in Philadelphia for decades. This TV show is the city's love song
Francesco Galietti: The political charmer who repacked Italy's far-right
Faith Birol: Electric cars are transforming the auto industry. That's good news for the climate
Seth Siegel: The country that is showing the world how to save water
AND…
A cosmic collision
An asteroid strike is believed to have wiped out the dinosaurs – and 75% of plant and animal species – about 66 million years ago. As Don Lincoln noted, a much-smaller meteor hit the atmosphere over Russia in 2013, creating a shock wave and injuring 1,200 people. "The Earth sits in a cosmic shooting gallery, where big rocks from space have pummeled the planet for millions of years," Lincoln wrote. And so it's not a surprise that on Monday, researchers are going to test a method of pushing asteroids off course when they are headed in our direction.
"A group of scientists and engineers led by Johns Hopkins University Applied Physics Laboratory is going to slam a 570-kilogram spacecraft called Double Asteroid Redirection Test (DART) into an asteroid called Dimorphos. The test will see if the impact will change the asteroid's trajectory and help scientists understand if potentially dangerous space rocks can be diverted before they endanger the Earth."
Scriptwriters are enraptured by stories of ominous asteroids and meteors. "This test turns the stuff of movies into real life," Lincoln observed. "The Hollywood blockbuster movies 'Deep Impact' and 'Armageddon' both dramatized the exact problem that the Earth Planetary Coordination Office was designed to avert. And let's not forget the recent Netflix movie 'Don't Look Up.' While the movie is a broader cinematic statement about the dangers of ignoring many known global dangers, the threat of a huge meteor, which is used as a metaphor in the film, is a plausible scenario."