CIA Director Bill Burns briefed Ukrainian President Volodymyr Zelensky in Kyiv last week on the US' expectations for Russia's battlefield planning in the spring, according to a US official and two Ukrainian sources familiar with the meeting.
The secret meeting comes as US officials are closely monitoring a potential Russian offensive in the coming months – and in the midst of a fraught debate between the US and its European allies over whether to send increasingly sophisticated and long-range weaponry to Ukraine. Western defense leaders are scheduled to meet Friday to discuss further weapons shipments to Ukraine.
"Director Burns traveled to Kyiv where he met with Ukrainian intelligence counterparts as well as President Zelensky and reinforced our continued support for Ukraine in its defense against Russian aggression," a US official said in a statement.
The Washington Post first reported the meeting.
Burns, a veteran diplomat, has become a trusted interlocutor in Kyiv, and last week's trip was not his first. He made two known back-to-back trips to Kyiv in October and November of last year, including one that took place amid a spate of Russian missile strikes across the country.
The winter months have seen brutal fighting on the front lines, particularly around the city of Bakhmut, but no major strategic gains by either side. Director of National Intelligence Avril Haines, speaking at the Davos World Economic Forum on Wednesday, called it "not a stalemate but really a grinding conflict at this stage."
But both sides are thought to be girding for potential offensives in the spring and Kyiv has continued to press the United States and its Western allies for more support in its fight to beat back Russia. One Ukrainian source emphasized to CNN that Kyiv has become concerned about the pace of weapons supplies to Ukraine – a growing fear as Republicans, some of whom are skeptical of aid to Ukraine, have a majority in the US House of Representatives.
The Pentagon on Thursday announced a $2.5 billion security package for Ukraine – the second largest ever announced by the United States. The aid featured for the first time Stryker combat vehicles and included more Bradley fighting vehicles.
The Biden administration, though, remains in a standoff with Germany over whether to send tanks to Ukraine, with German officials having indicated in recent days that they won't send their Leopard tanks to Ukraine, or allow any other country with the German-made tanks in their inventory to do so, unless the US also agrees to send its M1 Abrams tanks to Kyiv.
The Pentagon has said for months it has no intention of doing so given the logistical costs of maintaining them.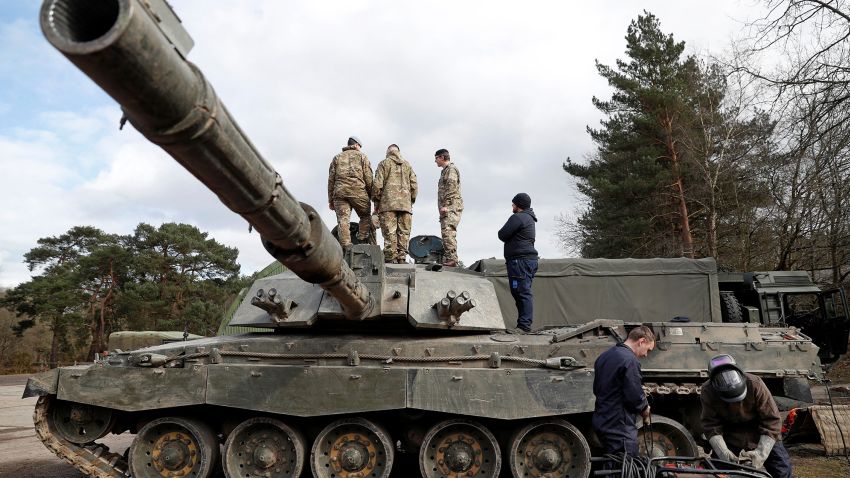 Watch: Germany won't send its tanks to Ukraine unless this happens