On the side of a building in Kyiv, the haggard face of a soldier stares into the distance. The mural, around five stories tall, is of captured Ukrainian soldier Oleksandr Matsiyevsky, executed by Russian forces last year after he shouted the words "Glory to Ukraine."
The mural is the work of French street artist Christian Guemy, known as C215, and is one of many works he has created to mark Ukraine's resistance to the Russian invasion.
Before he completed the mural, he met with Matsiyevsky's widow and mother.
"As with everything I do for Ukraine I did it for free and with enthusiasm," Guemy told CNN in an e-mail interview. "I am proud and humbled by this mural. Facing a real giant, who refused proudly to betray Ukraine by saying 'Glory to Ukraine' …can just make you feel small."
"I am just an artist, kind of a painting tool, and my commitment is to support Ukraine with my skills," he added.
Based in Paris, Guemy has collaborated with British artist Banksy — who has also created works in Ukraine — in the past. But he says their styles are different. "Being French gives a proper sense of tragedy, not irony."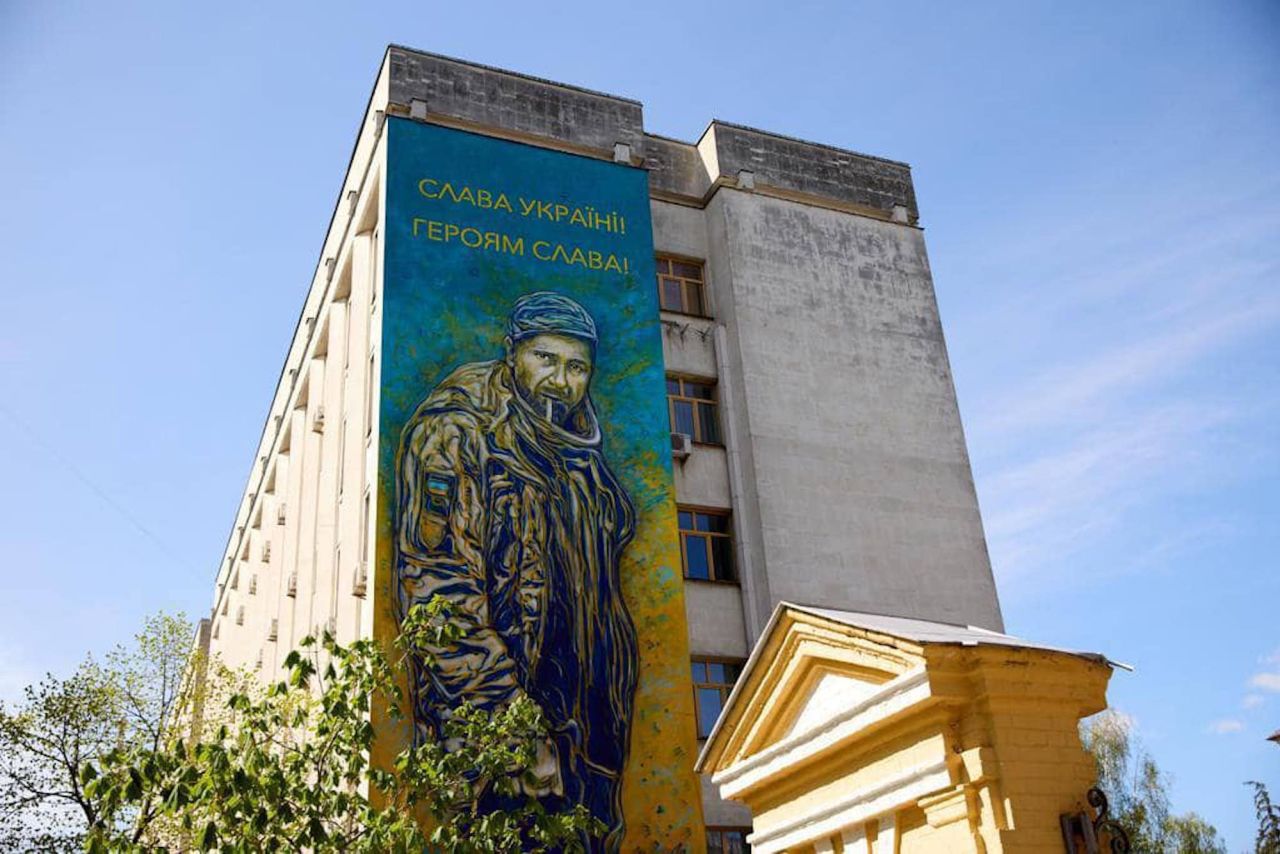 Guemy now frequently visits Ukraine, but he has also brought the country's struggle to the streets of the French capital.
His first major work following the Russian invasion was in support of Ukrainian refugees: a mural done in blue and yellow of a Ukrainian girl with a crown of flowers in her hair, looking pensive and vulnerable.
The portrait was completed in partnership with the town hall of the 13th district of Paris. It features a quote by Ukraine's President Volodymyr Zelensky, who said in his inaugural address when he was elected in 2019: "I really do not want my pictures in your offices, for the President is not an icon, an idol or a portrait. Hang your kids' photos instead, and look at them each time you are making a decision."
Guemy said that his friends had suggested a mural of Zelensky himself but had told them that his support was not only for one man but to all Ukrainians fighting for their freedoms and culture. The fresco of the girl has now been replicated on a wall in the Ukrainian city of Lviv.
After the original piece in Paris was finished in March 2022, Guemy headed to Kyiv. One of his first works there – created on the terrace of the French embassy – was inspired by Eugène Delacroix's 1830 painting "Liberty Leading the People." It's now part of the permanent collection of the French parliament.
"Painting in the colors of Ukrainian flag was also a symbol of personal support, and the French Parliament wanted to keep this artwork in its collection as a memorial of French support for Ukraine´s freedom."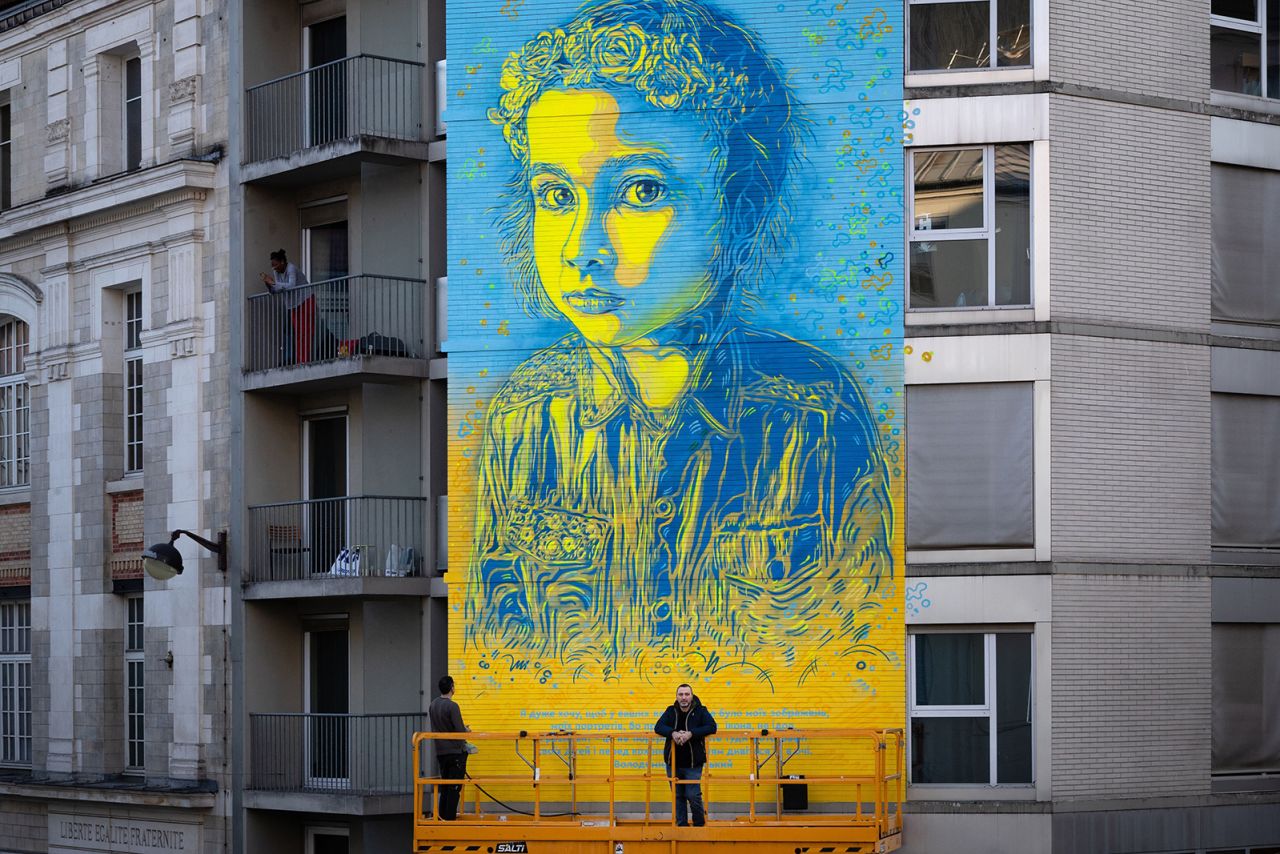 Power through art
Guemy's process starts in his Paris-based studio, where he creates stencils for his murals, which allow him to spray paint quickly when a site is chosen.
He began using stencils in 2006, painting mainly anonymous people and his family members. His older daughter Nina frequently appeared in his works. He went on to depict historical figures with progressive values and exhibited in the Pantheon in Paris in 2018. Recently, he's become more interested in the topic of French resistance during WWII.
Guemy has created works in many areas around the world including Haiti and Rwanda, and has exhibited in venues from Spain to San Francisco.
"My art is a way to explore the world," he said.
But for now, the people of Ukraine have remained a primary source of inspiration. Dmytro Kotsiubaylo, the youngest battalion commander in the Ukrainian army known as "Da Vinci," was one of them. The 27-year-old, who was killed in a battle for Bakhmut was described by Zelensky as a "hero and a symbol of a manhood."
The artist fashioned two murals of Kotsiubaylo in Irpin and Borodyanka, two towns northwest of Kyiv ravaged by Russian occupation. He chose Borodyanka as a way of drawing international attention to such immense destruction.
"Painting Da Vinci in a trench has been very impacting too, as a symbol," Guemy said. "I feel more and more (like I am) part of this conflict."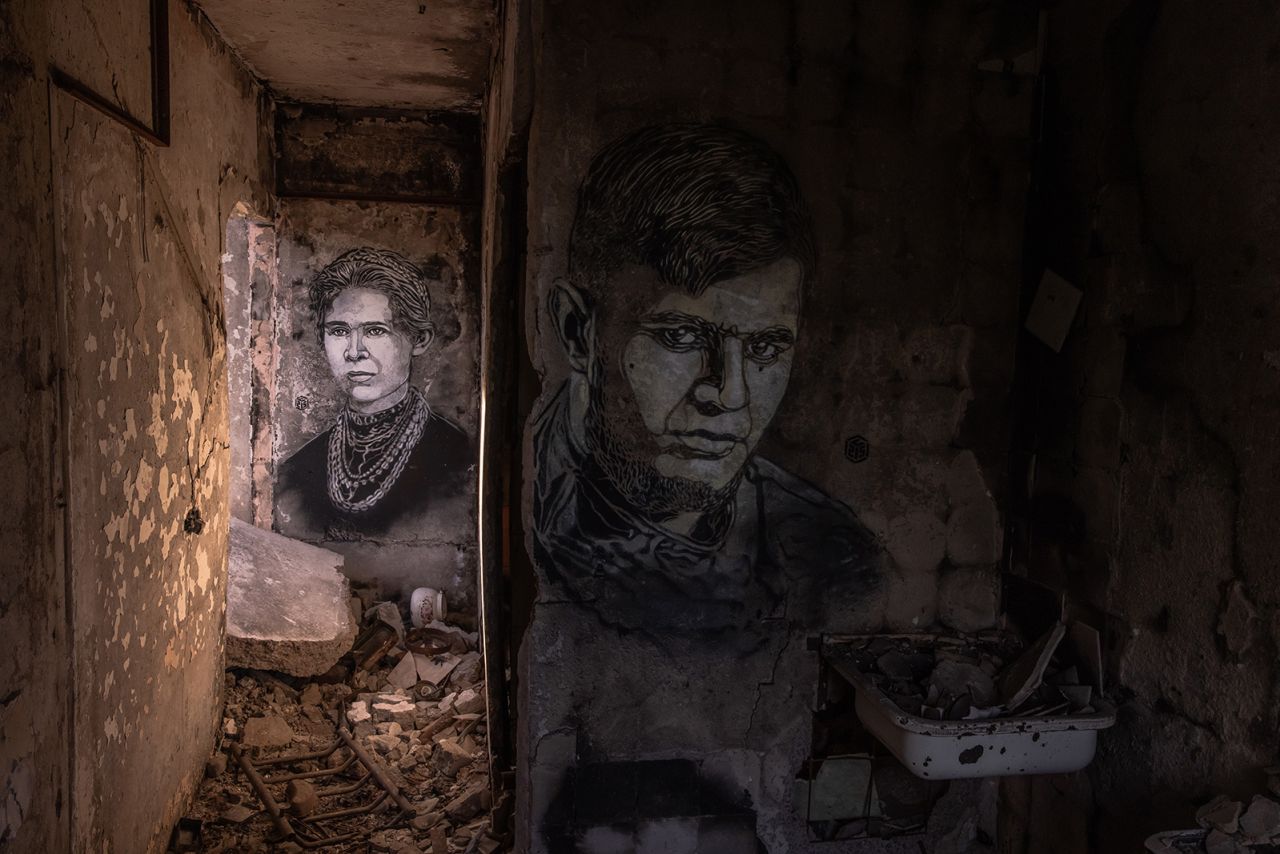 His own life, which included the loss of his mother at age five, has influenced his choice of subjects. "I certainly healed from my own childhood, which was quite chaotic and difficult."
"Children move me so much," he added.
The artist has even painted his own son Gabin, wearing a traditional Ukrainian shirt, on a building in Kyiv damaged by a Russian missile attack.
He chooses such sites, he says, because it helps drive support for Ukraine.
"Supporting Ukraine is also understanding the huge ruin caused by the bombings, the hundreds of thousands of (people who are) homeless, displaced, relocated, whose homes are destroyed," he said.
But he is wary of people seeing his work as cool street art appealing for peace.
"The blatantly 'pacifist' works on the theme of Ukraine make me nauseous. Ukraine doesn't want 'peace,' Ukraine wants victory and justice."
Guemy is planning to do more works in and about Ukraine. "My heart belongs to the Ukrainian people."