2008 Democratic and Republican National Conventions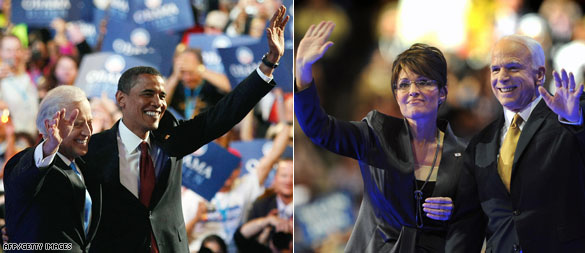 Candidates claim to be agents of change
As Sens. Barack Obama and John McCain enter the campaign homestretch fresh from their party nominating conventions, each is trying to make the case that his ticket is the only one that will bring about change.
Full story


Democratic National Convention, August 25-28


Obama makes history, blasts McCain
Sen. Barack Obama laid out his plan to lead the country into an era of change as he accepted the Democratic presidential nomination, securing his place in history as the first African-American to lead a major party ticket.
Full story
|
Report card
|
Analysis

Republican National Convention, September 1-4


McCain: I will 'fight for your future'
Sen. John McCain vowed to "shake up Washington" as he accepted the Republican presidential nomination and said he's prepared to reach across the aisle to get the country "back on the road to prosperity and peace."
Full story
|
Report card
|
Analysis


Conventions 101


Riots, a 'smoke-filled room' and a kiss
Party conventions weren't always tightly scripted coronations of the nominee. Check out these memorable moments.
Interactive