Hong Kong grounds all flights as protest paralyzes airport
4:08 p.m. ET, August 12, 2019
10:11 p.m. ET, August 19, 2019
Hong Kong International Airport will resume flights Tuesday
From CNN's Jaide Garcia
The Hong Kong International Airport will resume flights starting 6 a.m. Tuesday local time (6 p.m. ET), an airport spokesperson tells CNN.
The airport is using a flight rescheduling system to adjust all flight times, and will work closely with the airlines to reschedule incoming and outgoing flights "according to the capacity of airport operations," the spokesperson said. 
"Some of the flights will be canceled and some will be delayed. This will give passengers the opportunity to know whether their flights are going to fly or not," the spokesperson added. 
12:34 p.m. ET, August 12, 2019
White House encourages "all sides to refrain from violence"
From CNN's Kevin Liptak
A senior White House official said the US is continuing to monitor developments in Hong Kong.
"As the President has said, this is between Hong Kong and China, with the understanding that 'they're looking for democracy and I think most people want democracy,'" the official said.
The source continued:
"Societies are best served when diverse political views are respected and can be freely and peacefully expressed ... The United States urges all sides to refrain from violence."
11:57 a.m. ET, August 12, 2019
Student activist to US lawmakers: "Support Hong Kong democratization"
Student activist and secretary-general of Hong Kong's pro-democracy party Joshua Wong urged the US government to get behind calls for democratization in Hong Kong. 
Wong told CNN's Christiane Amanpour that "US politicians should take a more active role to support Hong Kong democratization."
He added that he will "never say never" about the prospects of the Chinese military crossing into Hong Kong. If the People's Liberation Army crossed the border, it would hurt Hong Kong's stature as a global financial center, he said.
In reference to Sunday night's protests, Wong said Hong Kong had turned into a "police state" and that it was trying to murder ordinary citizens. He went on to call for the United States to cease sales of crowd control weapons like tear gas and rubber bullets. 
Wong referred to the recent protest period as "the Summer of Discontent" and warned it could carry on until China's National Day on October 1.
11:59 a.m. ET, August 12, 2019
Amnesty International: "Hong Kong police have once again demonstrated how not to police a protest"
From CNN's AnneClaire Stapleton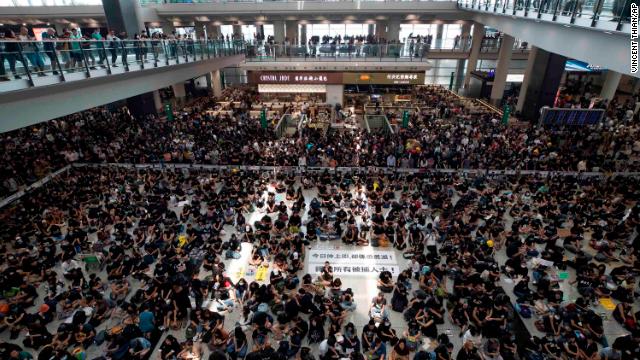 Amnesty International Hong Kong criticized Hong Kong police for how they have interacted with protesters. Video showed some officers firing tear gas in enclosed environments and at close range.
Man-Kei Tam, the director of Amnesty International Hong Kong, said the officers "once again demonstrated how not to police a protest."
Here's part of his statement:
"Hong Kong police have once again used tear gas and rubber bullets in a way that have fallen short of international standards. Firing at retreating protesters in confined areas where they had little time to leave goes against the purported objective of dispersing a crowd .... The Hong Kong police have once again demonstrated how not to police a protest... Law enforcement officials must be able to carry out their duty to protect the public. However, violence directed at police does not give officers a green light to operate outside of international policing standards."
"Any heavy-handed policing approach will only increase tension and provoke hostility, leading to the overall escalation of the situation," he added.
8:48 a.m. ET, August 12, 2019
Here's what you need to know about today's protests
Today saw the fourth and largest day of airport sit-ins by anti-government protesters in Hong Kong, thousands of whom thronged both terminals at the city's international airport. Nearly 200 flights coming in and out of the city were canceled, and the normally calm and orderly airport descended into chaos.
Here's the rundown:
All flights down: All departing flights were canceled, and more than 70 arriving flights were also stopped. In the early evening, the airport was filled with confused and frustrated travelers who weren't sure if their flights had been canceled or not.
Protesters warn travelers: Thousands of protesters in the airport arrival hall warned arriving travelers, "Don't trust the police," and held up images of bloody clashes between protesters and riot police. Some shouted, "Turn back," while others apologized for the inconvenience.
Anger at the police: Though the wider protest movement has a range of demands -- including greater democracy -- today's demonstrations seemed focused at the police, who protesters accuse of brutal force and abuse of power.
A bloody weekend and bloody summer: Protesters are outraged about last night's violent clashes with the police. One female protester's eye was injured during the dispersal operation -- which became a rallying cry for protesters today. Violence is fast becoming the norm as Hong Kong enters its 11th consecutive week of protests, which first began in June over a now-suspended extradition bill.
8:36 a.m. ET, August 12, 2019
Airport slowly, slowly returning to normal
From CNN's Ben Westcott
Life is steadily returning to normal at Hong Kong airport -- except all the flights are still canceled and there are hundreds of chanting protesters in the entrance hall. 
Cleaners have begun to remove the piles of garbage amassed around the trash cans while leaving the hundreds of posters and leaflets attached to the walls and barriers. 
Passengers are still arriving from flights headed into Hong Kong. Walking out into the main terminal they're greeted by crowds of black clad protesters. They can take the Airport Express into town which is still running at 10 minute intervals after being overwhelmed by travelers earlier as protesters attempted to flee the airport.
All the shops are still closed and there are few airport workers to be seen but there is less of a sense of paralysis now, just waiting on the part of the protesters and uncertainty for the unfortunate travelers stuck there.
8:34 a.m. ET, August 12, 2019
The power of protest art
Hong Kong's airport, now largely empty of protesters hours after hundreds of flights were cancelled, is plastered with posters, flyers, and drawings -- examples of the widely-disseminated protest art that informs, inspires and, at times, offers light relief.
The political art has taken on a distinct style, from design to distribution. Banners are not just plastered onto main roads -- they are sent directly to residents via Bluetooth and Wi-Fi almost immediately after they are created.
The graphics serve multiple purposes; some advertise upcoming protest marches, others contain subversive criticism of the authorities and many encourage unity and stamina.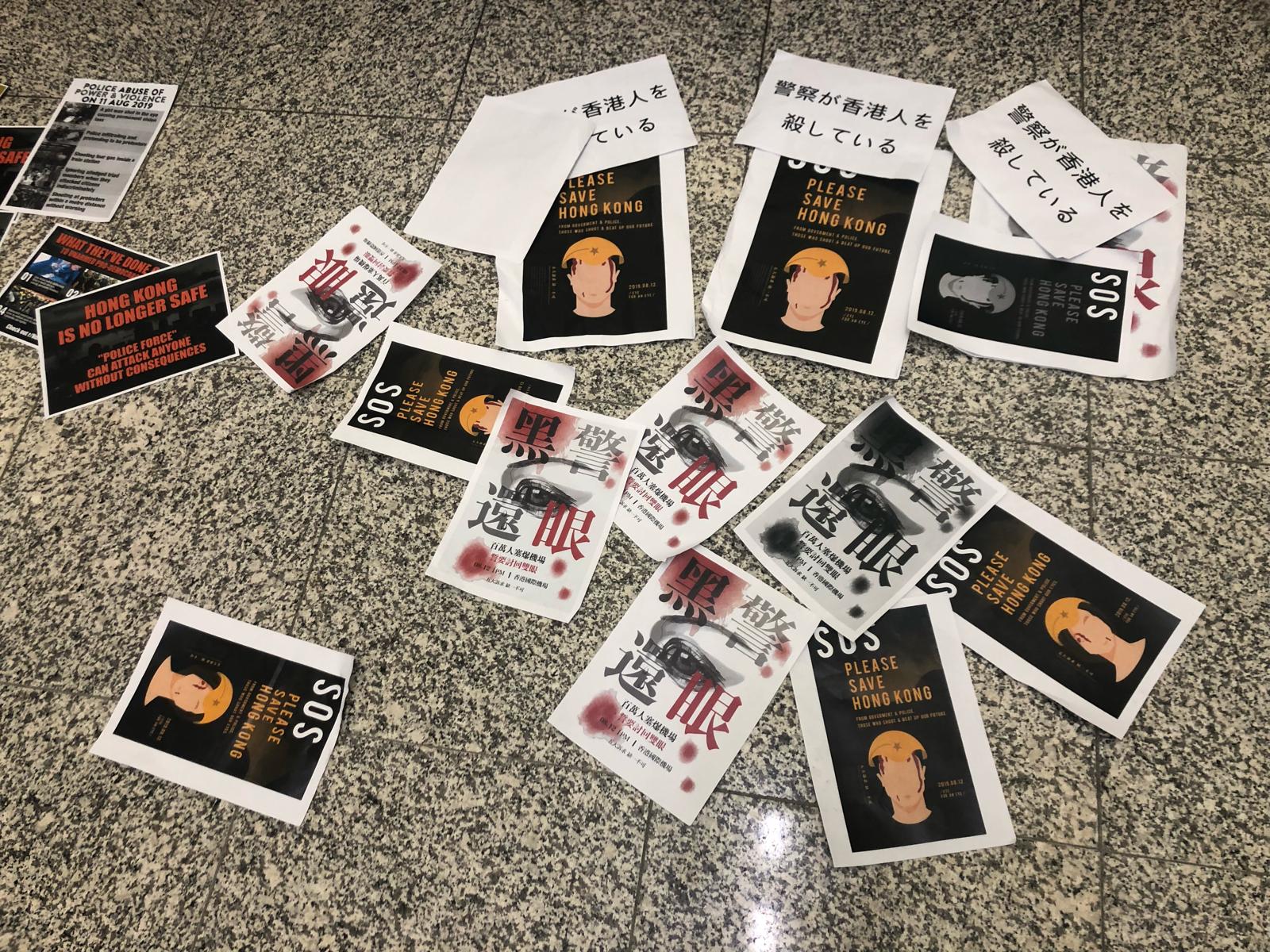 "Be water": A key theme of protesters' posters is the ability to "be water," a phrase inspired by martial arts icon Bruce Lee that encourages fluidity and adaptability to any situation. This is in stark contrast to the 2014 protests, which remained in one area of the city as protesters set up camp against the authorities.
"An eye for an eye": A newly emerging poster theme depicts a woman with an eye missing, a reference to an injury suffered during Sunday night's clashes with police. Many protesters at the airport on Monday also wore eyepatches in reference to the woman's injury.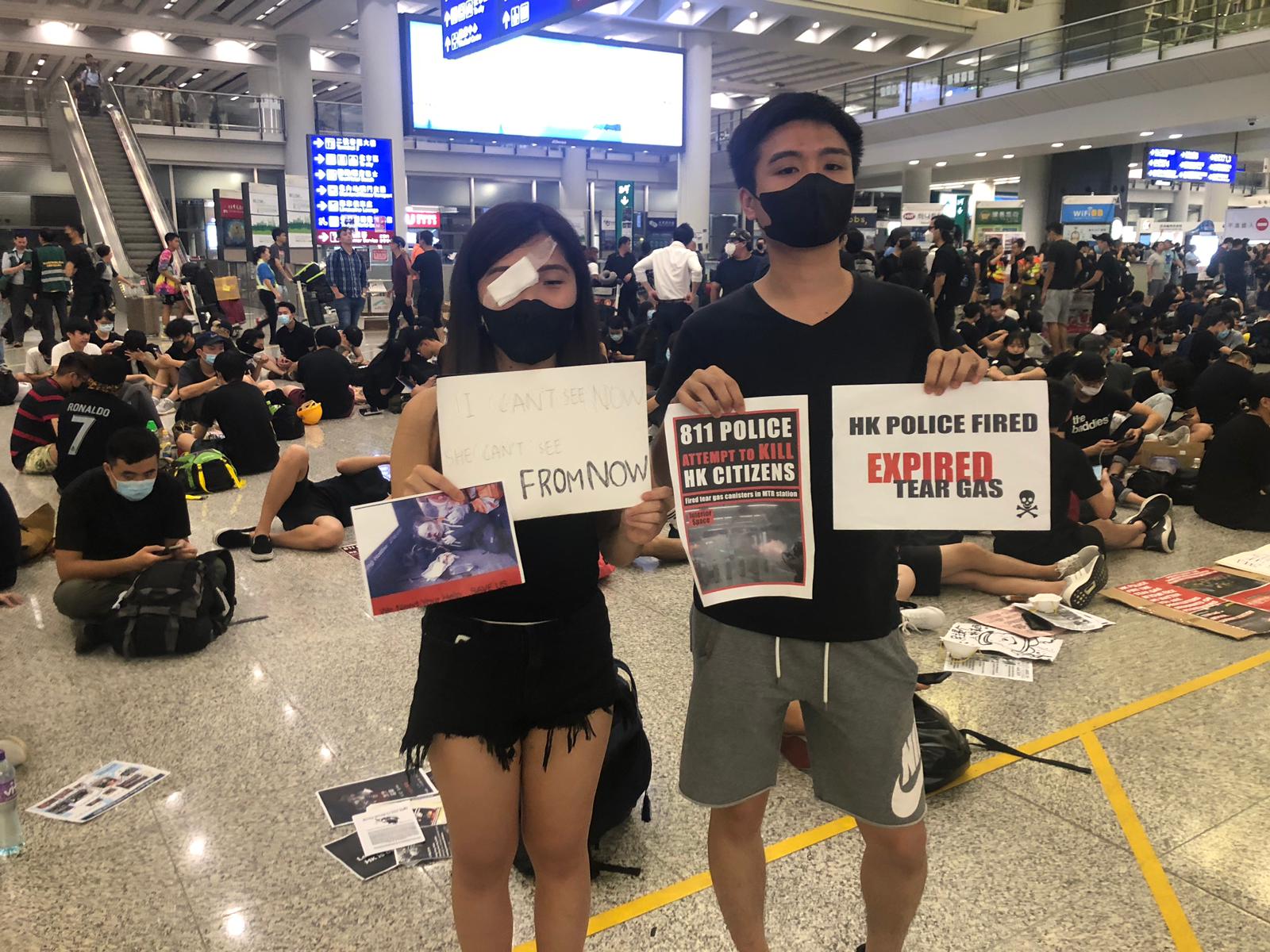 8:26 a.m. ET, August 12, 2019
A small crowd of protesters have gathered in Wan Chai
From CNN's Josh Berlinger and Jessie Yeung
Most protesters have cleared out of the airport, with only a few hundred left, but some others are now gathering in the district of Wan Chai on Hong Kong Island.
Police on scene are warning through a loudspeaker that this gathering constitutes an unlawful assembly, and that protesters should leave -- to which protesters shout back that they're not causing any harm.
The small crowd say they're planning to submit a letter to the Hong Kong police commissioner, and are chanting, "Stop firing tear gas."
"Your whole family and kids would be ashamed for what you have done," one protester shouted at the police.
One police officer came out to meet the protesters and receive the letter, even posing for a photo with the protesters.
There is widespread anger at the police today, after a female protester was injured in the eye yesterday night during clashes with police who were trying to disperse crowds. Many posters, flyers, and pieces of protest art today showed a bloody eye, or faces with one eye covered or missing.