If you're willing to invest in the best earbuds Apple has to offer, you have two choices: the $249 AirPods Pro 2 and the $169 AirPods 3.
The latest AirPods Pro are as good as it gets, with superb noise cancellation (ANC), great sound quality and handy touch controls that made them an easy pick for best wireless earbuds for Apple users. The AirPods 3 borrow some of the Pros' key features — including their sleek looks and immersive Spatial Audio — but pack them into a simpler and more affordable design that sacrifices things like ANC and a secure silicon fit.
These two earbuds may look similar at first glance, but having tested both of them extensively, there's a clear winner between the two. Here's how to decide between the AirPods Pro 2 and the AirPods 3.
AirPods Pro 2 vs. AirPods 3 at a glance
| | | |
| --- | --- | --- |
| Active noise cancellation | Yes | No |
| Transparency mode | Yes | No |
| Spatial Audio | Yes | Yes |
| Battery life (rated) | 6 hours | 6 hours |
| Charging case | MagSafe Charging Case with speaker and lanyard loop | Lightning or MagSafe Charging Case |
| Water resistance | IPX4 (earbuds and case) | IPX4 (earbuds and case) |
| Controls | Touch and pinch controls | Pinch controls |
| Price | $240 | From $169 |
You should get the AirPods Pro 2 if…
You care about active noise cancellation
The biggest advantage that the AirPods Pro have over the standard AirPods is active noise cancellation, and that's doubly true on the new model. The AirPods Pro 2 have some of the best ANC we've ever tested on a pair of buds, reducing chatty subway cars and noisy construction sites down to a blissfully quiet hum. And when you do need to hear the outside world, the AirPods Pro 2's Transparency mode does a better job than ever amplifying nearby sounds so you don't miss that important airport announcement.
The AirPods 3 lack both of these features. While they can get loud enough to block out some noise — and sport an open design for naturally letting outside sounds in — you won't be able to amplify or quiet your surroundings nearly as well as you can on the Pros.
You want a secure, customized fit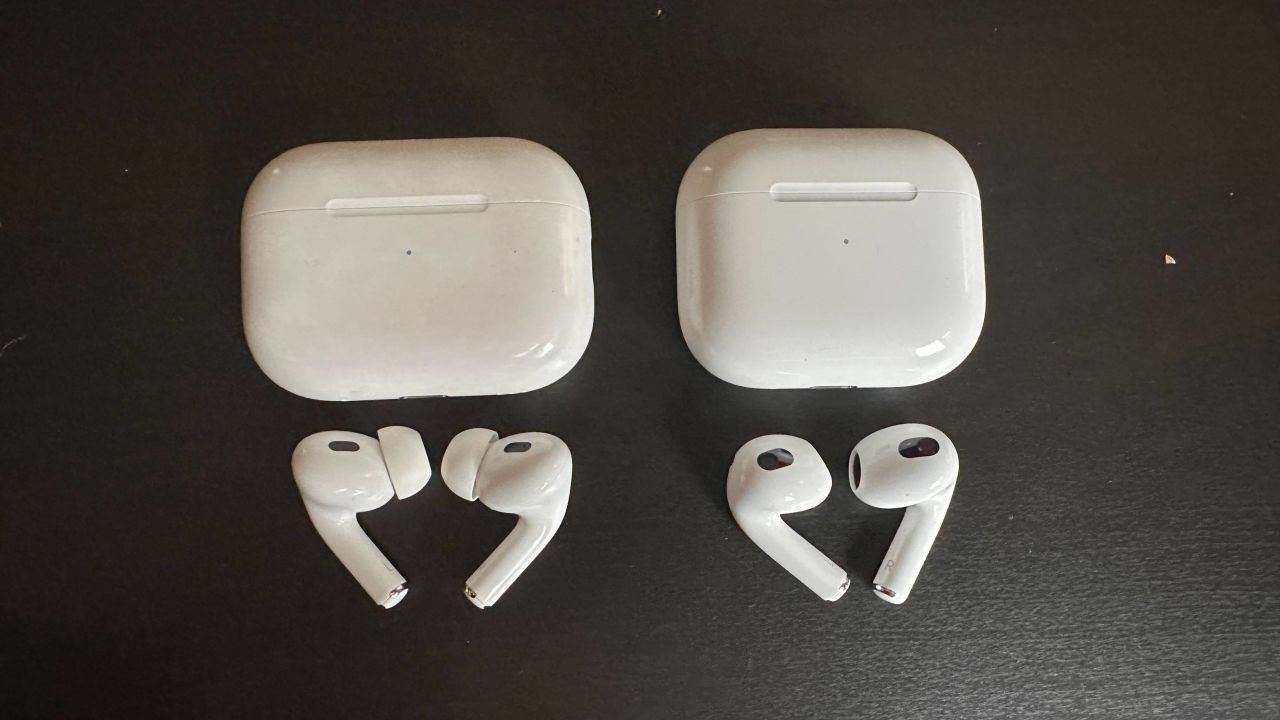 The AirPods Pro 2 also have the advantage of a better fit. Apple's higher-end buds feature a set of swappable silicon tips that rest firmly inside of your ear, which feel more secure and comfortable than the all-plastic AirPods 3. I always worry that the AirPods 3 might fall out, whereas I've never had that concern on the latest Pros. This is especially worth keeping in mind if you work out often and want something that can stay secure at the gym (fortunately, both pairs are IPX4 rated to handle everyday sweat, though we'd recommend the Beats Fit Pro for more serious athletes).
The newest AirPods Pro 2 also introduce a new extra-small ear tip option, alongside the existing small, medium and large tips you get out of the box. This gives you the flexibility to try out different sizes and see what works best, unlike the AirPods 3 which have a one-size-fits-all design with no swappable tips.
You're prone to losing your case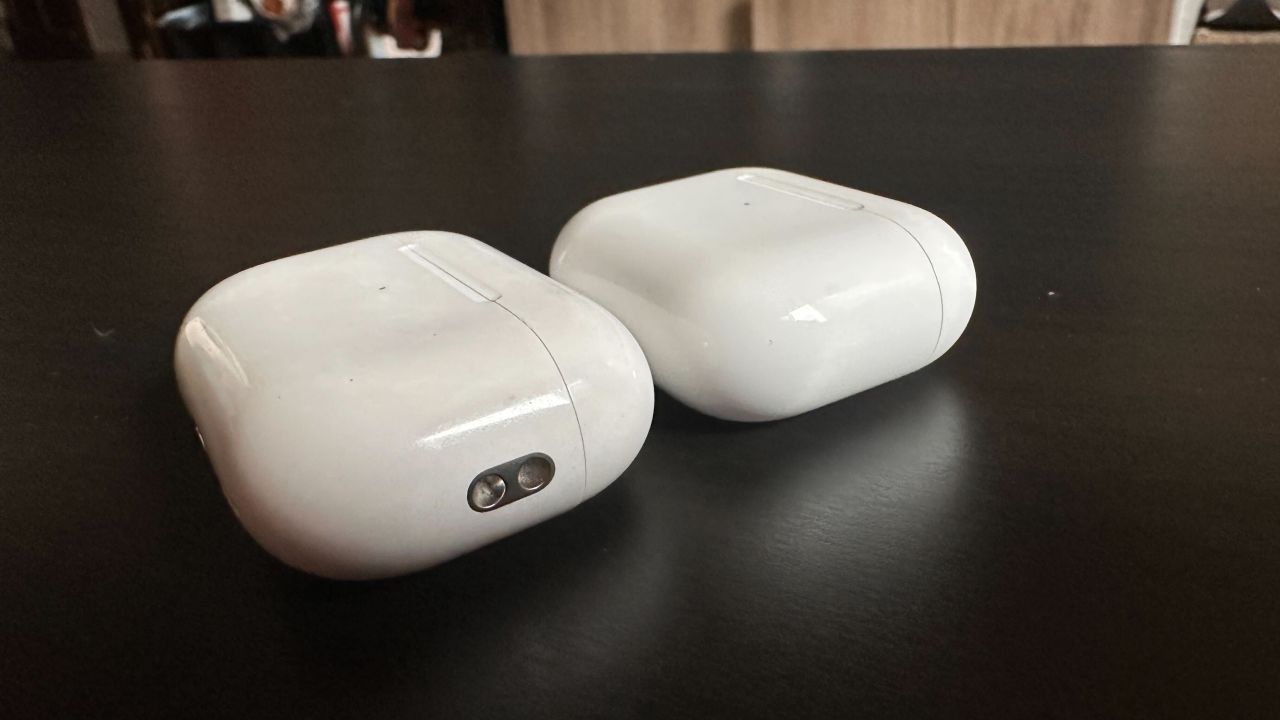 Both the AirPods Pro 2 and AirPods 3 work with the Find My app, making it easy to track down the location of your earbuds in the event you lose them. However, the AirPods Pro 2 go the extra mile in two ways.
First off, the latest AirPods Pro allow you to track both the case and the earbuds via Find My (on other models, you can only track your buds), and the case can now make a chime when you're digging through your couch cushions for it. Also, the AirPods Pro 2 are the only model that features a lanyard loop right on the case, a simple addition that's perfect for attaching them to your backpack or keys.
You want the best controls a set of AirPods can offer
One of the more subtle upgrades on the AirPods Pro 2 is the introduction of touch controls, which let you adjust the earbuds' volume with a quick slide up or down the stems. It's a small change that's made a world of difference in my testing, as I virtually never have to take my phone out anymore to fiddle with my music playback. The AirPods 3 otherwise have the same great pinch controls you'll find on the Pro (as well as hands-free Siri support), but once you've used touch controls, it's hard to go back.
You should get the AirPods 3 if…
You're looking to spend less than $200
At a starting price of $169, the AirPods 3 are nearly $100 less than the $249 AirPods Pro 2 — at least at full retail. You're getting a whole lot for that money, including the same personalized Spatial Audio as the AirPods Pro for enjoying Apple Music tracks and supported movies and TV shows in immersive 360-degree sound. And while the AirPods Pro 2 sound a bit louder and fuller, the AirPods 3 are surprisingly comparable in sound quality given their much lower price.
The AirPods 3 sport the same water resistance (for both the case and the buds themselves) as their more expensive sibling, and they offer the same 6-hour battery life complete with wireless charging. And if you spring for the $179 model, you'll get a MagSafe Charging Case — just like on the Pro — for use with the many MagSafe chargers out there.
You prefer a more open design
While I personally prefer the silicon fit of the AirPods Pro, I know plenty of people who don't want something stuck deep into their ear canal. If you fall into the latter camp, the AirPods 3 are for you. They sport a more open design that naturally lets a good amount of outside noise in, something that's ideal for folks who'd rather not be completely cut off from the real world while listening to music or podcasts. And even as someone who's gotten used to the more snug Pro models, I still find the AirPods Pro 3 to be very comfortable, even if they don't feel quite as secure.
Bottom line
If you have the money to spend — or are patient enough to wait for a sale — I'd strongly recommend splurging for the AirPods Pro 2. Their stellar noise cancellation makes a huge difference (especially for commuting and working from home), and smaller perks like on-ear volume controls and a harder-to-lose case can have a big impact on everyday use. And while they're not cheap at their full retail price of $249, we've seen the AirPods Pro 2 drop to as low as $199 — a bargain for the best Apple earbuds on the market.
For those on a stricter budget, you will save a good chunk of cash on the $169 AirPods 3 (which themselves have been as cheap as $139). But for everyone else, the AirPods Pro 2 are worth the premium — especially since you rarely have to pay full price for them these days.