The Sonos One has been one of our best smart speaker picks for several years. It's compact, it delivers excellent sound and it offers several voice assistants. But with the reemergence of Apple's HomePod smart speaker, the Sonos One has some competition.
Sonos One and the second-generation HomePod have a lot of similarities — for example, both are easy to set up and have to be plugged in — and a few key differences that will help you decide which one is right for you. When you break it down, the choice should become clear.
Apple HomePod (2nd Gen) vs. Sonos One at a glance
| | | |
| --- | --- | --- |
| Size | 6.6 x 5.6 inches | 6.4 x 4.7 x 4.7 inches |
| Weight | 5.2 pounds | 4 pounds |
| Drivers | 5 tweeters, 1 4-inch woofer | 1 tweeter, 1 midwoofer |
| Smart assistant | Siri | Amazon Alexa, Google Assistant, Sonos Voice Control |
| Water resistance | None | None |
| Inputs | W-Fi | W-Fi |
| Multiroom | Yes | Yes |
| Portable? | No | No |
| Colors | White, Midnight | White, Black |
| Price | $299 | $179 |
Both look good, but the HomePod's design stands out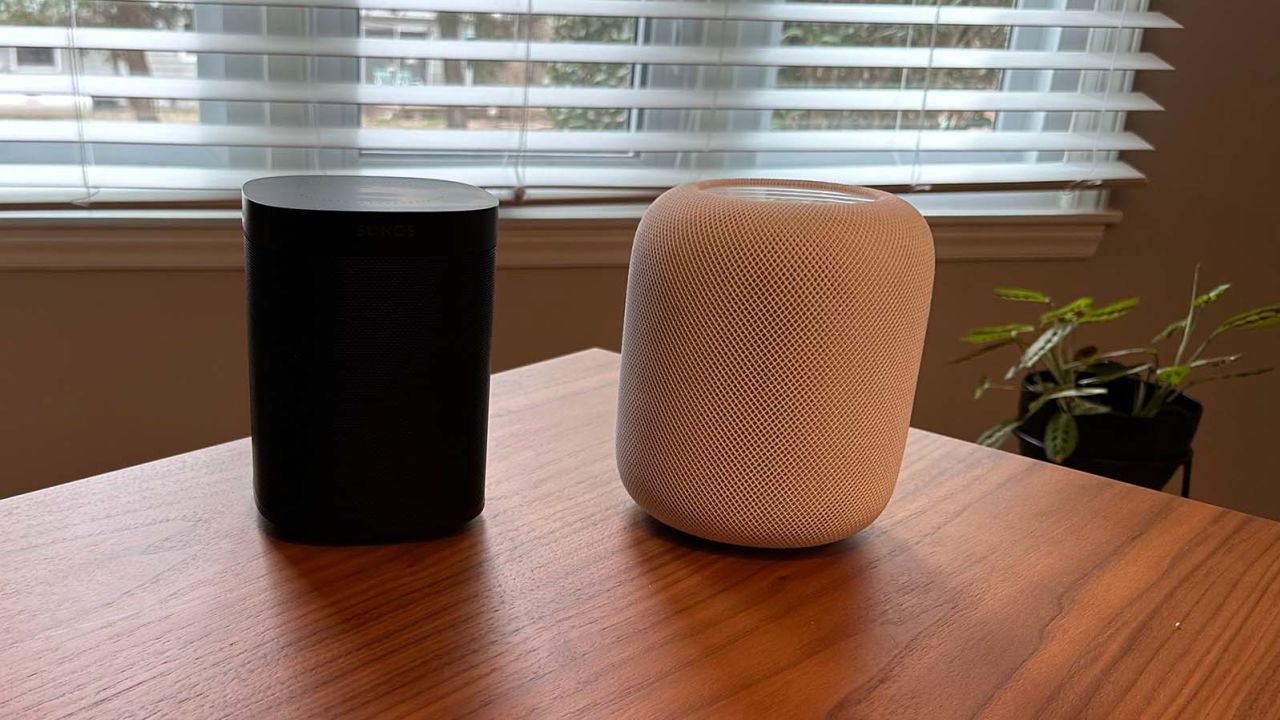 Sonos speakers and Apple speakers are well built and thoughtfully designed — something not all smart speakers can claim.
The Sonos One doesn't scream for attention. It has a slightly boxy look but features quality materials and doesn't look or feel cheap. The HomePod, on the other hand, seeks to be a centerpiece of your room. Its cylindrical shape is covered with a mesh fabric that attracts the eye, especially the white model.
Both have touch-sensitive tops for controlling playback and volume. but the HomePod lights up in pulsing colors when you ask Siri to do something — another example of Apple's flash versus Sonos' reserve.
TL;DR: Both are designed well. HomePod has a flashier design. Which design is right for you likely has more to do with your style preferences than anything else.
Sonos One sounds good; HomePod sounds better
Both of these speakers deliver big sound, especially for their size. The One has good bass and full vocals; the quality of its sound is one of the reasons it has been a pick for best smart speaker for years.
But the overall sound of the HomePod is more pleasing to my ears: It has punchier bass and brighter treble tones than the Sonos One. It also projects more widely, better filling a room.
With both speakers, two are better than one. You can create left-right stereo pairs and the results are dramatically better: bigger, wider and bassier. But the HomePod in stereo amplifies what sets it apart from the One: more bass, more width. It also supports spatial audio, making the sound seem to swirl around you.
You can use both speakers in a multi-room speaker setup too, playing the same or different audio on other speakers. If you're looking for a complete sound system for your whole house, Sonos has a much wider range of speakers to choose from, including excellent soundbars and subwoofers. (You can also use AirPlay with HomePods and any Sonos speaker, if you're wanting to mix and match.)
TL;DR: Sonos One sounds very good, but HomePod sounds better overall. Sonos offers more options for speakers in a multi-room setup.
Sonos One has a lot of smarts
These speakers are about more than sound; with their smart assistants, you can control what they play with your voice, and you can also tap into smart devices throughout your home.
HomePod uses Siri, which works well enough for the basics: playing music, settings timers and answering questions. The new HomePod also supports Matter, the latest smart home standard, which will allow it to work with many more connected devices in the future.
But Sonos lets you choose from three smart assistants: Amazon Alexa, Google Assistant and its own Sonos Voice Control (you can only enable one at a time, though). That kind of flexibility means the One can easily slide into your existing smart home setup. Alexa and Google Assistant also support more smart devices at this time than Siri.
TL;DR: Sonos One offers more flexibility and easier integration into your existing smart home setup. Unless you're a big fan of Siri, the One is the choice if you care about smart assistants.
Both adjust sound to the room, but in different ways
The space a speaker is in affects sound quality — tall ceilings and sharp corners cause sound to bounce and echo, for example. For the best sound, you want a speaker that offers room correction.
Sonos One features TruePlay, which you run through the Sonos app. For this to work, you walk around the room waving your phone up and down (and feeling pretty silly as you do it). It then saves the measurements and adjusts the speaker's sound.
The HomePod uses its microphones to listen to its own sound and automatically adjust — you don't have to do anything. And if you move the speaker, it will readjust the sound to be best in that spot.
But the corrected sound doesn't always sound best to your ears, so you may want to further tweak the sound to make it right for you. With HomePod, you don't have many options. You can reduce the bass through the Apple Home app — and that's all you can change.
With the Sonos One, you can manually adjust the bass and treble in addition to enabling loudness (bass boost). That's not a lot of options, but at least it's something.
TL;DR: HomePod automatically adjusts the sound to the room, while Sonos One offers a few more options to make the sound pleasing to your ear.
HomePod is for Apple users, while Sonos One is for anyone
When it comes down to it, the choice between the HomePod and Sonos One may be whether you have an iPhone or iPad. If you don't, you can't even set up the HomePod. Sonos One will work with iOS, Android, MacOS and Windows.
HomePod also works best if you subscribe to Apple Music, so Siri can play the music you ask for. Siri on HomePod can also control a few other services, such as Pandora and Deezer, but not Spotify or Amazon Music. You can use AirPlay from your phone to stream any music through HomePod.
Sonos has a lengthy list of music streaming services you can connect to its speakers, including Spotify, Apple Music and Sirius XM as well as some free stations that Sonos runs.
TL;DR: If you don't have an iPhone or iPad, get the Sonos One.
Bottom line
Both Apple's second-generation HomePod and the Sonos One are excellent speakers. They sound good and have smart assistants to make them more than sound machines.
The right one for you depends on your existing setup and your priorities.
If you don't have an iPhone or an iPad, get the Sonos One.
If your current smart assistant of choice is Alexa or Google Assistant, get the Sonos One.
If sound quality matters most, get the HomePod.
Both speakers also have a few drawbacks, such as neither having an auxiliary input, and they aren't portable. Both could be improved by making them water-resistant. There's also the matter of price — neither is cheap: HomePod ($299) costs more than the Sonos One ($219, currently on sale for $179).
Luckily, whether you pick the Apple HomePod or the Sonos One, either will improve how your tunes sound — and make it easy to control, no hands needed.